The Kansas Riverkeeper and Friends of the Kaw
are Proud to Host Patagonia's Wild and Scenic Film Festival for a Seventh Year
on Thursday, May 5 at 7:00pm at Cinetopia Theatre
at Prairie Fire, 5724 West 136th Terrace, Overland Park, Kansas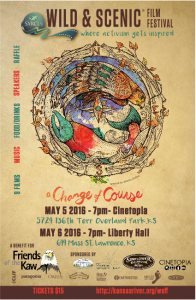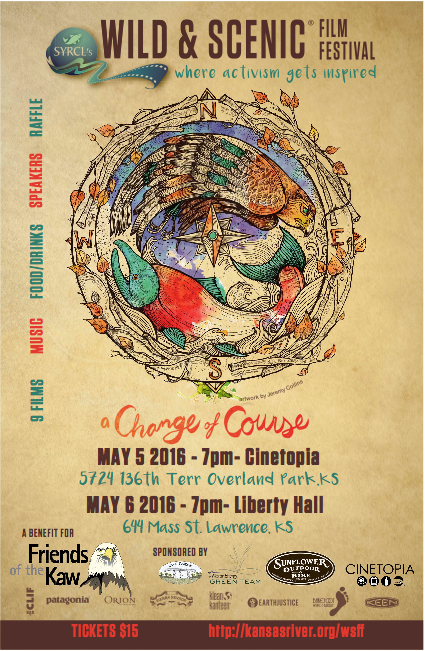 and Friday, May 6 at 7:00pm at Liberty Hall Theatre
at 644 Massachusetts St., Lawrence, Kansas

(You can also buy tickets in advance at their box office.)
Adult Tickets $15
(suggested donation)
Student and Teacher Tickets are FREE!
Courtesy of the Westar Green Team
Must RSVP to 785 312 7200 or contact
Dawn. (Grade school, middle school and high school students must be accompanied by a teacher or parent.)
All proceeds benefit Friends of the Kaw, a grassroots, non-profit, conservation organization that sponsors the Kansas Riverkeeper.
FOK Members Only Raffle!
Win a Wilderness Systems Aspire 105
Kayak (in red)!
Value of $750



Donated by Sunflower Outdoor & Bike and the FOK Board of Directors.
Tickets $10 (suggested donation). Non-members can join for $15 and purchase a ticket for $10!
Drawing will be held at the conclusion of the Wild & Scenic Film Festival on Friday, May 6 at Liberty Hall in Lawrence. Need not be present to win!
Volunteers needed for both locations of Film Festival!
If you can help us at the film festival please e-mail Dawn.
Volunteers needed for the Film Festival for both May 5 at Cinetopia and May 6 at Liberty Hall:
· Set-up – 2 volunteer (6:30pm-7:30pm)
Arrive at Leawood Theater and assist staff in setting up raffle, membership, merchandise, and other tables. Help hang banners.
· Clean-up – 1 volunteer (9pm-9:30pm)
Assist staff in packing up materials and loading into vehicles.
· Greeters – 2 volunteers (6:45-7:45pm)
Stand at entrance and greet all guests, answer any questions anyone has, direct to theater and outreach tables.
· Ticket sales, Education Will call – 1 volunteer (6:30-7:30pm)
check in will call list for free educational tickets and add non-RSVP educational guests
· Merchandise table – 1 volunteer (6:30-7:30, 9-9:30- before and after program)
Collect payment for any Friends of the Kaw merchandise sales. You will be trained on taking payments.
· Membership/Outreach table – 2 or 3 volunteers (6:30-7:30, 9-9:30- before and after program and during intermission)
Man the outreach booth and hand out membership forms, river maps and just talk about the Kaw! Register attendees for door prizes and sell Kayak Raffle tickets to members for $10 each.
· Photographer – 1 volunteer (6:30-9:30pm)
Photograph the event