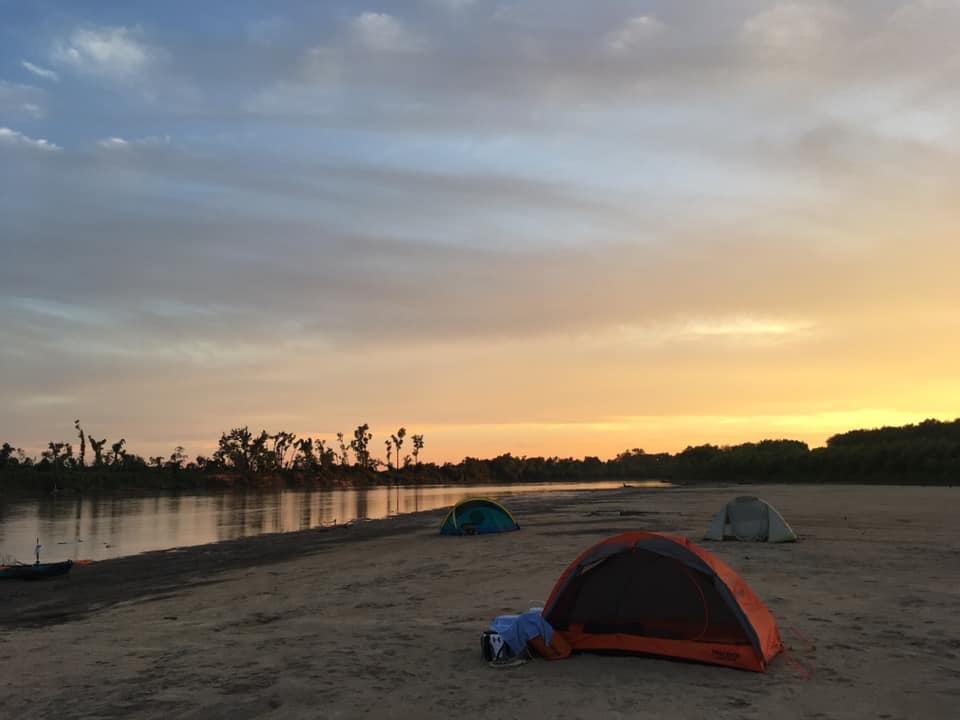 In Kansas, there are three rivers that are designated as "navigable" and thus open to the public; the Missouri in the far northeast between St. Joseph, MO and Kansas City, the Arkansas (pronounced as Ar-kans-as, if you please) in the southern part of the state, and the Kansas River from Junction City to Kansas City. These three rivers are like linear parks through the state.

The Kaw has 19 boat ramps on public land to allow access to the river. Between these ramps, most of the adjoining land is privately owned; so the river banks are private but the river itself is public space. The high-water mark is the line that delineates the private and public spaces; this is where the river bed meets the permanent vegetation on the banks. Above this mark is the property of the landowner, if it is private land then it would be trespassing to leave the river at this point. The river area between the high-water marks, including the sandbars, is available to the public for recreational activities. Paddling, floating, swimming, fishing, and camping opportunities are available without reservations. Of course, you do have to follow the boating and fishing laws, and there's no guarantee that your favorite sandbar will be available and/or unoccupied.
For your first river campout, try to go with an experienced river camper or group. Even if you've been backpacking, and especially if you haven't, the river is a new environment and some of your trail-knowledge will be wrong. Never venture out alone with a new boat, a new tent, or a new paddler.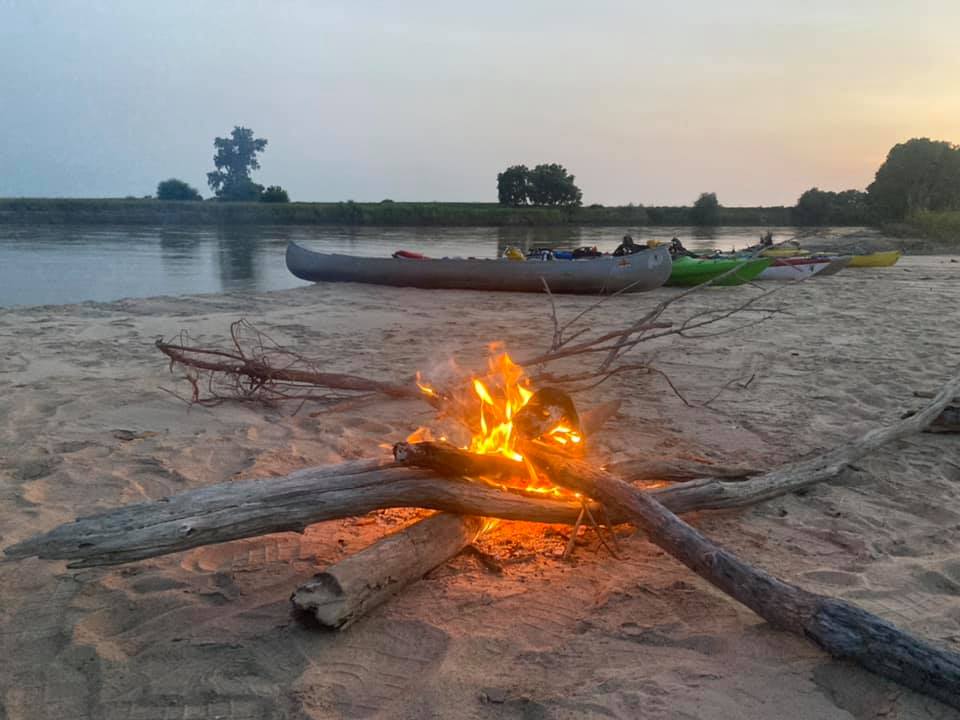 Campsite
One of the most important items on your camping checklist should be to check the river level and reservoir release schedule upstream of your campsite. Check the weather forecast as well, since rain in the watershed will raise the river level. It will take some time for rain or reservoir releases to reach each section of the river, so consider these surges as you select your campsite. Your ideal camping sandbar should be above the expected river level throughout the night. We also do not recommend sandbars that are unvegetated in the middle of the river – these are often unstable. As you land and begin to set camp, push a stick into the bank at the edge of the water. This will serve as a marker to see if the river is rising or falling during your stay. Bring your boat up onto the sandbar and tie it down to prevent water or wind from taking it away.
We recommend paddling the river at a flow of 5,000cfs or less. This is a good guide for camping, too. At this level you'll have a choice of many large sandbars. At higher flows, fewer sandbars are exposed and even the higher sandbars are closer to the water level. Above 8,000 cfs sandbars are mostly submerged and only the permanent islands are available for camping. The islands are topped with trees and grass, while this provides some shade it also harbors insects and the ground is more mud than sand. Camping "in the green" is far less desirable than a high, flat sandbar with some western shade and a nice pile of dry driftwood.
Be aware of the signs of animal activity. Geese will leave clear signs of their preferred places. Beavers will visit if you camp at their pond. Deer may visit late at night when camp in quiet. Raccoons will explore your food if you leave it unprotected. Mosquitos and flies will feed on you if they can, usually just as the sun goes down. Most wildlife are more comfortable in the cover of vegetation, so camping out on the open sand can keep these visits to a minimum.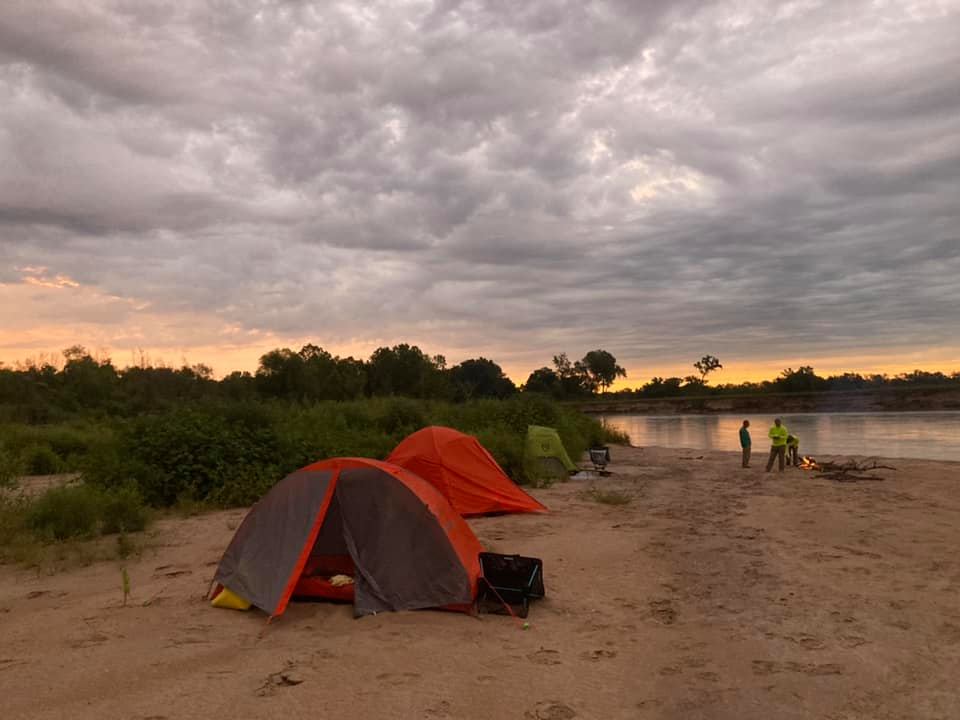 Sleeping
Your sleeping arrangements will be similar to a backpacking camp; if you are outfitted for backpacking then you won't need new gear for camping on the river. In dry weather, a sleeping bag on the beach in front of the fire may be all you need. If you prefer to use a tent, the dome or free-standing types are best when staking to sand. Those 6″ wire stakes that came with your tent are not suitable for a sandbar, especially if the wind comes up. 8″ or better tri-lobe aluminum or 10-12″ spikes are better. The best, and most hideously expensive, are the shovel-like snow/sand stakes. You probably won't need a hammer, unless you happen to hit some gravel the stakes will go in by hand.
An advantage of the sand over grassland or mountain camps is that you can easily rake out the sand to make a nice flat spot to sleep. The downside is that you will displace sand as you sleep and make bumps under your sleeping bag that weren't there when you started. A sleeping pad helps, as does an extra tarp or footprint. Also, you're only a few feet above the water so the dry sand isn't really dry; so you'll appreciate the thermal break that a sleeping pad provides.
If you use a hammock, this will limit your options as large trees are not common on sandbars. There are trees on the islands but these are always surrounded by thick vegetation and the accompanying bugs, mud, animals and poison ivy. There are large trees on the riverbank, but in most areas this is above the high water mark and on private land. For your first camp on the river, avoid the hammock.
Cooking
After a day of paddling you'll want a good meal, and in the morning a hot drink to get you going. Much of the paddling season on the Kaw is very hot weather, hot food on the hot sand under the hot sun may not be an appealing menu so plan for some lighter meals or just snack foods when it's going to be hot. If you cook, the river camp is much like a backpacking camp. You can heat water for dehydrated meals, roast some sausages, or panfry quesadillas; whatever suits the food you brought and the cookware that you packed. The menu is limited by what you care to carry and what will fit in your boat. There are dozens of recipes; the secret to most of them is to mix the carbohydrates and protein together to reduce the number of cooking utensils required. You're welcome. Pack food that doesn't require refrigeration or be prepared to paddle a load of ice.
Of course you can carry a camp stove for cooking, but a campfire makes a great social center for your evening and morning meals. If you pack your food in paper or wax paper that burns cleanly, the campfire can also help keep your empty wrapping from attracting wildlife.
One of the most important cooking items is hand sanitizer. All rivers drain the watershed and you should sanitize before handling any food.
Water is very important for cooking, cleaning and drinking. Be sure to have enough for your trip. Kansas is often hot and dry, you'll be sweating a lot of water. You can cool off in the river, but also remember to drink water.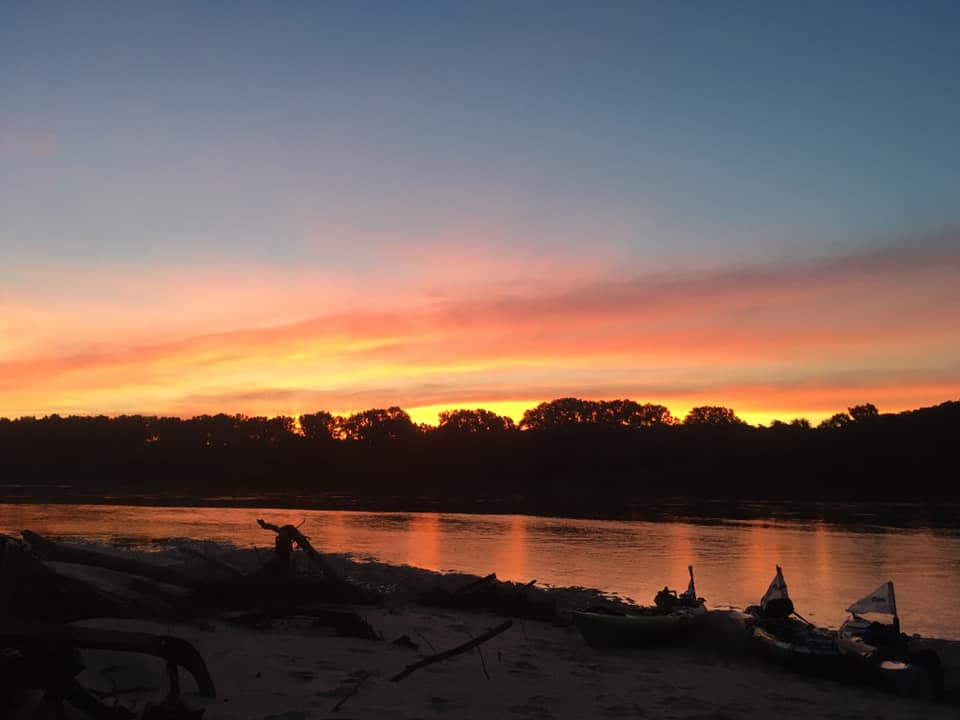 River Camping List
Bring dry bags or trash bags to put EVERYTHING into that you don't want to get wet.
Please note that each kayak has a stated maximum weight capacity. However, one should not carry more than 70% of the stated weight capacity of the kayak, otherwise safety and performance become compromised. For example, if the weight capacity of the kayak is 250 pounds, you should not carry more than 175 total pounds. "Total pounds" would include you, your camping gear, and your food and water. If the weight capacity of your kayak is 300 pounds, you should not carry more than 210 total pounds.
Practice packing all your gear and supplies into your kayak before the trip. The heaviest items should ride as low as possible. It can be more effective to pack gear, food, and water into several dry bags or waterproof containers instead of one or two large ones.
Sample River Camping List:
Kayak/Canoe
Lifejacket
Paddle
Trash bags
Fire starting supplies
Zip locks
First aid kit
Bug spray
Toilet paper
Jet boil to heat water
Food
Bring 1.5 gallons of water per day for cooking/drinking
Clothes in dry bag:
Quick dry shorts or pants
Quick dry shirt or light
Water shoes or old tennis shoes
Cover shirt for sun
Pull over sweatshirt if cold
Rain jacket
Extra clothes if needed
Hat
Dry shoes for sandbar
Towel
Put in waterproof bag or trash bag:
Tent
Sleeping pad
Sleeping bag or sheet
Pillow
Head lamp & extra batteries
Mini fan
Camp chair
Bring in a place easy to grab (such as a lunch bag):
Phone charger
Sunscreen
Sunglasses
Lip balm
Cell phone waterproof case or ziplock
Hand sanitizer
Pocket knife