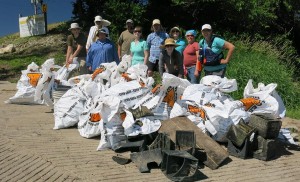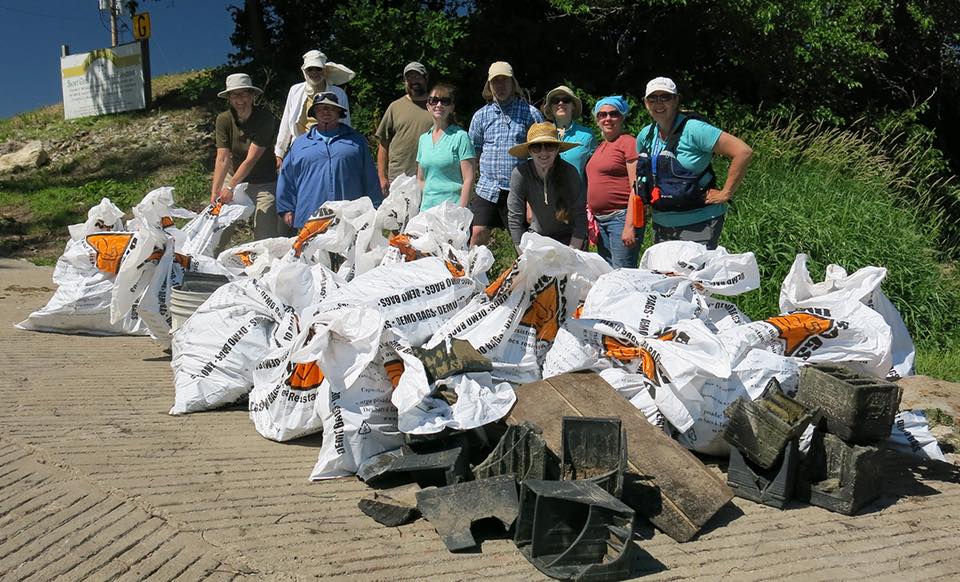 We clean up the Kansas River and we need your help! Annually, we host anywhere from 6 to 10 cleanup events. Some of these cleanups are along the banks of the river in partnership with other non-profits, local communities and organized groups. We are the only ones that target the in-river debris and this work is largely done with our strong volunteer force and some local partners.
Some of our upcoming challenges include:
Manhattan Battery Cases – leftover from a lead recycler in the 1970s, sandbars from Manhattan to St. George are full of rubber/plastic pieces. Friends of the Kaw and our partners pulled out over 2,000 pounds in 2022, and there's plenty more! We host this cleanup every spring and fall. We hope you can join us!
Kansas River Trash and Tire Cleanups – We will host cleanups in four cities along the river in the summer of 2023 and large-scale trash cleanup in the fall. Stay tuned for more information or check out our Cleanup Schedule Page.
Information on all of our cleanups is sent to the newsletter list as the events are scheduled. Sign up today so you don't miss any of the details!
Events
Friends of the Kaw likes to be as many places as possible….but with just one full time staff member and some part-time staff, it is difficult for us to make this happen. In order to spread our message as far and wide as possible along the 173-mile Kansas River corridor, it takes many volunteers! There are many opportunities all year long for you to help us spread out message.
Annual Events
FOK sponsors both the Wild and Scenic Film Festival in the winter, and the Beers of the Kaw in the fall. These annual events help support our work through outreach, membership, and, yes, fundraising. These events take the efforts of dozens of volunteers; many during the event but also in planning, set-up before, and clean-up after.
Weekend/Evening Events:
We are regularly invited to bring the river to civic and cultural events such as city festivals or Earth Day parties. You can volunteer to help at the FOK table and bring your enthusiasm for our work to other communities who share our river. You will be trained prior to your first event. The responsibilities include:
Greeting people and telling them about what we do
Recruit new members
Talk about the river!
How can you get signed up? Send your NAME and E-MAIL address to Kim Bellemere, Program Manager, at kim.bellemere@kansasriver.org. When we have volunteer opportunities, you will receive our Volunteer Request Newsletter. If you have questions, you can e-mail Kim or call 785.840.8104. Thank you for your interest in our CLEANUP & EVENTS Volunteer Opportunities!