The 173-mile-long Kansas River, locally known as the Kaw, flows from Junction City to Kansas City, Kansas where it meets the Missouri River. The Kaw is recognized as a National Water Trail with 19 boat ramps allowing access to the river for recreational opportunities. These boat ramps were designed and installed in partnership between Friends of the Kaw (FOK) and the Kansas Department of Wildlife, Parks, and Tourism.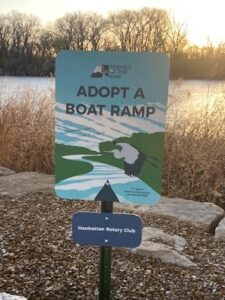 Boat ramps are the first point of contact that most people will have with the Kaw. Whether it be for fishing, kayaking, or just to get their feet wet, it is important we keep these areas clean. When these areas are left unkempt, litter and trash can pose serious hazards to humans, as well as wildlife and the overall ecosystem of the river.
The purpose of the Adopt-A-Boat Ramp Program is to promote stewardship of the boat ramps by civic minded groups or businesses along the river, while educating the public on the harmful effects that litter has on our waterways. Through this, FOK hopes the Kaw will reach its truest beauty and continue to be a cornerstone of Kansas recreation and vital resource to the people of Kansas.
The Adopt-A-Boat Ramp Program is designed as follows:
Those wishing to adopt a boat ramp will have to complete an Adopt-A-Boat Ramp Application.
Each group will schedule at least three cleanups a year.
The group will get a recognition sign placed at their boat ramp, recognition in our newsletter, and on our website kansasriver.org
All adopters must comply with FOK's Program Safety Guidelines and trash procedure
The Friends of the Kaw believe that stewardship of the boat ramps is needed, desired, and will improve everyone's accessibility to the Kaw. If interested, please contact our Program Manager, Kim Bellemere, at kim.bellemere@kansasriver.org.
Status of Adopt A Boat Ramp Locations: