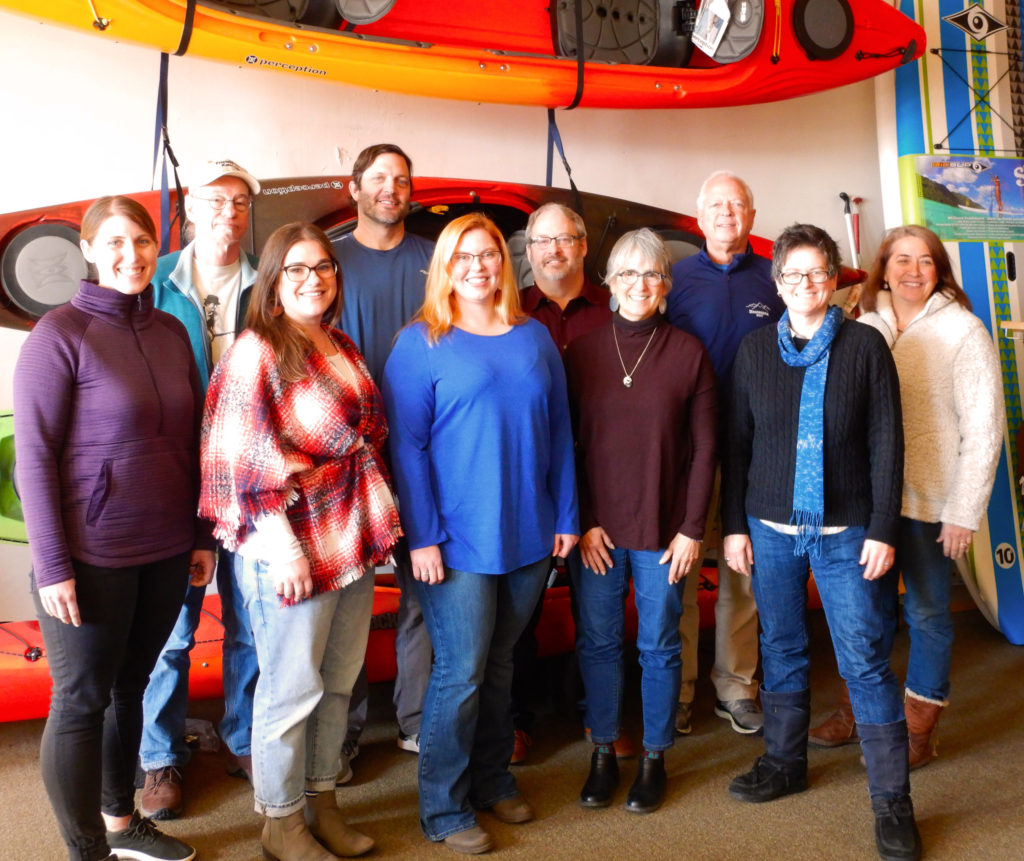 2020 Board of Directors: (Pictured L-R, back row: Steve Cringan, Brandon Senne, Mark Dugan, Mike Scherrer, Marcia Rozell  L-R Front Row:  Sarah Morse, Stacie Alldritt, Renee Whaley, Margaret Fast, and Lisa Grossman)
2020 Board of Directors 
President – Margaret Fast, Ozawkie
Margaret Fast retired in 2017 after spending 39 years employed by the state of Kansas, most of the time with the Kansas water office as a water resource planner.   Duties over the years included focus on water quantity and quality related issues in all the regions of the state.  Most recently, she facilitated the development of the State Water Plan Action Plans for the Kansas Region in her role as staff to Kansas Regional Advisory Committee.
Margaret was raised in the Ohio River Basin in Cincinnati, Ohio and has a Bachelors degree in Biology from Thomas More College in northern Kentucky.  She moved into the Kaw watershed to obtain a Masters in Environmental Health Science from the University of Kansas.  She also has two 200-hour yoga teacher certifications and is actively teaching in Lawrence and Topeka in her retirement.  Margaret and her husband live in the Delaware River Watershed just northwest of Lake Perry.  They have 2 sons; one resides, works,and learns about life in Lawrence; the other is a student at Creighton University in Omaha, in the greater Missouri River basin.
She is an Aquarian (you know, the water bearer!); "Being by water and seeing birds makes me happy"!
Vice President – Robert Sheffield, Fairway
Rob is serving his second year on the board. He grew up in New Jersey canoeing and camping on the Delaware River and in the Adirondack and Catskill Mountains. He moved to Washington, DC, for law school and spent ten years there exploring the Blue Ridge Mountains and the many rivers and streams flowing out of them. Rob moved to Kansas in 2012 and practices employment law in Kansas City. He loves exploring the Kansas countryside and getting out on the water when he can. Rob and his wife have a 3-year-old daughter and a 1-year-old son and live in Fairway, Kansas.
Secretary – Lisa Grossman, Lawrence
Lisa Grossman is a full-time painter and printmaker whose work focuses on the Tallgrass prairies and the Kansas River.
Originally from Pennsylvania, she moved to Kansas City in 1988 for a seven-year stint as an illustrator at Hallmark Cards. She has degrees from the Art Institute of Pittsburgh, PA, and the University of Kansas. She's had over 30 shows around the country and her work is included in numerous public, private, university, and museum collections. Her work is represented by Haw/Contemporary in Kansas City, MO, Circa Gallery, Minneapolis, MN, and Strecker-Nelson West, in Manhattan, KS.
A Friends of the Kaw group float in 1996 inspired her to get a kayak and get involved, and she's served on their board since 2011, currently as secretary. Kayaking the Kaw is a passion, as well as hiking, birding, playing bass for contra dances, wild edible foraging, and ancestral skills. Grossman also works to apply her art to various conservation efforts and has served as an artist-in-residence in six national parks and recently, with the US Forest Service in Tracy Arm/Fords Terror Wilderness, Alaska.
She has made her home in Lawrence since 1996 with her wife, Kelly, and a couple of cats.
Treasurer – Mike Scherrer, Olathe
Mike came to FOK as a retired CPA, having spent time at C&C Group.  Mike holds a BSBA from Colorado State University and a MBA from the University of Kansas.  Mike retired a few years back and wanted to reconnect with the outdoors, so he went to work for REI  and bought a kayak, which led him to FOK.  Mike enjoys spending time with his family, especially his grandchildren.
Members at Large:
Stacie Alldritt, Lawrence
Stacie Alldritt was born in Rochester, New York, spending the first ten years of her life enjoying lake effect snow from Lake Ontario. She then moved to Sylvania, Ohio, just east of Lake Erie. Throughout her childhood she visited her father's hometown of Cheboygan, Michigan, on the coast of Lake Huron. When it came time to for college she found herself on another water system, the Kaw River in Lawrence, Kansas. Stacie received her BFA with emphasis in visual communications from the University of Kansas in 2004. Her career was launched in the tech space, working as a designer for a digital signage company. She managed a team of multidisciplinary designers creating a content management system for networked digital signage systems and creating marketing content for those displays. Stacie moved on from technology and joined the team at The Merc Co-op as the Marketing Manager. She developed the first formal marketing plan for the co-op, managed all aspects of marketing, communication and brand development and was a member of the executive team. Stacie is now a freelancer, offering services in project management, process development and design strategy. In 2011 Stacie met her husband, Adam, during a float trip on the Kaw River. She fell in love with Adam and the river that day and has continued to enjoy several canoe outings on the Kaw. She lives in Lawrence, on the edge of the river valley with Adam, her step daughter, son, four dogs and cat. They enjoy raising their chickens and tending to their organic garden. Her family takes annual road trips to her grandfather's cottage on Lake Huron and her husband's family cabin in Rocky Mountain National Park. Stacie is excited to offer her skills in marketing and design to further the success of the Friends of the Kaw.
Amy Burgin, Lawrence
Amy is a proud native Midwesterner, originally hailing from Lacona, Iowa (population 361).  Originally in college, she thought she wanted to go to medical school, but a Research Experience for Undergraduates (REU) in NY (Cary Institute for Ecosystem Studies) and NH got her hooked on aquatic ecology.  She also completed a semester abroad in Costa Rica that further convinced her that ecology was a pretty great way to spend your working life.  She graduated from Coe College with a B.A. in Biology and Environmental Science.  She then started grad school at Michigan State Universityat the Kellogg Biological Station under the guidance of Dr. Steve Hamilton.  While the REU experience got Amy's feet wet in streams, working with Steve Hamilton broadened her aquatic interests to wetland and lake ecosystems.  After her Ph.D., she moved to the Cary Institute of Ecosystem Studies in NY to complete postdoctoral work with Dr. Peter Groffman.  Her project there focused on using sensors to measure environmental variables in riparian wetlands.  She was an Assistant Professor in the School of Natural Resources at the University of Nebraska-Lincoln (2011-2015) and  an Assistant Professor at Wright State University in Dayton, OH (2009-2011).  She joined the University of Kansas (Kansas Biological Survey, Environmental Studies, Ecology & Evolutionary Biology Depts.) in January 2016 as an Associate Professor.
Steve Cringan, Topeka
Steve spent his career working as an Environmental Scientist for Kansas Department of Health & Environment, having served the state for 33 years.  Steve's education includes a BS.'75, MS.'77, Environmental Science and Invertebrate Aquatic Ecology from Emporia State University.  Steve interests include Stream Biological Monitoring, Fish Tissue Quality Monitoring, Water Quality Standards, Freshwater Mussel Distribution as well as hobbies of Paddling, Photography, Archeology, Beerology and Paddling.
Mark Dugan, Overland Park
Mark is serving his fourth year on the Friends of the Kaw Board and his second year as President. His interest in the Kansas River and other waters arose from his time in Washington, D.C. litigating citizen suits under the Clean Water Act. He now practices law in Overland Park, doing mostly employment and wage law, but also keeping up an environmental law practice. He has also served on the boards of  Mainstream Coalition's Political Action Committee, St. Andrew Christian Church, and the Kansas City Worker Justice Center. He loves to drive around beautiful eastern Kansas and feels just a little guilty about burning the gasoline. He has two sons and a mischievous beagle, and he lives in Overland Park.
Heidi Mehl, Lawrence
Heidi Mehl has served on the board of Friends of the Kaw since 2008. Heidi is currently working for the Nature Conservancy, as director of the Beals Healthy Streams for Kansas Initiative. Heidi has been researching water issues in Kansas and abroad since her undergraduate years at the University of Kansas. After receiving her B.S. and M.A. from the University of Kansas, she went on to do her Ph.D. research in the Department of Geography at Kansas State University, with a focus on fluvial geomorphology, nutrient cycling in riparian zones, and cultural issues surrounding water resources. Her research has included a partnership with the Prairie Band Potawatomi Nation, as well as Gorno-Altaisk State University in Siberian Russia. Heidi also formerly worked on the Upper Wakarusa Watershed Restoration and Protection Strategy (WRAPS), and for the U.S. Geological Survey (USGS). Heidi's favorite hobbies include kayaking on the Kansas River, hiking, and boating with her husband Martin on Clinton Lake.
Sarah Morse, Topeka
Sarah is a born-and-raised Kansan who is proud of the state's natural resources and is excited to have the opportunity to support the Kansas Riverkeeper and to protect and advocate for the Kansas River as a board member for Friends of the Kaw. Sarah was introduced to the important and impressive work of Riverkeepers when she was as a student attorney and Fellow for the Turner Environmental Law Clinic at Emory University's School of Law in Atlanta, GA. Sarah and the Turner Clinic provided legal support to the Savannah Riverkeeper, and when Sarah returned to Kansas after law school, she was thrilled at the opportunity to support the Kansas Riverkeeper. Sarah lives in Topeka with her husband, daughter, and black lab.
Marcia Rozell, Manhattan
Marcia Rozell is an avid outdoor enthusiast.  Her personal motto is "Life is precious and short, so get outside and do".  She will try almost anything.  In her professional life, she promotes Visit Manhattan to the visitor and loves connecting people in the Little Apple.
She and her husband, Tim, have called Manhattan, KS home for over twenty years.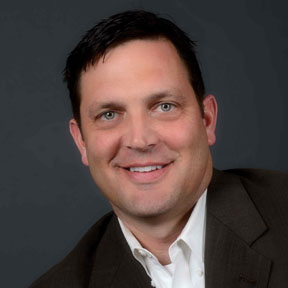 Brandon Senne, Topeka
Brandon grew up in the Topeka area and has always been involved in outdoor activities with a love of nature and wildlife. He moved back to the area in 2008, was introduced to the river through paddling and ever since has wanted to be involved with its upkeep and preservation.
He works in the pet food industry and has a degree in animal nutrition. Part of his graduate work was evaluating how feeding practices for livestock can affect the environment, including waterways.  His hobbies include paddling, hiking, running, homebrewing, reading and music. He currently lives in Topeka with his two kids, two dogs and a cat.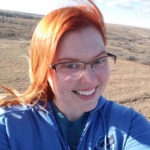 Renée Whaley, Lawrence
Renée is serving her first year on the board. She's lived in Kansas longer than any other place, and her interest in water began in middle school when she received first place in a state-wide competition identifying water quality issues in freshwater systems. She initially went to Kansas State University for microbiology, but life had other plans and she graduated from the University of Kansas with her Bachelor's in philosophy. After graduation, she started a job with the City of Lawrence in administration until she was approached about applying for a position within water treatment plant operations. Seizing that opportunity, she has spent almost the past decade working in water treatment with a focus on wastewater treatment. She is a licensed Class IV Water and Wastewater Treatment Operator through the Kansas Department of Health and Environment and serves on the leadership team for the Kansas Women's Environmental Network. Renée is passionate about educating the public on what happens to water once it goes down the drain and dispelling the ick factor of wastewater treatment. She lives in Lawrence with her two cats and in her free time she can be found singing in the barbershop chorus "Flint Hills Harmony," writing letters to her family and friends, or traveling around Kansas visiting post offices as a member of the Kansas Explorers Club. She's excited to join Friends of the Kaw and share her knowledge of how river towns like Lawrence "filter" the river through their communities.