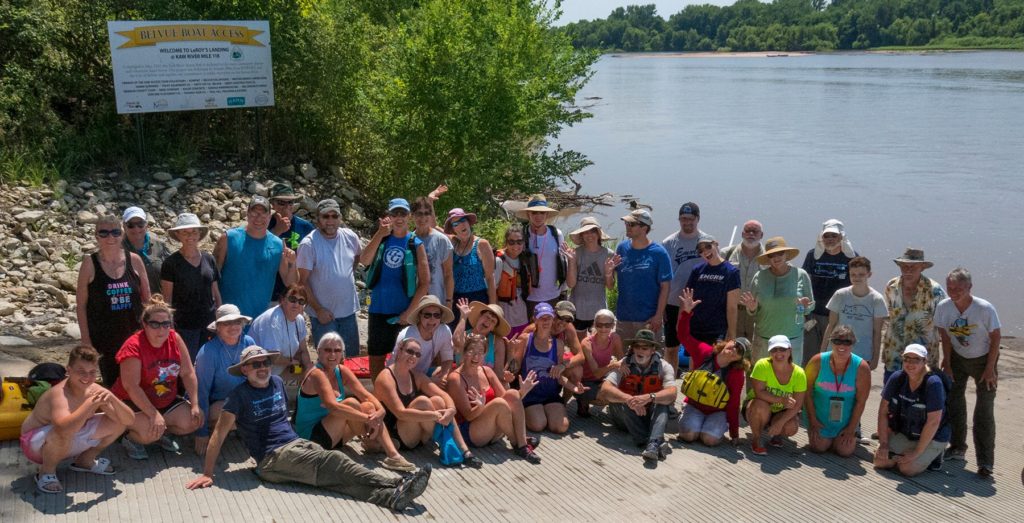 FOK Family unite! Membership means strength in numbers. Join the ranks of over 500+ people who purchase a membership each year.
Just as you count on the dynamic ecosystem of the Kansas River, FOK counts on dedicated individuals like you to become a member of Friends of the Kaw each year.
Together, we make a difference by increasing our voice and contributing to something bigger than ourselves.
Membership Rates:
One-year Individual Membership: $45   join now
One-year Family Membership: $80    join now
Give the Gift of Membership   gift now
 Membership Perks:
Membership starts March 1 and ends February 28.
Receive e-newsletter for events and opportunities to participate, volunteer, respond, and donate.
Members are THE FIRST to know about paddle opportunities.
Attend for FREE Member-Only events presented by experts.
Paddle for FREE at Beginner Wednesdays and Themed Education Paddles when you bring your own kayak/canoe.
Volunteer for education events, trash cleanups, riverbank restoration projects, and become a Kaw River Guide.
Receive a friendly reminder each year to renew your membership. Auto-renew option available online.
Don't want to renew online?  Download our Membership Form and mail to:  PO Box 1612, Lawrence, KS 66044
See…membership has its perks!
Beginner Wednesdays
Themed Education Paddles
Beginner Camping on the Kaw
Trash Cleanups
All paddle rates, fees, events, and so much more.
More
Annual Sustainable Membership
Individual
More
Family Membership
Individual
More
Corporate Membership
Organization