Topeka Riverbank Restoration Project
Friends of the Kaw, Native Lands LLC, the Kansas Department of Wildlife and Parks, the City of Topeka Utilities Department, and the Shawnee County Extension Master Gardeners are returning native plants to Kaw River State Park in Topeka! Removing non-native plants and returning native grasses, wildflowers, trees, and shrubs will slow storm water and stabilize soil, decreasing erosion on the bank. The native plants will also filter pollutants and debris, provide habitat for wildlife, and provide food for pollinators. They are also beautiful!
Be a part of the action! Most restoration tasks take place during volunteer workdays which last about 2-3 hours and begin with a quick presentation about the project and why natives matter. After that, we get to work removing invasive plants, planting new natives, or taking care of other tasks. Workdays usually take place in the spring and fall, ending in late spring 2024. Sign up for our email list to receive notifications. Our scheduled Spring 2023 Workdays include:
Saturday, April 1 – Native Grass Seed/Invasive Species Removal, 10:00 AM – 1:00 PM.
Thursday, April 13 – Planting & Invasive Species Removal, 5:30 – 7:30 PM
Saturday, May 6 – Planting & Invasive Species Removal, 10:00 AM – 1:00 PM
Thursday, May 18 – Planting & Invasive Species Removal, 5:30 – 7:30 PM
Tuesday, June 13 – Planting & Invasive Species Removal, 5:30 – 7:30 PM
RSVP and learn more about the Spring 2023 workdays!
Become a citizen scientist! We're tracking the types of plants and animals at the park and you can help by recording the interesting things you find! We're using iNaturalist and Ebird to record our data. Just download the iNaturalist or Ebird app on your phone, search for Kaw River State Park (or click on the QR codes below) and record your sightings. Follow the project and see what other people find, too!
Sign up for our volunteer email list! Email FOK Program Manager Kim Bellemere at kim.bellemere@kansasriver.org to get on the list. We send out information before each workday and we'll share the latest news. You can also follow Friends of the Kaw and our partners on social media (Facebook, Twitter and Instagram) where we post pictures and information about the project.
Watch for special events! Watch your email and social media for news about special projects like trash cleanups, educational outings, and tours. Do you work with a group that wants to learn more or visit the site? Let us know! We're happy to host school groups or provide presentations for community members. Email Kim Bellemere at kim.bellemere@kansasriver.org with questions or for more information.
Project funding provided by the National Fish and Wildlife Foundation and Southern Power Company.
We can't wait for you to join us in Topeka!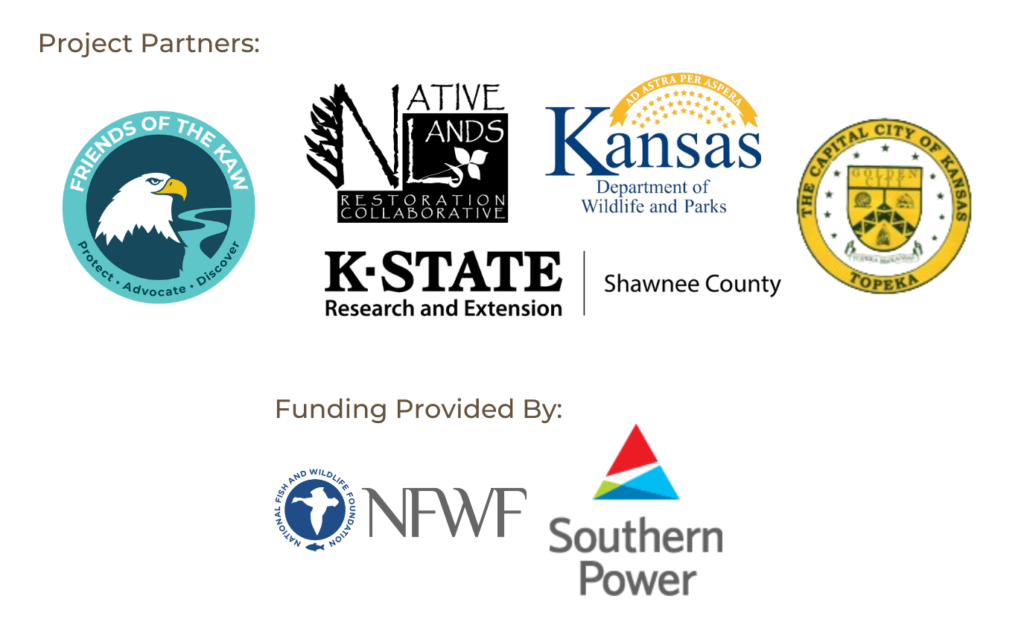 Citizen science links and QR codes