Sowing Seeds –
Restoration at Lawrence River Trail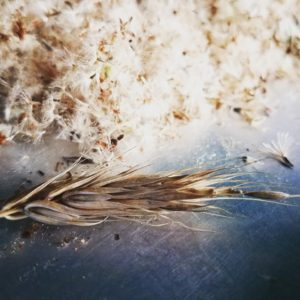 It's finally time to spread seeds over the reclaimed areas of the Lawrence River Trail. Thanks to our volunteers, we've cleared the invasive species from over 4 acres of forest this fall! Now, we need to fill those spaces with the seeds of native grasses and wildflowers. With your help, we'll disperse the seeds and rake them gently into the soil. They'll rest all winter and sprout in the spring, helping to protect those areas from re-invasion. Please join us for this heart-warming work. It's low tech and all ages are welcome! If you have a rake, bring it. We'll bring the rest. Dress appropriately for working outside – close toed shoes are a must! Note: Given the season, please join our volunteer email list to stay up to date on the schedule for this event. If we have to cancel, we'll email that group. We'll also keep this page up to date. Meeting location:
https://goo.gl/maps/624Eb7qwXS82
Thank you for joining us to protect and preserve the Kansas River! We hope to use this project as a demonstration of how we can use native plants to protect the water quality of the Kansas River, which is a source of drinking water for over 800,000 Kansans! Thank you to the Douglas County Heritage Conservation Council for funding this project!