Somebody has to do it….
These last couple of weeks have felt less like a sweltering Kansas August and more like the onset of fall. I don't let it fool me…I've lived in Kansas my whole life and know well enough that we are not done with 90 degree days! I am a child of summer, so I'm always hoping for summer to hang on a little while longer. Every season holds something special here in Kansas…because we truly get 4 seasons. For me, the best season on the Kaw is fall. Oh, beautiful fall! There is something quite spectacular about starting the day with a light jacket as you slowly push off onto the cool air of the river. By mid morning, you are taking layers off and feeling the warmth of the sun. But the evening….the evening is where the Kaw showcases the magic. A Kansas River sandbar on a cool evening with a campfire, friends, stories and then a peaceful rest in the coolness of the river's edge. Those are the days of magic, friends.
Last weekend, the river finally dropped as the Corps of Engineers dropped the outflows at Milford as it got closer to conservation pool. Those of us that are on the Kaw regularly know where all of the big trash resides and we know that it is our duty to get it off the river. So with a team of our Kaw River Guides, we made a last minute decision to get on the river at Ogden and go after a few big ticket items that we've been eager to get off of our beautiful river. So off we went…with chainsaws, contractor trash bags, gloves, and a lot of determination.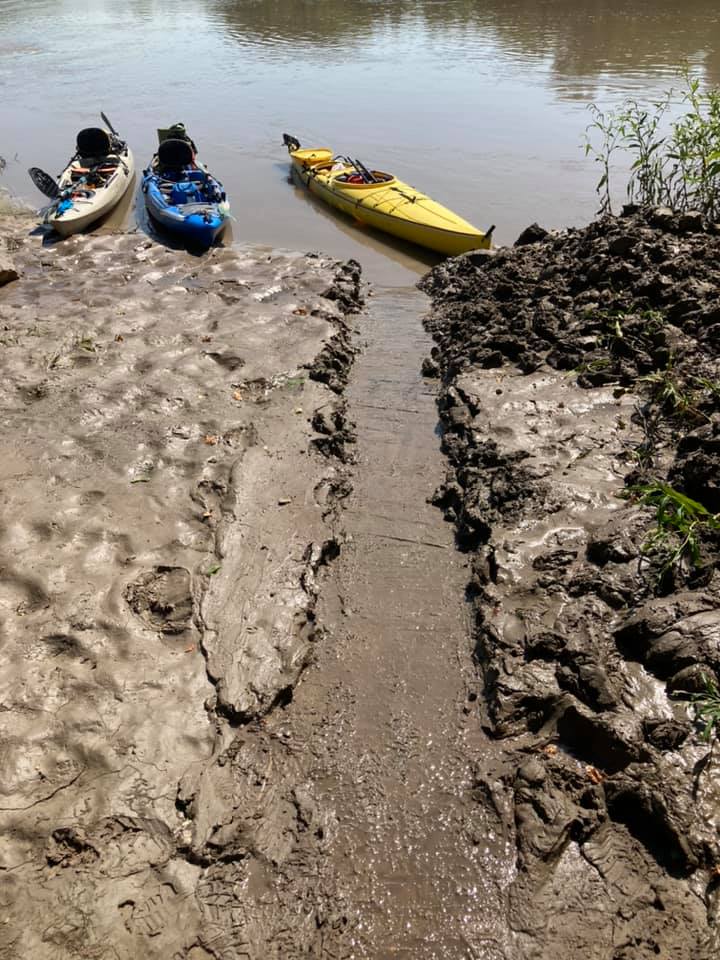 Our first job of the day was to shovel the Ogden Boat Ramp – by hand! The river has dropped, so often the communities have not had a chance to clean it. We try to always carry a shovel for this reason and thankfully we had one and blazed a path through the deep and thick muck. We shoved off with plans to get a hot tub just downstream of the Ogden ramp and we were hoping it was still there. And…yes, it was. And it was encased in mud and even had grass growing around it. We found an eddy on the backside to steady our boats and went to work with a chainsaw. We were able to remove about half of the hot tub and the rest will have to wait until the river drops significantly, but we will be back for it! We had made last minute arrangements with a Game Warden that we've worked with before to come and help us get all of the trash off the river, so we stacked all of the debris on a sandbar to wait for our return the next day.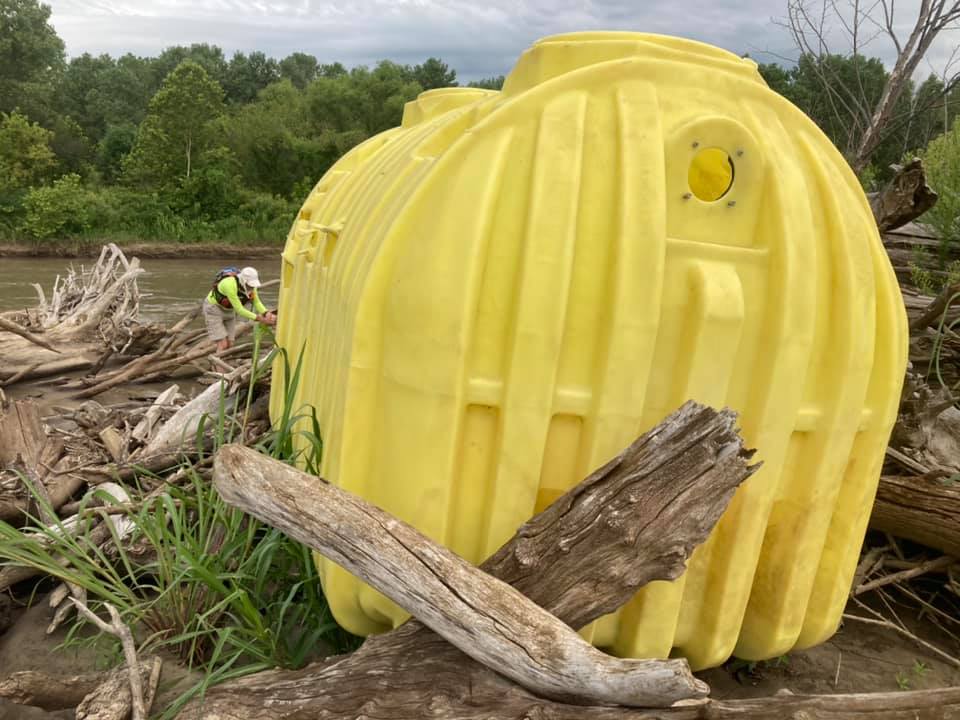 We headed on to our sandbar for our overnight stay, with plans to get what we really coveted to get off the river – a septic tank that has been on an island for the better part of 2 years. When we arrived at our sandbar for the night, there we found a water heater and some tire rims, so all of us together used our tie down straps to make a sling so that we could carry the water heater to the water's edge and make sure it would be easy for the Game Warden to retrieve.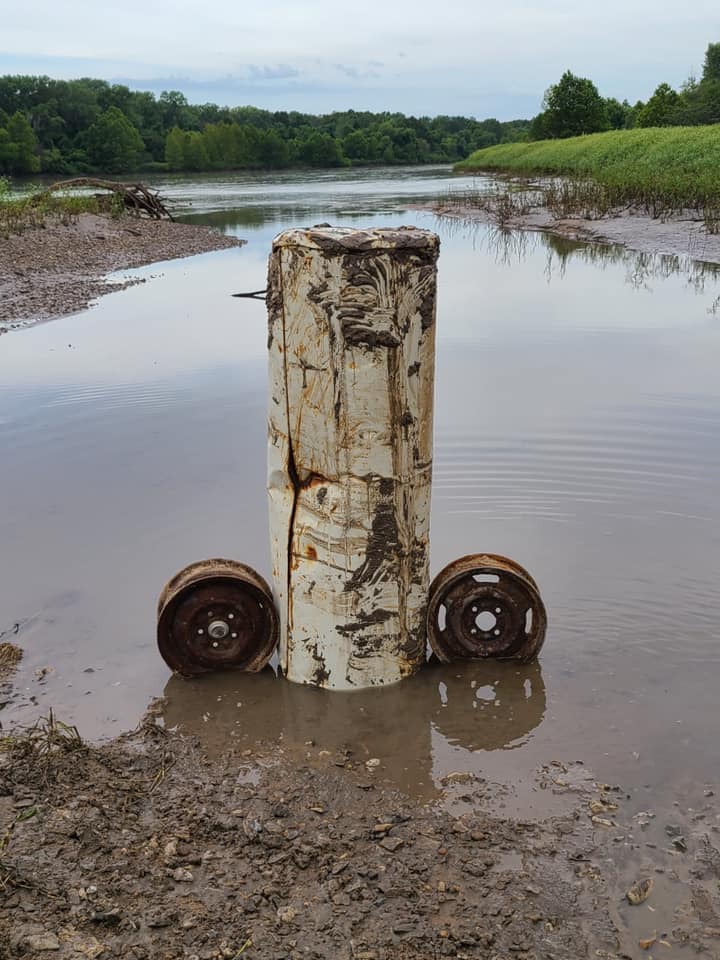 We enjoyed one of those spectacular Kaw evenings on the sandbar. We had a fire, friendship, and we laughed at stories from the KAW 173. One of our many jokes is that if there is a chance that rain will find us, it will! And we could not believe that with a zero percent chance of rain, we woke at 6:00 AM to the sound of thunder! Ahh….we are so use to it, that we got up and made coffee and then hunkered back down in our tents to let it pass. We had big plans ahead for the septic tank but we were in no hurry. We were getting that septic tank!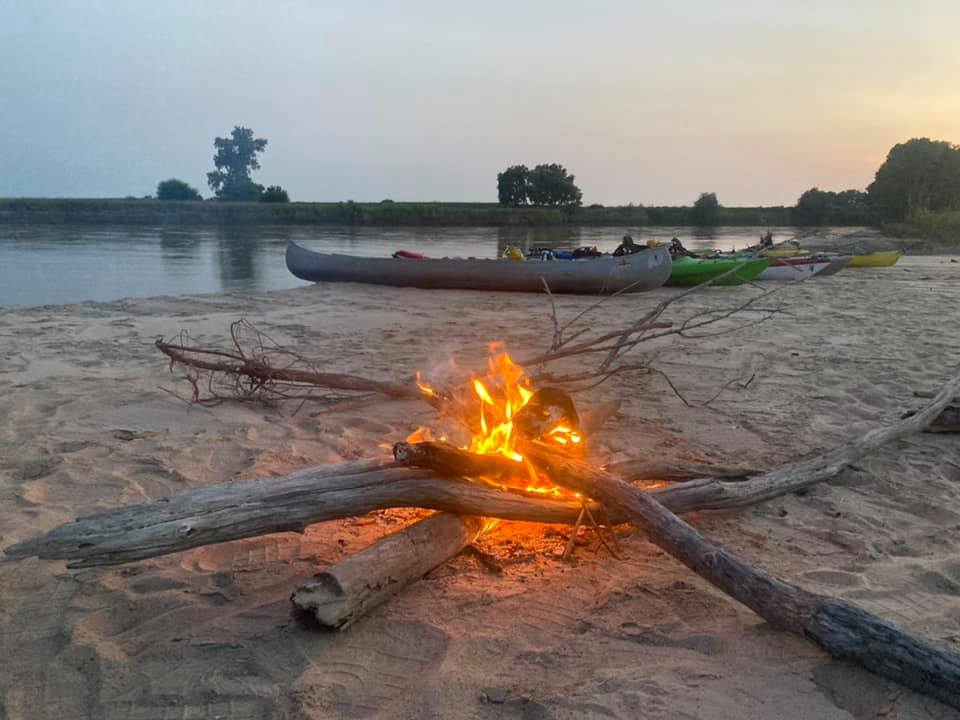 We shoved off later that morning and we only had about a mile to go to reach the island with the septic tank. We knew the island was a very muddy spot and did not have a lot of sand and it had just rained, so this was going to be a mess. It is amazing what you get use to when you spend a lot of time in rivers.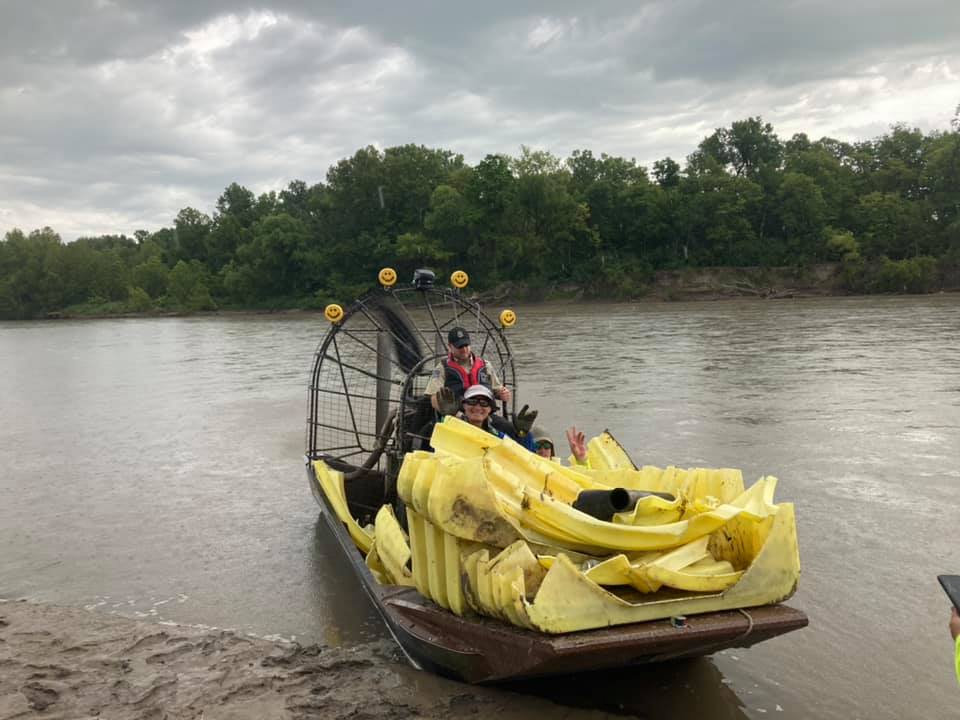 The septic tank was there, perched high above the island and surrounded mostly by driftwood. With our handy chainsaw and some skilled Kaw River Guides, we dismantled the septic tank into pieces and stacked it up for the Game Warden's arrival. Not long after finishing our work, Game Warden Gehrt with Kansas Dept. of Wildlife Parks & Tourism arrived! We loaded all of the plastic from the septic tank and also loaded two of our Kaw River Guides to go along and help with unloading and then also loading the rest of our trash haul. Everything was transported to the Fairmont Park boat ramp in Manhattan and the next day it was taken to the landfill by the Riley Co. Parks Department! Talk about teamwork…that's how things get done!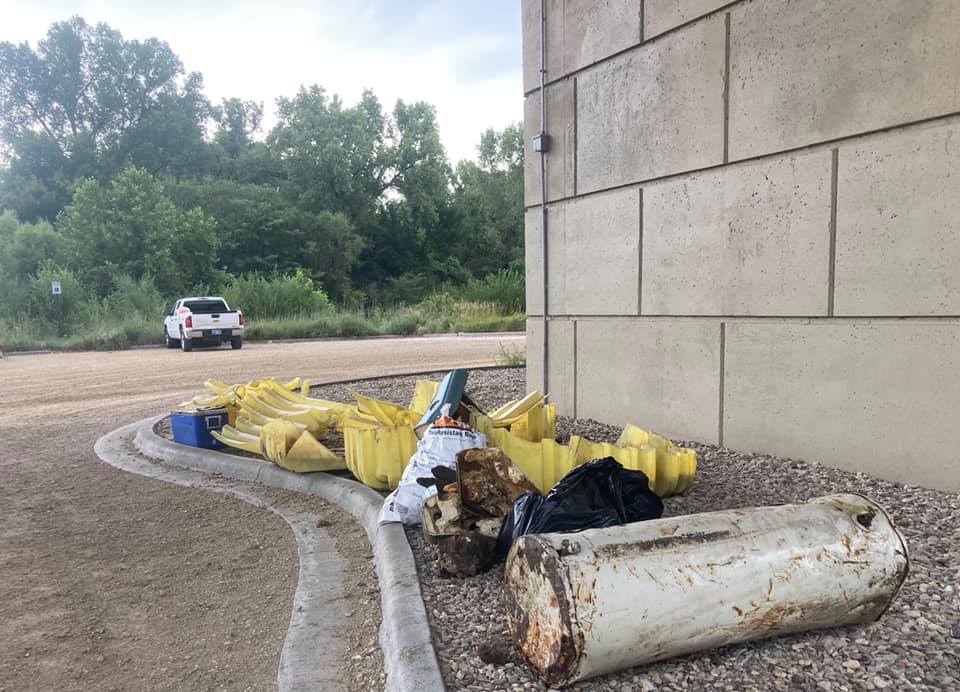 Friends of the Kaw has been the only non-profit dedicated to cleaning up the Kaw for almost three decades. I am proud to carry on the work of those before me. What makes this all happen though, is a team of dedicated volunteers and partners all up and down the river. We can all cleanup up the Kaw together – one cleanup day at a time. Somebody has to do it, why not us?
Anyone can join us a Kaw River Guide if you have your own boat and gear, just reach out and get involved. Even if you don't have a boat, but want to join us, we have bank cleanups too. It doesn't matter if you can give one hour, or every weekend…we are grateful for any gift of your time. Contact me and I will be happy to get you included in our communications.
I hope that I say enough how grateful I am to our volunteers and partners – you all know that we could not do all that we do without them, right? What a great group of people we have that are committed to this journey with us. Every day I get up and love my job…but these folks make it so much easier!
The Kaw is looking spectacular this weekend…the river is dropping and the sandbars are emerging. The weather looks perfect! Let me know if I can help you connect to the Kansas River . Call or email with questions about flows, ramps, sections, camping – whatever it is, we want to help you find your own adventure on the Kaw! PS…don't forget your lifejacket!
May you always have sand in your shoes…
For the river,
Dawn, Your Kansas Riverkeeper