Topeka Water Plant Low-Head Dam and Access Ramp (also called the Topeka Weir)
Shawnee County
THIS IS A LOW-HEAD DAM AND YOU SHOULD NOT GO OVER IT IN ANY VESSEL. PORTAGE THE DAM OR UTILIZE THE PADDLER CHUTE ON THE NORTH BANK/RIVER LEFT.
WHEN PADDLING FROM UPSTREAM, STAY ON THE NORTH BANK/RIVER LEFT AND BE SURE TO PADDLE ON THE NORTH/LEFT SIDE OF THE ISLAND APPROXIMATELY 1 MILE UPSTREAM.
GPS
:

Dam – 39.07231, -95.71573. Portage – 39.07421, -95.71637
Access Ramp and Portage:
River Left
Directions
:
From I-70 take U.S. 75 north. Get off U.S. 75 at the first exit north of the Kansas River. Go east 3 blocks to the industrial park complex and take the first right turn. Drive to the southeast corner of the industrial park (look for the cell tower.) Take the dirt road that goes south over the levee to the large parking lot and access area.
Access and Portage Information
:
The Topeka water plant has a low-head dam (often referred to as the Topeka weir) about 2/3 mile downstream from the U.S. 75 bridge.
YOU SHOULD NOT GO OVER THE DAM IN ANY VESSEL.
There are two wide concrete access ramps on the north (river left) side of the river, one above the dam and one below the dam, where paddlers can portage. There is a large gravel parking lot at the ramps, allowing river users to park cars for shuttling and to launch boats both upstream and downstream. In 2021, a paddler's chute and fish ladder were installed on the north bank (river left) between the two access ramps, allowing paddlers to continue through this section of the river without portaging.
Amenities
: None. The walk to the nearest convenience store is about 1 mile.
Paddle Information
:
The next access is the
Seward Avenue/Fool's Landing Access Ramp
10.6 miles downstream at river mile 77. If you paddle to Seward Avenue/Fool's Landing be aware of the
West and East
Old Railroad Bridges that were dropped into the water years ago at river mile 85.3 and 84.5. Both bridges are near the newer operating railroad bridges. The old bridges are a hazard because of exposed steel, especially at low water. Boaters should pass the bridges by staying close to the river right (south) bank. This trip is not recommended for novice paddlers due to the in-river hazards.
The river travels through downtown Topeka under road and rail bridges, controlled by earthen levees. The river then leaves the city and winds into the countryside. There is an active sand dredge as you approach the Seward Avenue/Fool's Landing Access Ramp.
Game Warden Covering Shawnee County: 785-230-4434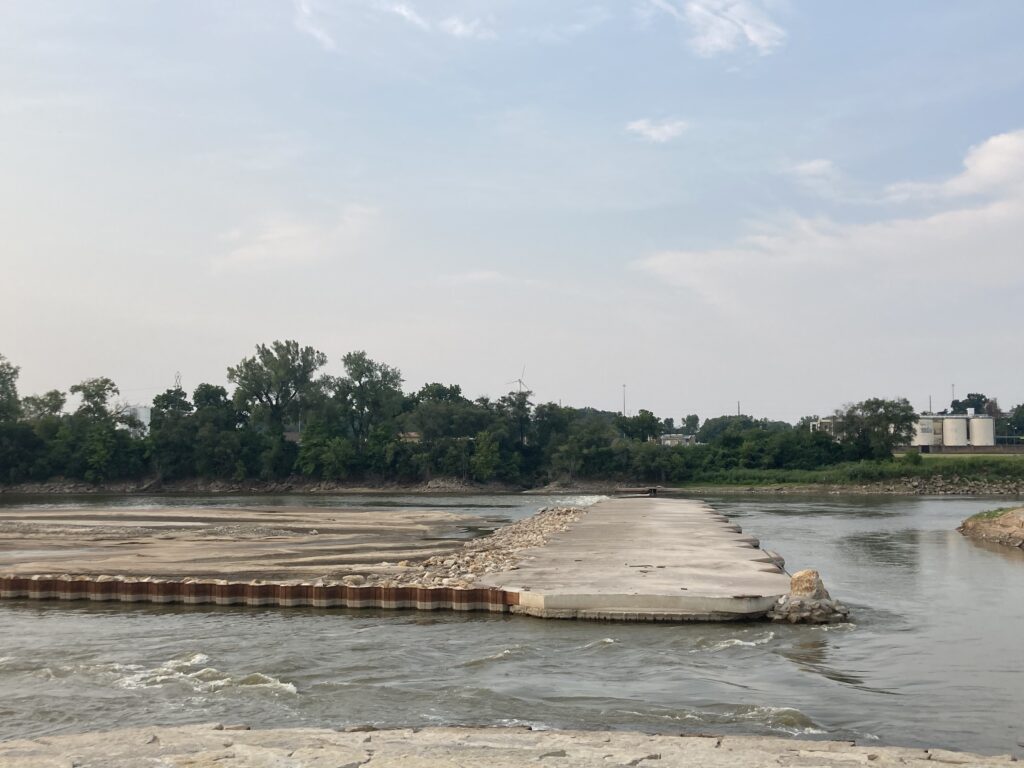 Click here to see a video of a trip through the paddler chute.