Seward Avenue/Fool's Landing Access Ramp
Seward Avenue
Topeka, KS
Shawnee County
River Mile: 77
GPS: 39.06036, -95.59468
what3words: ///driftwood.defines.stylists
Access Ramp: River Right
Directions: From I-70 take Exit 366 east of Topeka and go north on K-4. Go approximately 2 miles to the Seward Ave exit. Take Seward Avenue east one mile until you cross a railroad track and come to a right curve in the road. Slow down and look for a gravel road and parking lot on the north side. The concrete access ramp is at the far north end of the parking area. If you prefer to come from U.S. 24, you can reach the same Seward Avenue exit by driving approximately 2 miles south on K-4.
Access Information: There is a paved parking lot with ample parking. This location is not a good place to leave cars overnight. Shawnee County Parks & Recreation , which is responsible for ramp maintenance, recently installed a gate at the entrance. It is locked from dusk to dawn. The ramp can be partially silted in by rising and lowering water. We suggest you check the ramp condition prior to planning your trip. You also might want to take a blunt nosed shovel with you to clear mud from the end of the ramp.
Amenities: Lighting and a trash can. In 2021 Shawnee County Parks and Recreation made a number of upgrades to the ramp and rebranded it as Fool's Landing. They paved the parking lot and completed additional upgrades in the summer of 2022.
Paddle Information: Next access is the Lecompton/Rising Sun Access Ramp 12.7 miles downstream at river mile 64.3. The Tecumseh Low Head Dam is 1 mile downstream from the Seward Avenue/Fool's Landing Access Ramp. Review the information about the dam closely before planning your paddle trip. You should always approach this area slowly as the dam is barely visible in most situations. Passage is not advisable for motorized boats. There are no public access to roads near the dam.
Game Warden Covering Shawnee County: 785-230-4434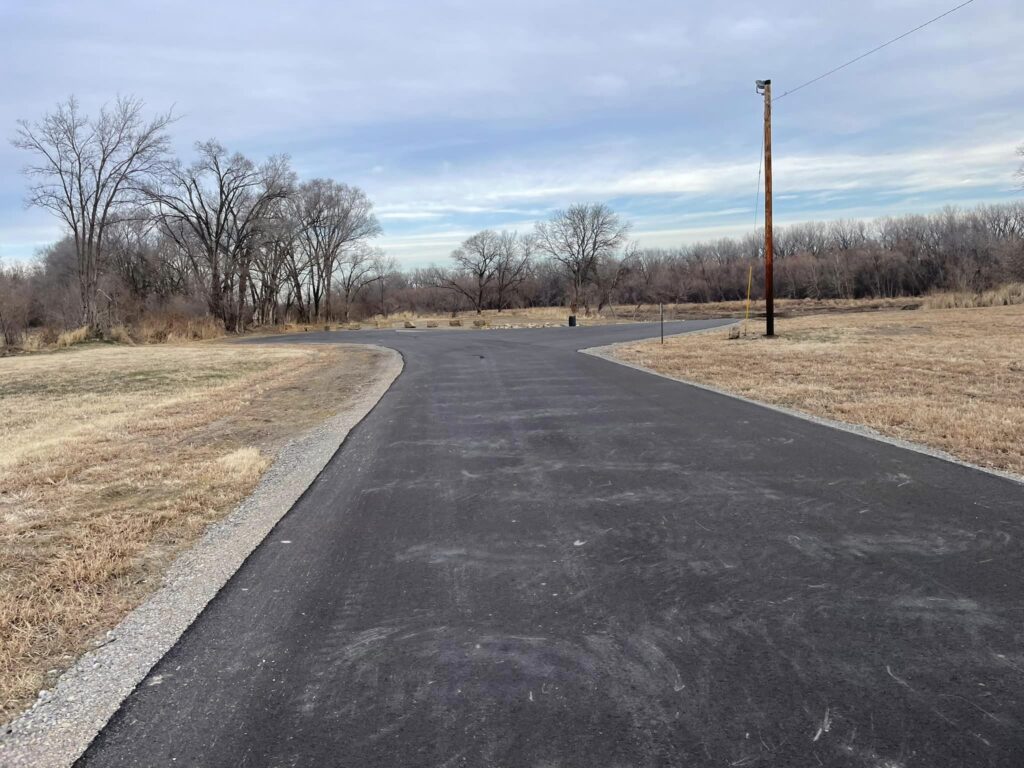 Photo credit: Marcia Rozell