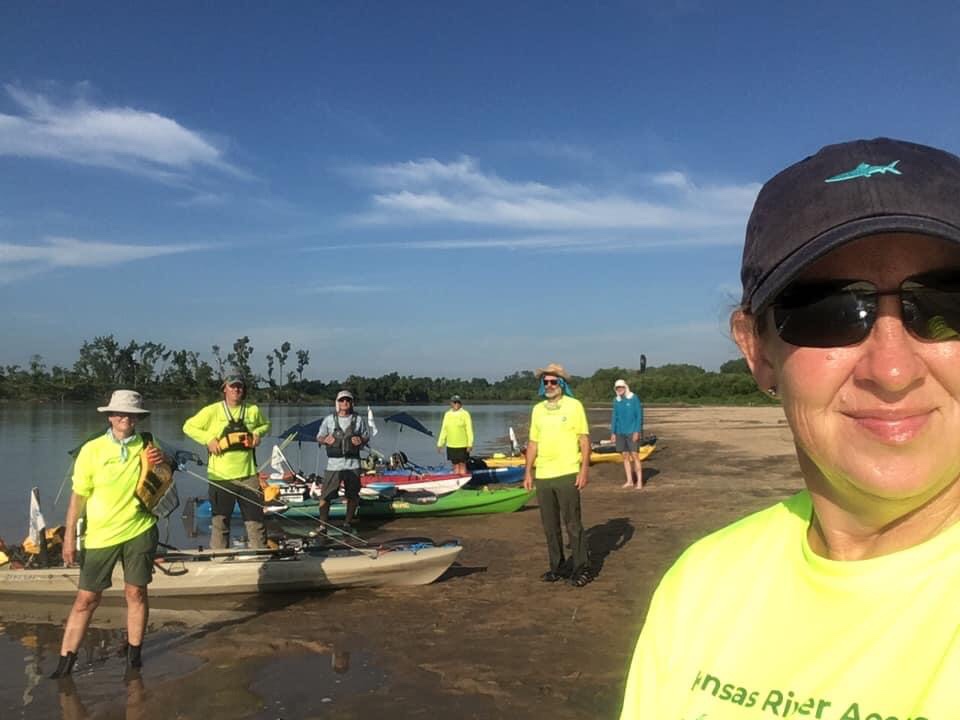 KAW 173 – Day 8

River Mile 43 and kayaked 24 miles to River Mile 19 on the Kansas River Water Trail.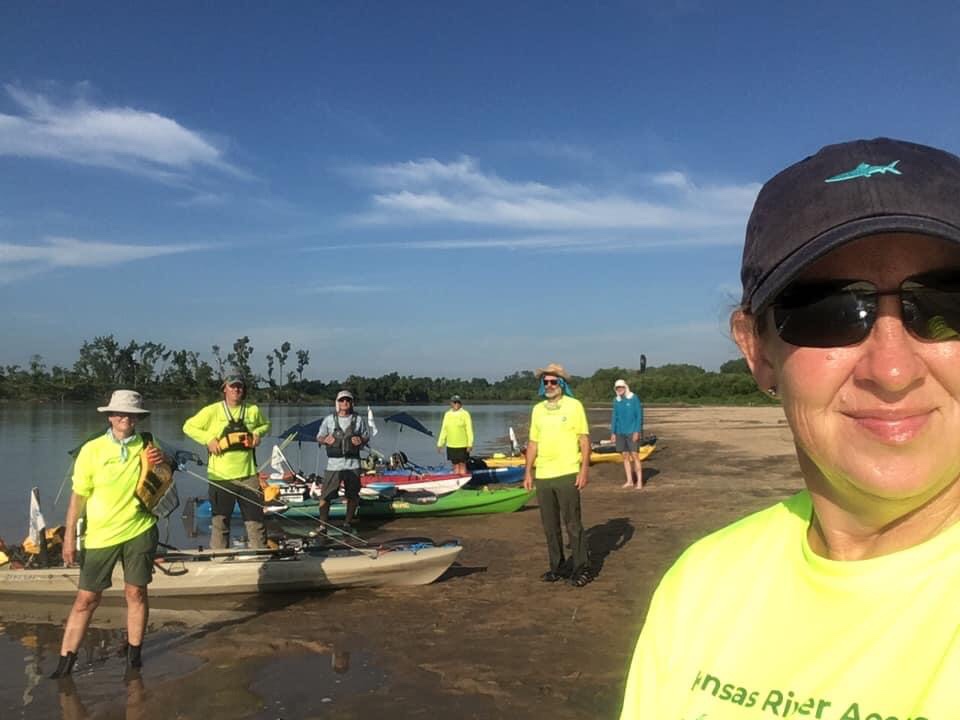 When dawn broke this morning, we all agreed we really had the best night of sleep of the entire trip. The temperatures last night were a cool 71° and I think we were all so tired we just passed out. We did have a great evening on the sandbar, with a bonfire and my friends brought sparklers to celebrate my birthday! We stayed up a little later than normal and stared at the stars. Lisa had brought along a pair of binoculars and we used those to enjoy the stars. Along the way we've all learned so much from each other….from the ones that know birding the best, from the entomologist, about sandbar tracks, and about the stars in the sky!

We departed a little later than normal, because we had come far enough the night before that we didn't have very far to go to meet up with the Eudora Paddle group. So we enjoyed a little longer to linger around a morning campfire and breakfast. We took our time getting our things together knowing it was the second to last morning of our journey.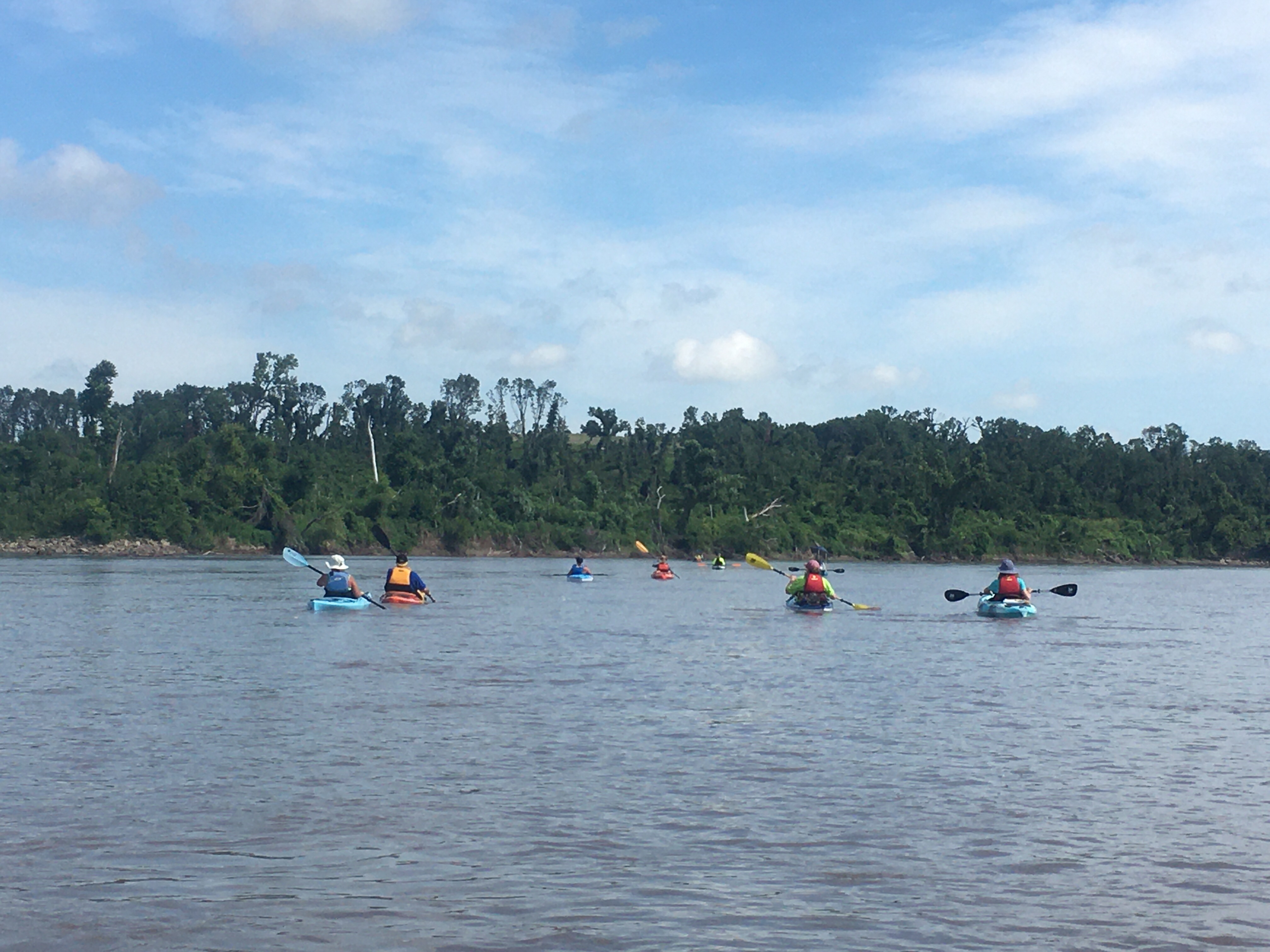 We got on the river a little after 9 AM and paddled downstream just a few miles to Eudora, my current home. We waited on a sandbar because we knew a lot of folks were coming. The Dirty Girls Adventure group did a fundraiser to join us for the KAW 173. About 30 of their friends came along, and the money that they paid for the trip was donated to Friends of the Kaw! We stopped on a sandbar about halfway between Eudora and De Soto and they presented us with a check for $1600! We are so grateful for this donation to our work to protect and preserves the 173-mile-long Kansas River! We love our River partners!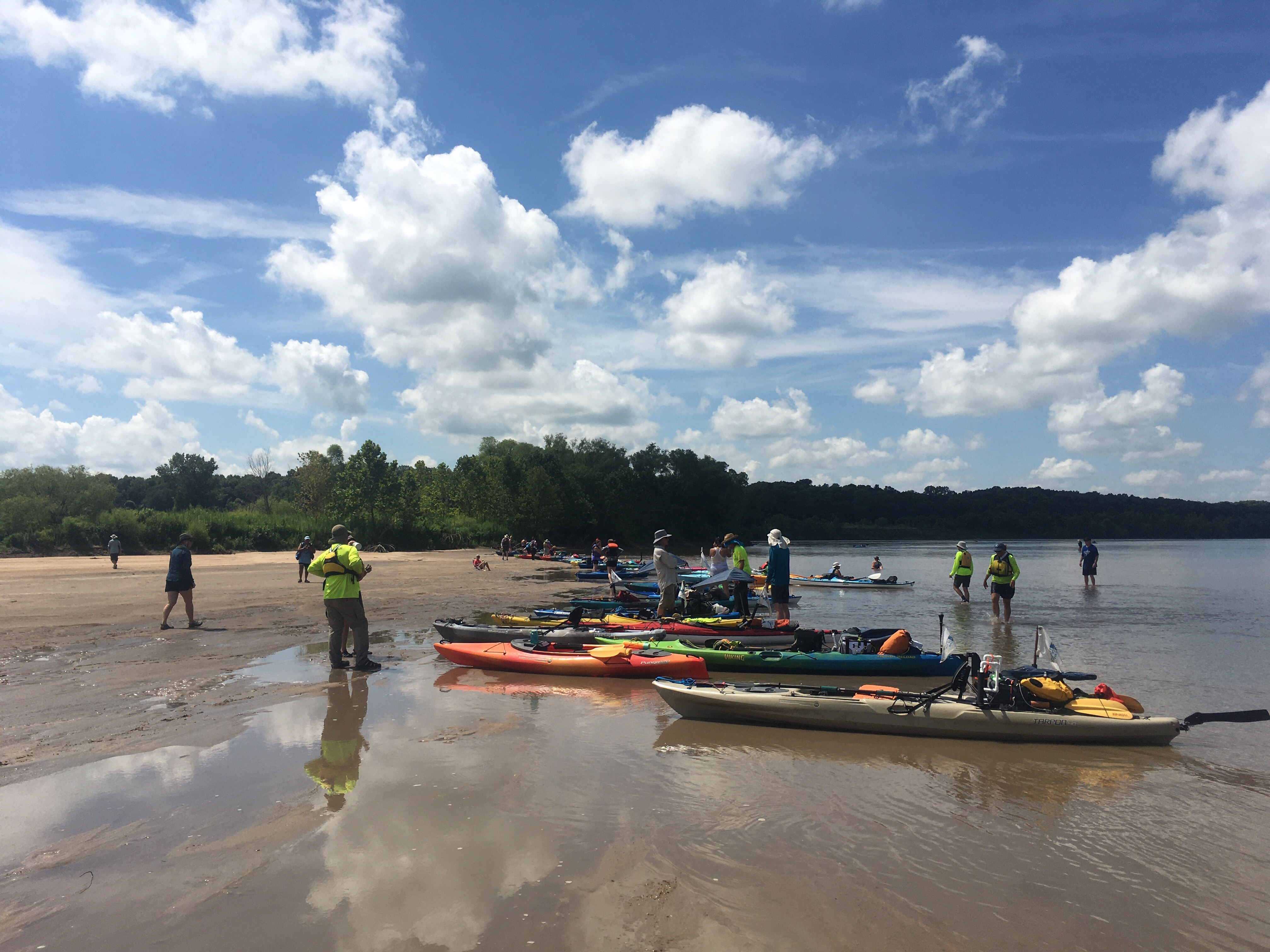 We had to leave the sandbar and get going onto our next community visit at De Soto. We took off and everyone else stayed back and enjoyed the sandbar, which is exactly what we want! We paddled on to De Soto, and when we arrived we were greeted by the De Soto Rotary Club. The De Soto Rotary Club has a special relationship with us… They have funded our Kids About Water Program over the years, we've partnered with them on the pop-up Paddle at Lexington Lake, which is coming up in August, and they also have adopted the De Soto boat ramp in our Adopt-A-Boat Ramp program. We are so blessed to have such a great river partner in the city and the Rotary. When we arrived, they had set up a tent in the shade with tables and chairs… and tons of food! We were treated to pizza from KJ's in De Soto as well as fresh salads and fruit! I think they knew exactly what to feed us when we got off the river because it was perfect! The Mayor of De Soto joined us and talked about the river and the relationship to the city. We really appreciate all of the people that came out today to greet us and to show how much they appreciate the river trail! We stayed for a while and lingered, it was such a great place to stop there at the park. But soon we knew that we needed to get on down the river. Thank you to my hometown for the warm welcome!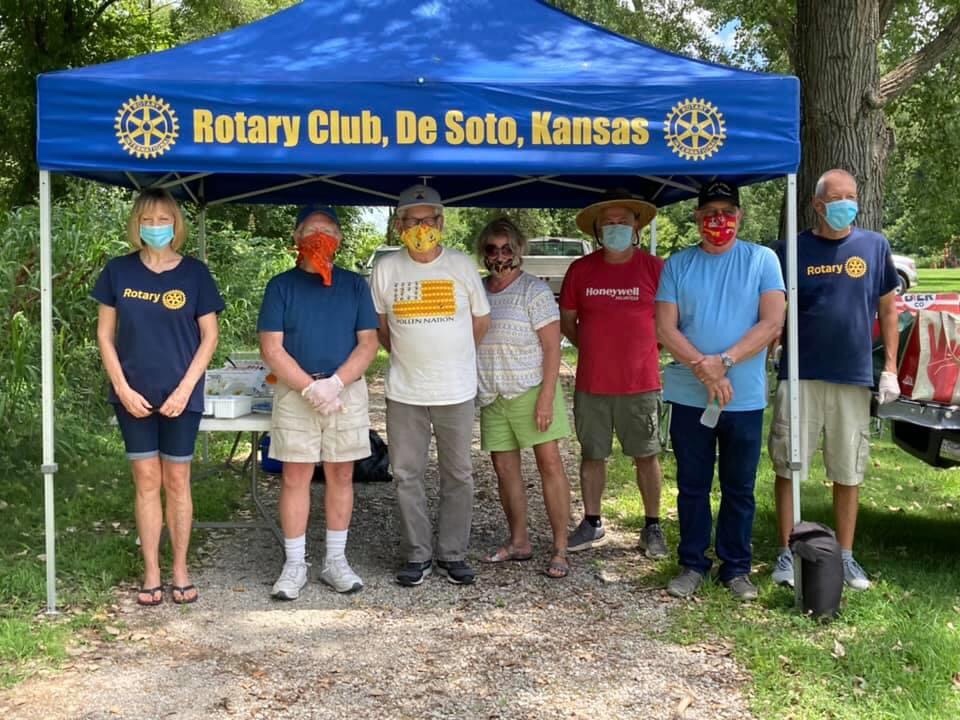 We had a community Paddle scheduled from De Soto to Cedar Creek and we needed to get going. We took off from there and enjoyed the spectacular scenery. So many bald eagles that there are too many for us to count. We also saw beavers today and once we got to the sandbar for the night, we found signs of a big turtle that had been on the sandbar! The wildlife that we see, that we witness, and that we find signs of, is the best part of the journey for me.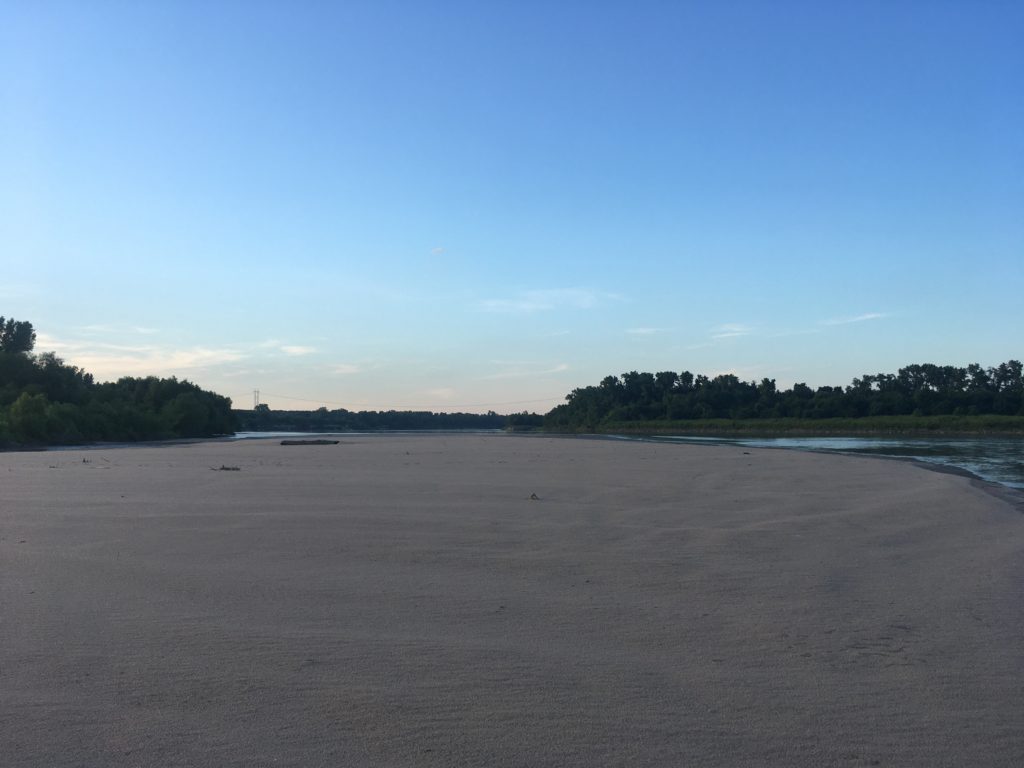 I'm sitting here on this sandbar (above) looking out over the river, just west of Bonner Springs. We found a beautiful spot under a shade tree and are enjoying each other's company. I wasn't sure how I'd feel when I got to Day 8. I honestly worried that I would be physically exhausted, or that I would have an injury such as tendinitis. These are the things that kept me working out all winter to make sure that I kept myself healthy. What I've learned, on Day 8… is that I'm stronger than I ever thought I was. Both mentally and physically. Because it takes both to do this. You have to stay mentally strong to make it 173 miles in a kayak with thunderstorms, rain, heat warnings, wind, and the elements. And you always, always, have sand in your shoes.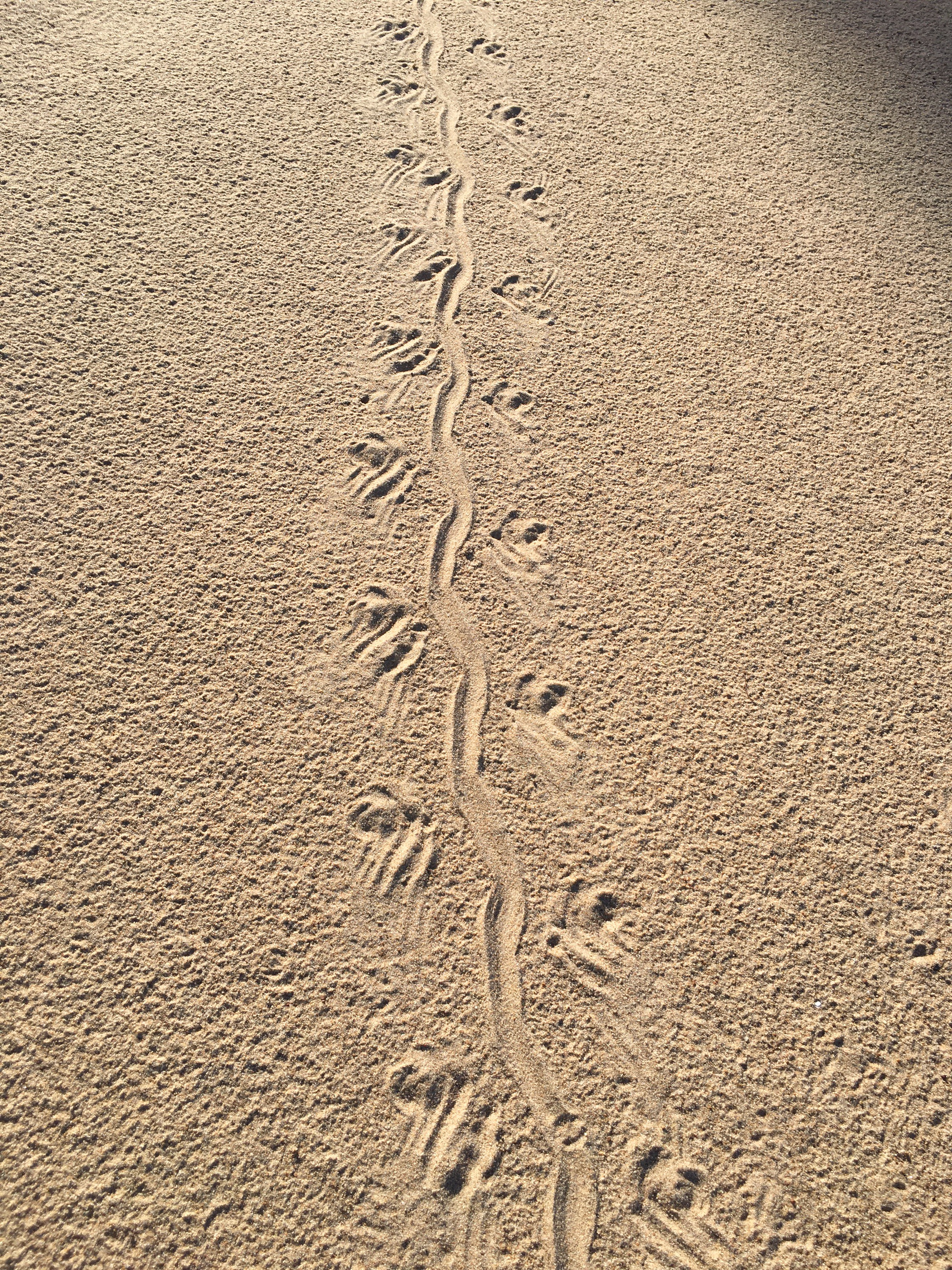 When I think about the six people that gave up their vacation to come with me on this crazy journey, it brings me to tears. They are all good people. Some of the best that I know. Good hearted, strong, the kind of people that will do anything for you. There's no better group to go through this with, I found that is true. We've all become stronger together and I am incredibly grateful for this day, for this journey, and for these people. We are all a bit sad that this is the last night…the river time has been good to us.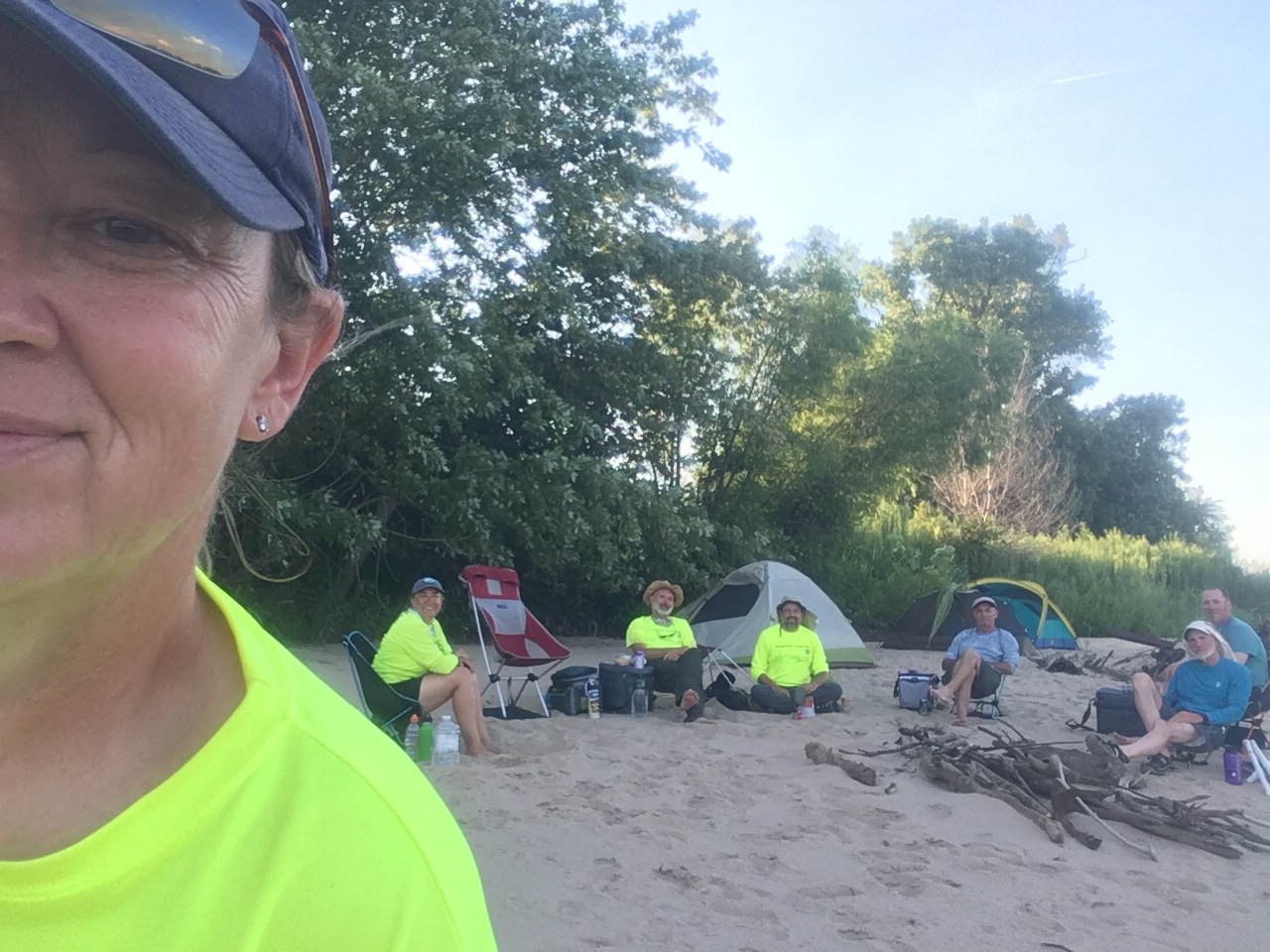 19 miles to go. We've got this,… I've got this. I'll see you at Kaw Point!…and may you always have sand in your shoes .

Dawn, Your Kansas Riverkeeper