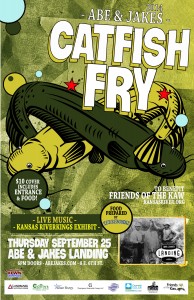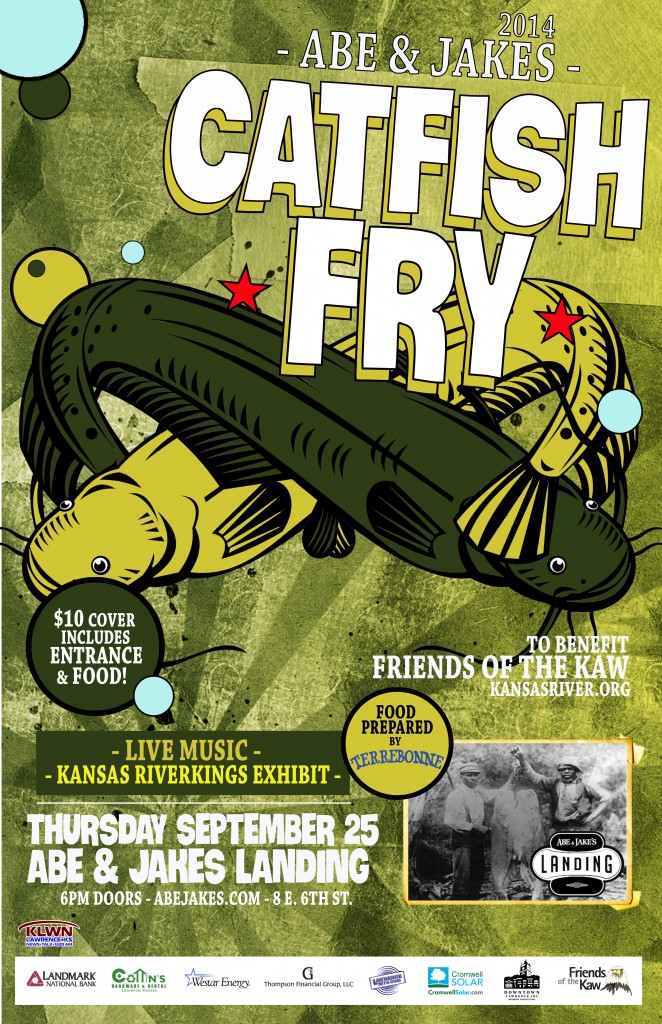 Please join us for the Catfish Fry fundraiser at Abe & Jakes Landing at 8 E. 6th St. in Lawrence, KS starting at 6pm on Thursday evening, September 25. You will receive a delicious catfish dinner prepared by Terrabonne Cafe. The cost is $10 in advance and tickets can be purchased  HERE, or pay $12 at the door.  As well as a yummy dinner, you will enjoy a blue grass band, a great exhibit on the Kansas Riverkings, a cash bar, and lots of fun and conversation about the Kaw!
You will also have the opportunity to bid on some fabulous items from Lawrence merchants in our silent auction.
We would like to thank our sponsors:
Abe & Jakes
Westar's Green Team
Cromwell Solar
Thompson Financial Group
Cottin's Hardware & Rental
Landmark National Bank
LawrenceHits.com
KLWN
Downtown Lawrence
Fall Floats on the Kaw!
This Saturday, September 20,  Friends of the Kaw will host the Kanza and Thomas Hart Benton Sierra Clubs on a Kaw River float from Seward Ave. access in Topeka to the Rising Sun access just north west of the Lecompton Bridge.  This is a particularly scenic 13 mile float and we still have a few boats available for the public to rent.   If you have your own canoe or kayak you are welcome to join the float.  We will meet the group at the Rising Sun access at 8am to organize the shuttle and caravan to the Seward Ave. access in east Topeka. After a safety and basic paddling talk we will launch about 9:30am.  We will paddle as a group for about an hour and a half and then stop on a sand bar for a hotdog and marshmallow roast.  Participants will have time to explore the sand bar and also listen to a short Sandbar Seminar about the Kaw.  We will paddle for another hour and half and take out at Rising Sun about 2pm.  Drivers will be taken back to their cars at Seward Avenue and then return for their boats and passengers.
In case of eminent thunderstorms or high wind we will cancel the float at 6am on the day of the float. Call or email the Kansas Riverkeeper for more info or questions!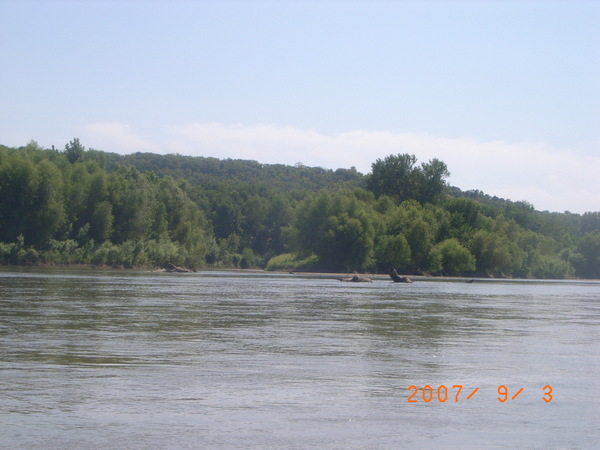 Community Forum on Kansas Environmental Issues
Thursday, October 2, 2014
Village Presbyterian Church, 6641 Mission Road, Prairie Village, KS 66208
Hosted by Environmental Action Committee of Village Presbyterian Church
Environmental Policy and Politics in Kansas: Which One Needs More Help?
A Conversation with Joshua and Kimberly Svaty
5:30 p.m.                  Appetizers & Exhibits by Kansas Environmental Organizations
6:00 p.m.                  Dinner of Locally Grown Foods Catered by Blue Bird Bistro
7:00 p.m.                  Program: Zack Pistora, Vice-President, KNRC; Josh Svaty, Vice-President of The Kansas Land Institute, former Kansas State Representative & Secretary of Agriculture; Kimberly Svaty, Owner of Gencur Svaty Public Affairs; Moderator Burke Griggs, Assistant Attorney for Kansas, Fellow at the Woods Institute for the Environment at Stanford
8:30 p.m.                  Adjourn
Advance reservations advised by Friday, September 26. $20 donation covers dinner and program. $10 covers program only ($5 for students). Payable on-line @ www.knrc.ws or by check mailed to KNRC/Community Forum, 7301 Mission Road, Suite 248, Prairie Village, KS, 66208. Receipt of on-line payment or check confirms your reservation.