It may look like "pafud," but PFD actually stands for Personal Flotation Device. In other words, it's a life jacket!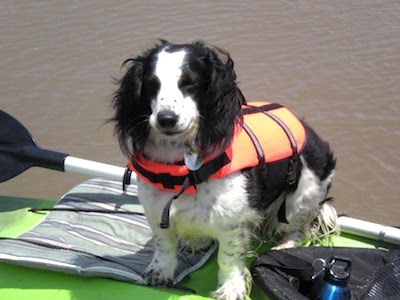 The Cardinal Rules of PFDs:
Always wear your PFD!
Be sure your PFD fits properly
Take good care of your PFD
Don't sit on your PFD
Always wear your PFD!
Testing Your PFD
How do you know if your PFD is ready to do its job? Follow the steps below!
Put the PFD around your neck.
Buckle the waist belt.
Tie the neck straps in a bow.
Pull the waist belt until it is snug. It should be tight enough to stay on, but also allow enough room to fit comfortably over different kinds of clothing (t-shirt, sweatshirt, raincoat, etc.).
Try some paddling motions (like you would do in the canoe) to make sure the PFD doesn't rub on you (you don't want a blister!) or make it hard for you to move.
Kneel or sit down, raise your arms over your head, and ask a friend to lift the top of the PFD as high as it will go. If the neck tie goes above your chin, or if your ears and neck slip through the head opening, it is too loose. It shouldn't be able to move around on you or come off.
Adjust the PFD to make sure it's comfortable and tight enough, then repeat step 6. When the PFD doesn't move around too much and is tight enough that it can't come off, you're ready to go!