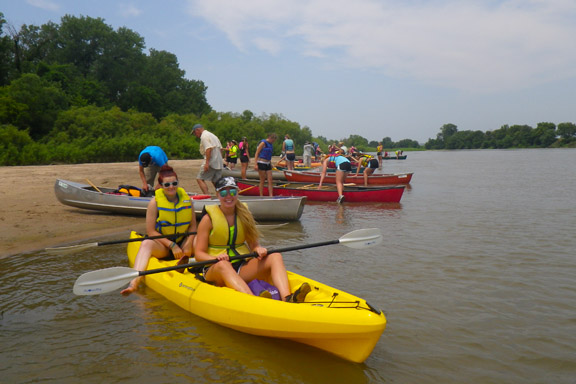 Friends of the Kaw has hosted the Shawnee Mission Unitarian Church, a KU Architecture class, the Konza Rotary Club in Manhattan, Boy Scout Troop 323 and the Kansas Wesleyan University Girls Volleyball Team (pictured above) on group float trips this summer. Our float trips are lots of fun, good exercise, and educational. In addition, we host a hot dog and marshmallow roast over a drift wood fire on a sand bar. Kaw river sand bars are fun to explore, and hot dogs sure taste good when they are cooked over an open fire!
We would like to thank the participating groups and our float assistants for making these floats safe and fun!
In September we have floats planned for Saturday the 6th, 13th and 20th. Anyone with their own canoe or kayak is welcome to join any of our floats, just be sure to call and let us know you are coming so if we have any last minute changes we can get in touch. We also rent out the canoes or kayaks not used by the group.