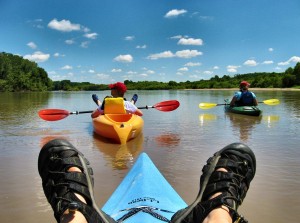 FOK 3rd Annual Paddle Assistant Workshop
You are invited!
Welcome to our 3rd Annual Paddle Assistant Workshop!
Sunday, March 25, 2018
1:00 PM to 4:30 PM
Eudora Community Center
1630 Elm Street
Eudora, KS
Please RSVP here: https://goo.gl/forms/dN9GNJHEOBpMa9L03
This workshop is held each year for our volunteers to learn about:
* Our educational paddle trip program
* How you can volunteer
* How to help others learn about the Kansas River
* The work we do
* How to read the river
New this year…..let's talk water quality in the Kansas River! We will also practice rope throwing again, talk about how to help others, take your suggestions, and tell you about the changes we are making to our program.
If you paddled with us as a volunteer at least once in 2017, you will get our new volunteer t-shirt just for coming! We look forward to having you back in 2018 and hope you will come and help others learn about our program.
Looking forward to seeing everyone!