Sharing the beautiful fall colors on the Kaw!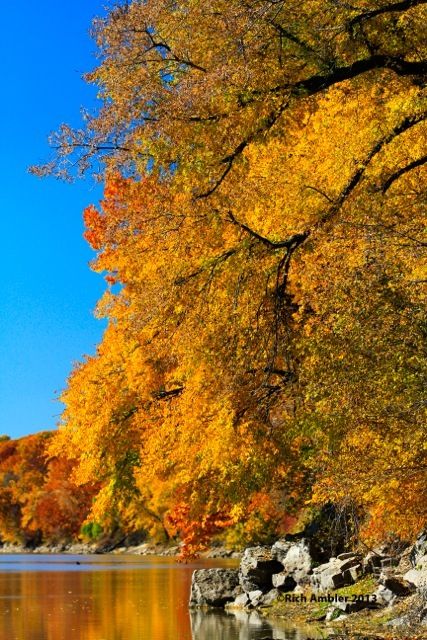 This picture was taken by FOK member, Rich Ambler on a float between Eudora and De Soto on November 2, 2013.  Fall is a wonderful time to float the Kaw and witness the vivid colors of the leaves!
Friends of the Kaw would also like to thank all those that have attended and supported our fall fundraising events:
The Catfish Fry at Abe and Jakes on Friday, September 27 with a special thank you to Mike Logan, manager of Abe and Jakes, for organizing and promoting the event.  Also a big thank you to the corporate sponsors:  Bowersock Hydopower, Cromwell Solar, Westar Energy and O'Malley Beverage.
The Wild and Scenic Film Festival on Friday, October
12 at Liberty Hall with a special thank you to Mike Rawitch for organizing and promoting the event.
Thanks also to our sponsors: Stroke Technique for the Triathlete, Westar Energy – Green Team, Lawrence Hits Com, Kansas Sierra Club, Kansas Wildlife Federation, Ozark Wilderness Waterways Club, Kansas Canoe & Kayak Association, Coeman – the Outdoor Company and the Kansas City Paddler.
FOK's Annual Dinner and Silent Auction on Tuesday, November 5 at Tortas Jalisco's Restaurant in Lawrence.  A great taco buffett was enjoyed by all and we appreciate every one that donated auction items and also those that purchased the items.  Kristen Riott of Bridging the Gap gave a very interesting program on the state of water!