Chasing the Channel – Blog No. 25
Water Funding Updates and Summer
Hello river friends ~
Last weekend we spent time on the Kansas River from Junction City to Manhattan for the first time in a month after many rainy days.  Many of you have heard me speak about this part of our river and how beautiful it is.  Think of rolling Flint Hills and a narrower river before the influence of the Big Blue River downstream at Manhattan.  There is a very diverse tree canopy, wildlife everywhere and a peacefulness on the water.  We camped on Friday night after launching at Junction City and while it was a hot afternoon, the evening was quite enjoyable.  I slept really well in my little tent, better that I usually do for the first night out camping.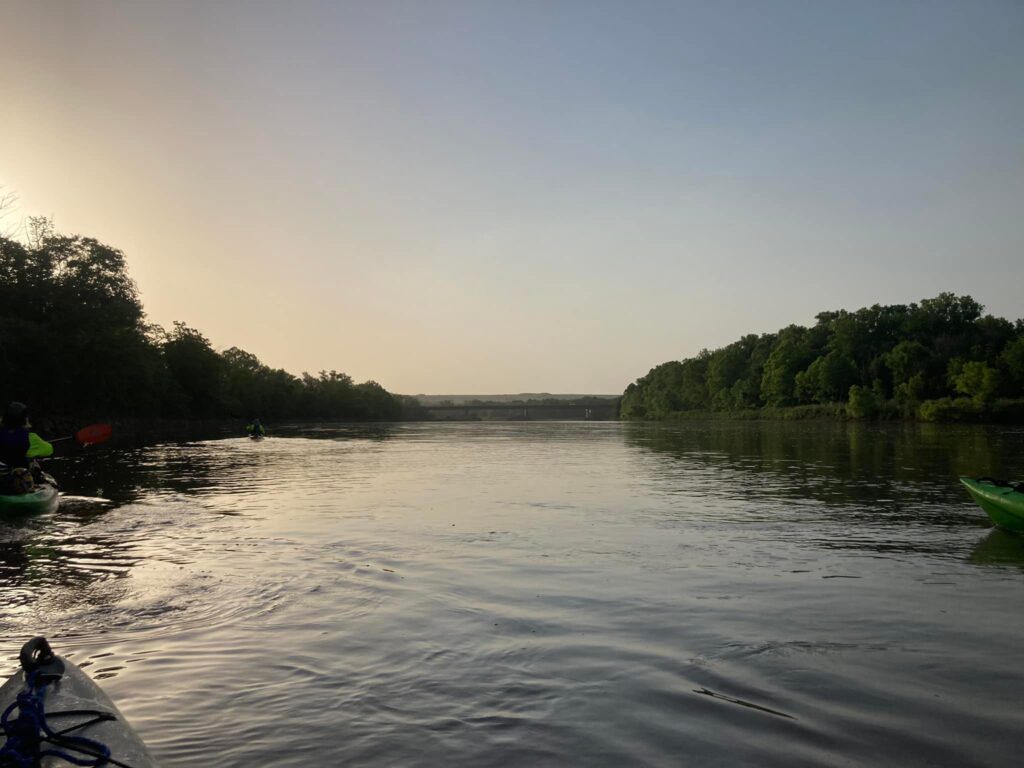 The next morning, we departed really early because we had to meet the public group at the Ogden Ramp. We shoved off about 6:45 AM just after the sun came up. There is nothing quite like watching the sun come up on the Kaw. The wildlife along the shores and in the water. We saw a beaver jump out of its den and another beaver swimming along beside. This is truly a special place.
Later we arrived at the boat ramp in Ogden and met up with the public and started our Bugs, Biodiversity and the Kaw event with Dr. Greg Zolnerowich, a K-State Professor of Entomology.  We had a really great educational day on a gorgeous stretch of the river!  Next time, you need to join us!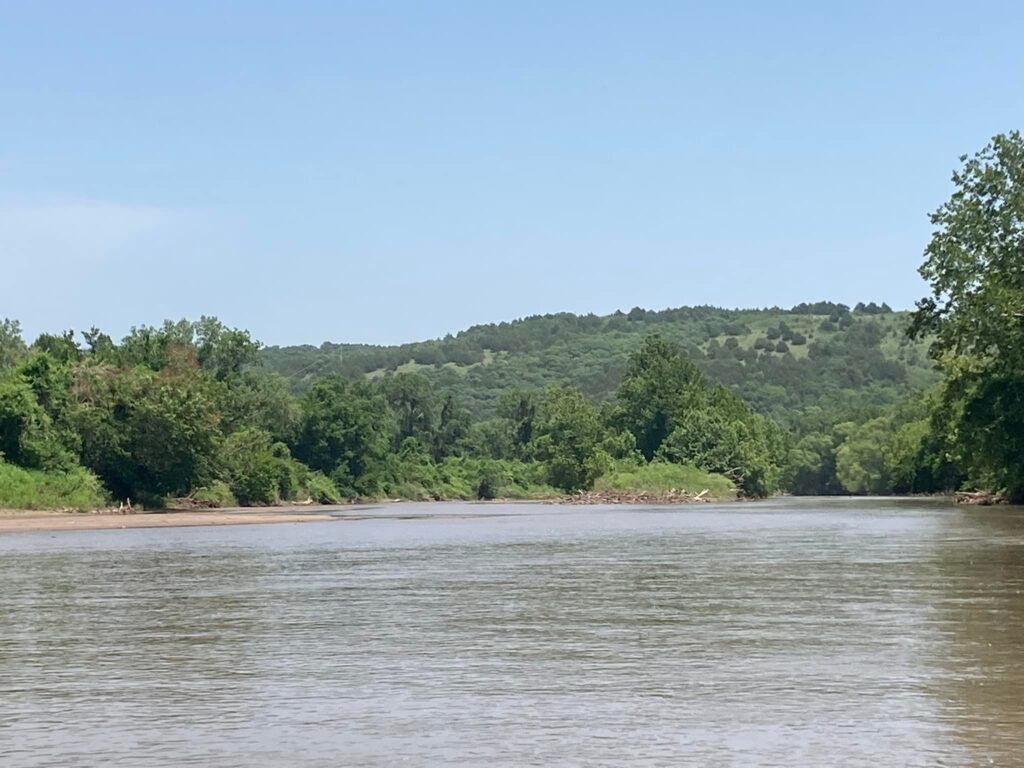 This week is back to advocacy and working on water issues across the state. The Kansas Water Authority meets tomorrow in Pittsburg and as the Chair, there is much to prepare for the meeting. If you want to listen in on the meeting, there is a ZOOM option here on the Kansas Water Office website:
https://kwo.ks.gov/admin-pages/events-landing-page/2022/06/22/default-calendar/kansas-water-authority-meeting
Speaking of water, funding and the Kansas Legislature; I wanted to give our members an update on the final tally for water this year. In my many years of advocating for water funding, this is the first year that we have made so much progress. Many thanks to all of the folks that have advocated for the last 15 years for funding, but also to Governor Kelly and the Kansas Legislature for finding a way to start to make water a priority.
Here are a few updates:
The Governor recommended and the Kansas Legislature approved the FY 2023 SWPF appropriations including expenditures reflecting full statutory State General Fund (SGF) and Economic Initiatives Development Fund (EDIF) demand transfers of $6 million and $2 million, respectively, to the State Water Plan Fund. The full $8 million statutory demand transfer is the first time since FY 2008 in which this full amount was approved.
$80.0 million of State General Fund (SGF) was appropriated for the purpose of paying off capital expenses for water supply storage within Hillsdale Lake, Clinton Lake, and Big Hill Lake during FY 2022. The bill also included language regarding the dedication of revenue streams which would have been previously utilized for capital expenses on those three reservoirs to be utilized on retirement of storage debt in the future.
The John Redmond Reservoir bond debt will be paid off before the end of FY 2022, which will in turn put $1,000,000 per year back into the State Water Plan Fund.
We have a great deal to be thankful for this year pertaining to water.  Many heartfelt thanks to everyone that advocated for funding and kept the conversation going all these years.  We all worked hard to get here, but ultimately Governor Kelly and the Kansas Legislature made it happen.
As I close out this blog post, I ask that you please write to your Kansas Senator and/or Representative and give them a big thank you!  For now, let's celebrate!  Then tomorrow, onward to the next….as there is more to be done in water circles.   
I hope to see you all on the river!
For the river,
Dawn Buehler
Kansas Riverkeeper