Where did summer go?  Beautiful fall on the Kaw is here.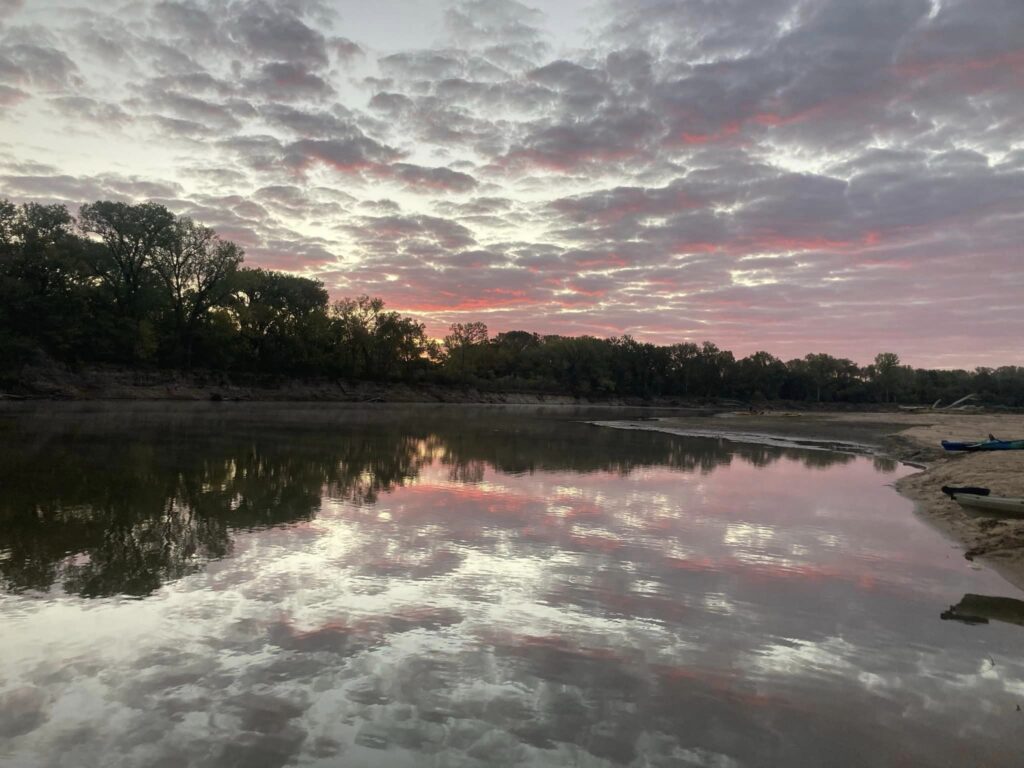 Do you ever just look back in a blur over the last few months and wonder where it went?  That's about how I feel as I finally sit down to write a blog post.  Since I last wrote, we finished our educational paddle trip season and moved into fall cleanup season and the Kids About Water Education Program seasons.  Many of the programs that we do are very cyclical – coming at certain times of the year and then we move on to the next.  The one thing that remains constant, unfortunately, is pollution.  Pollution never takes a break.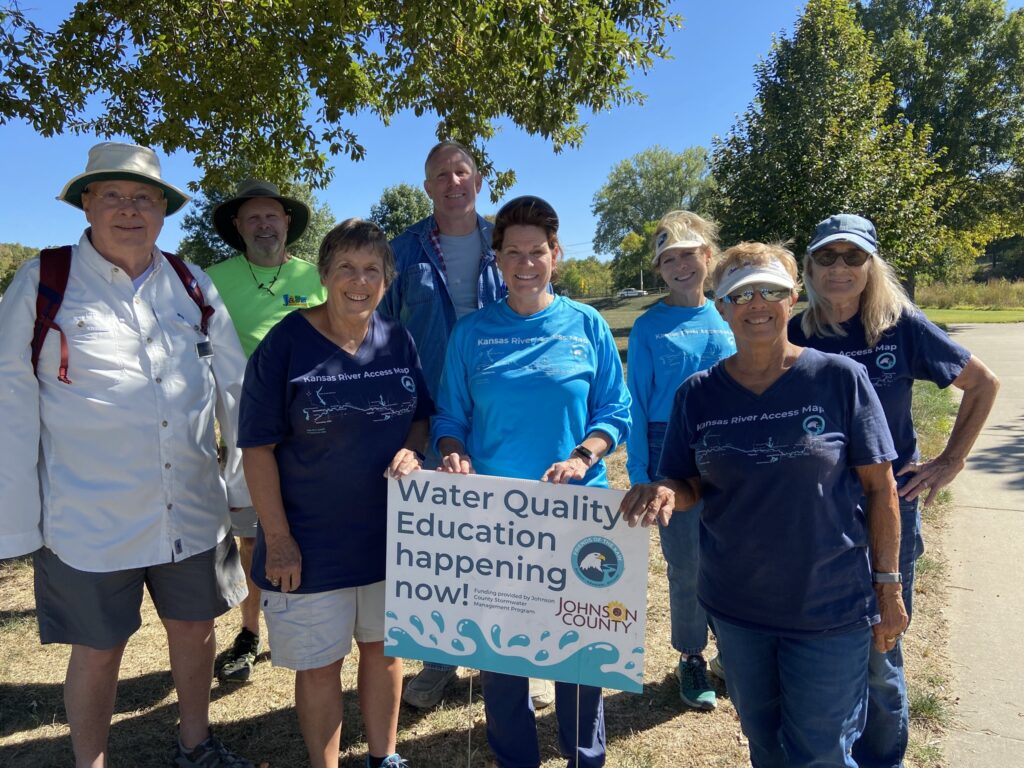 I had a very busy August with many meetings with the Kansas Water Authority.  We hosted a Water Policy Conversation with stakeholders across the state to discuss how we can move forward together to solve some of our most important water policy problems.  This was a very important meeting and I think it set the reset button for many of us to reflect on what's important, find where we have common ground, and how we are going to move forward.  I am a glass that is always full, kind of person, so for me this was a great step.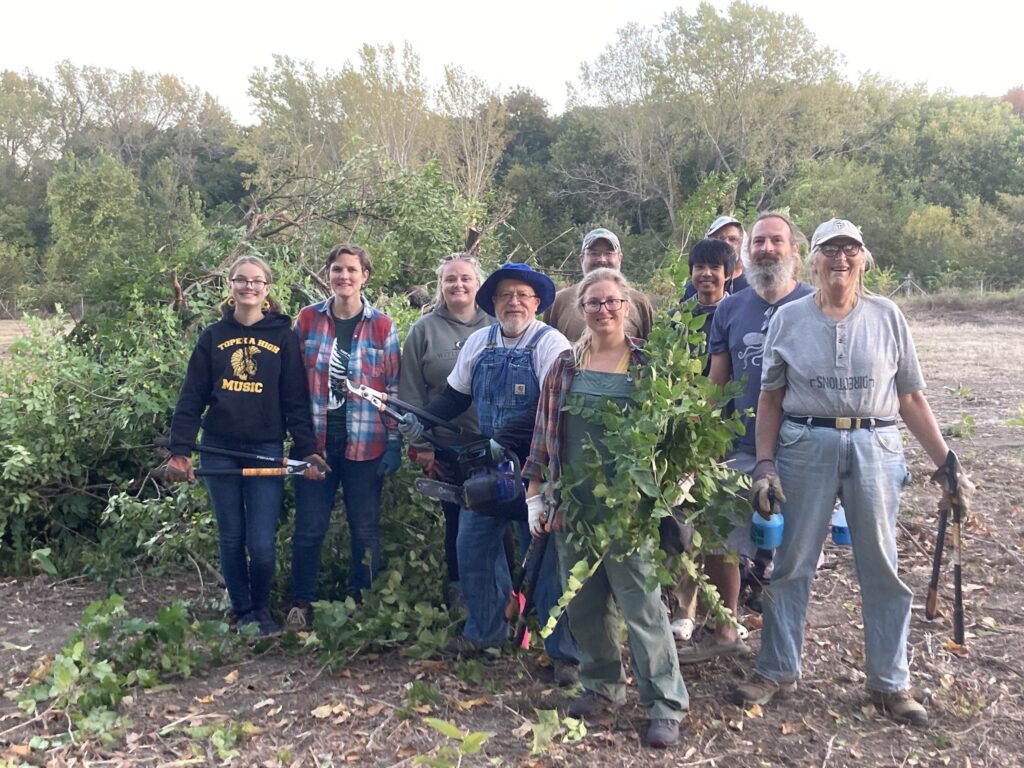 As for Friends of the Kaw, we've had more events that I can count here in this blog post.  We owe a huge thank you to Kim, Denise, Jane and Macy for their hard work on behalf of FOK.  This team makes it possible. Thank you to everyone one of you that joined us for a Beginner Wednesday this year!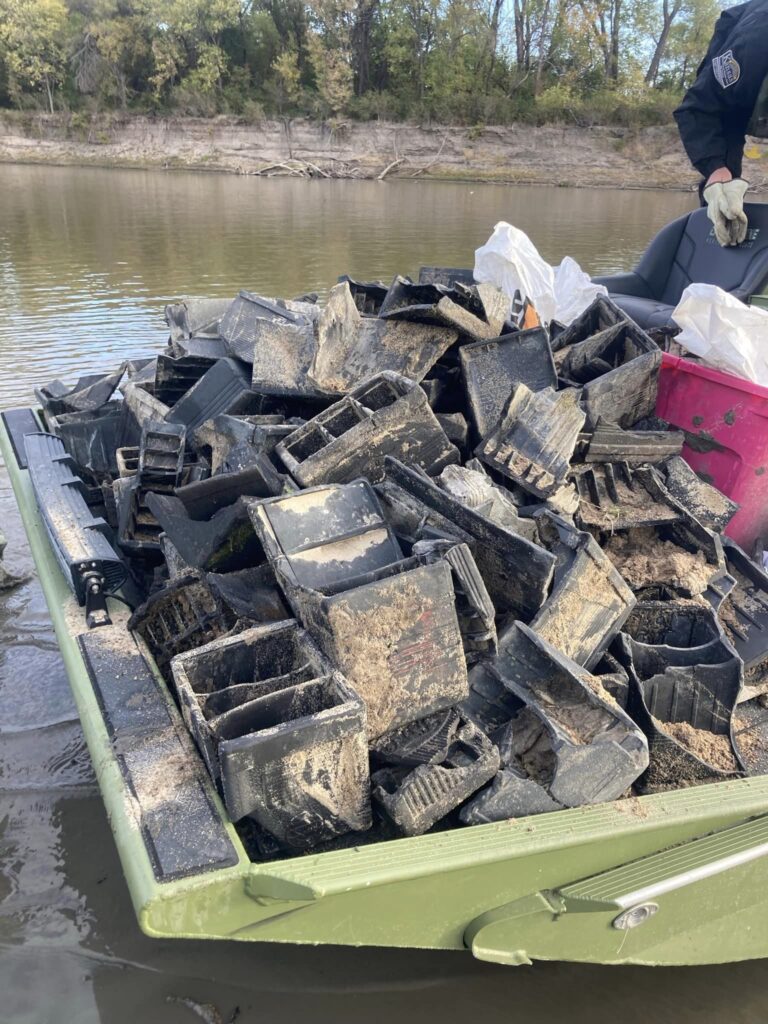 We held our bi-annual Manhattan Battery Case Cleanup event in Manhattan last weekend. When will the battery cases end? We've done this cleanup twice a year for 5 years now and they are still there. We know we are making progress. We move about 3 ton every time we do it. Last weekend we had our partners along with about 40 students! It was a great day for the Kaw. One of these days, we will get them all, we promise.
You likely saw all of our emails about our first ever Day of Giving!  Thanks to all of you that donated and participated.  We are truly grateful for the donations from our friends and members, and to the FOK Board and anonymous donors for challenging us to raise the dollars.  It is a wonderful thing as a non-profit to have such unanimous support of the Board of Directors.  If you see them around town, do me a favor and thank them for serving and giving so much to the river!
So what's next?  We've got Beers of the Kaw (most fun of the year!), our big tire cleanup tomorrow (like, 500 tires or more), a Kansas Water Authority meeting next week, and lots of gear cleanup and storage towards the end of the month.
Our annual Kaw River Guide Weekend is coming up and I always look forward to this event.  A weekend with our volunteers, just exploring the river and enjoying each other around the campfire is the perfect way to end the river season.  While the public side of things winds down, we will still be out on the river doing river checks and looking for pollution.  I'll try to write a blog post over the winter about pollution – don't even get me started on the fact that it still happens!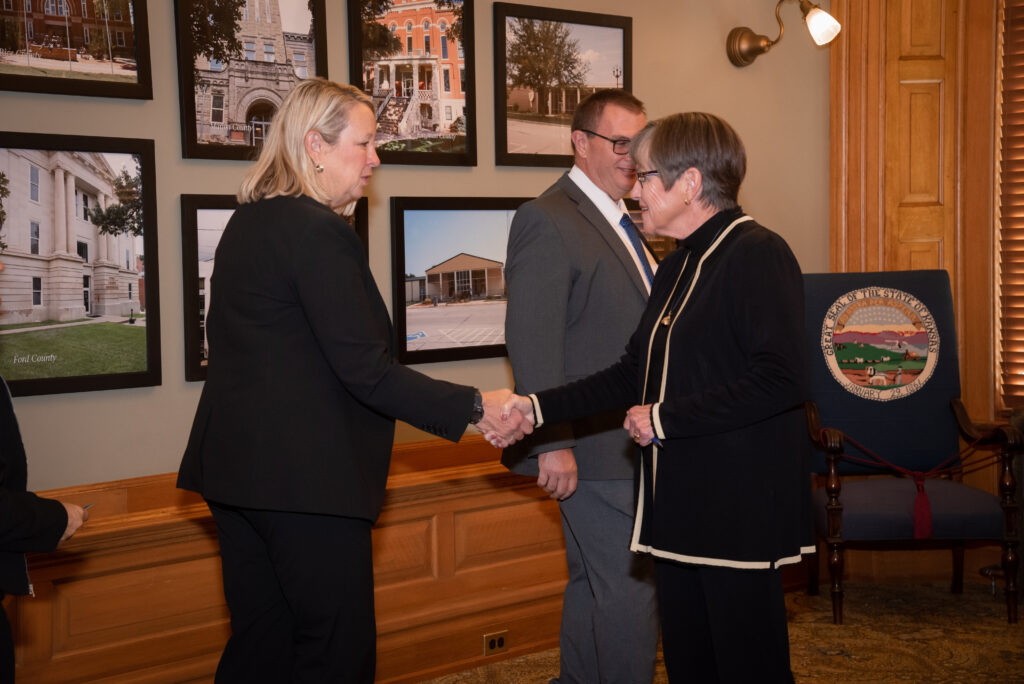 We did have many celebrations for the 50th Anniversary of the Clean Water Act and I was honored to stand next to Governor Kelly as she signed a proclamation.  It was a great month to celebrate how far we've come in 50 years!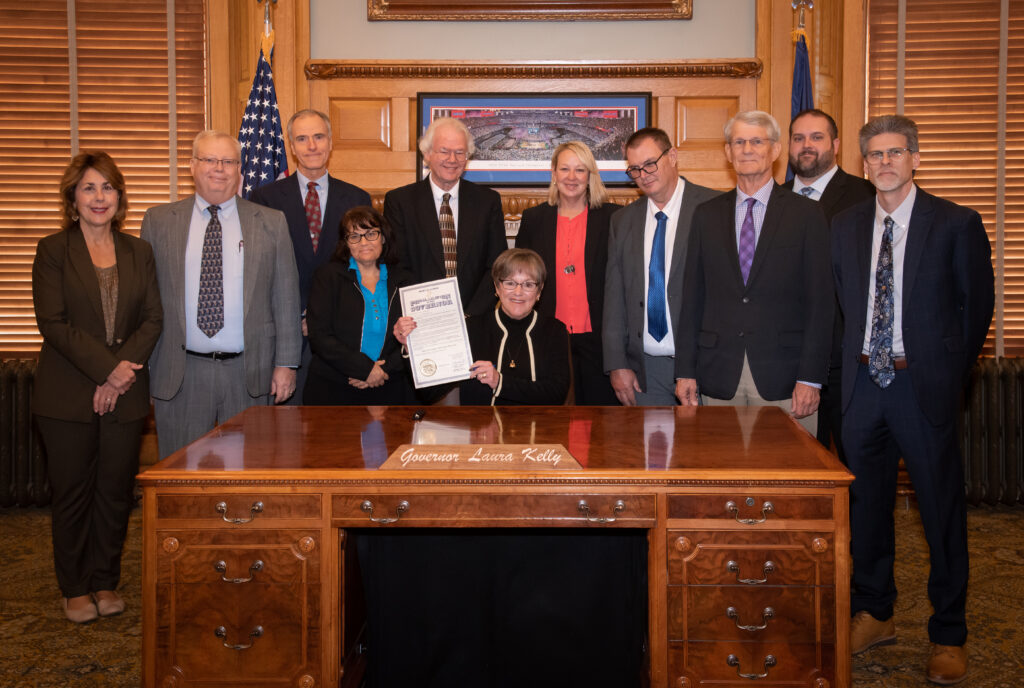 Lastly, I thought I'd let you all know that I became a first-time grandma in August.  My little grandson is healthy and perfect!  I can't wait to get him in a kayak and on the river, but it will be a few years.  In the meantime, I plan to get him out on a few walks, playing in the dirt, sitting in the kayak on the pond, and dipping his toes into a mud puddle!  His Mom and Dad are gonna love how dirty he gets at Grandma's!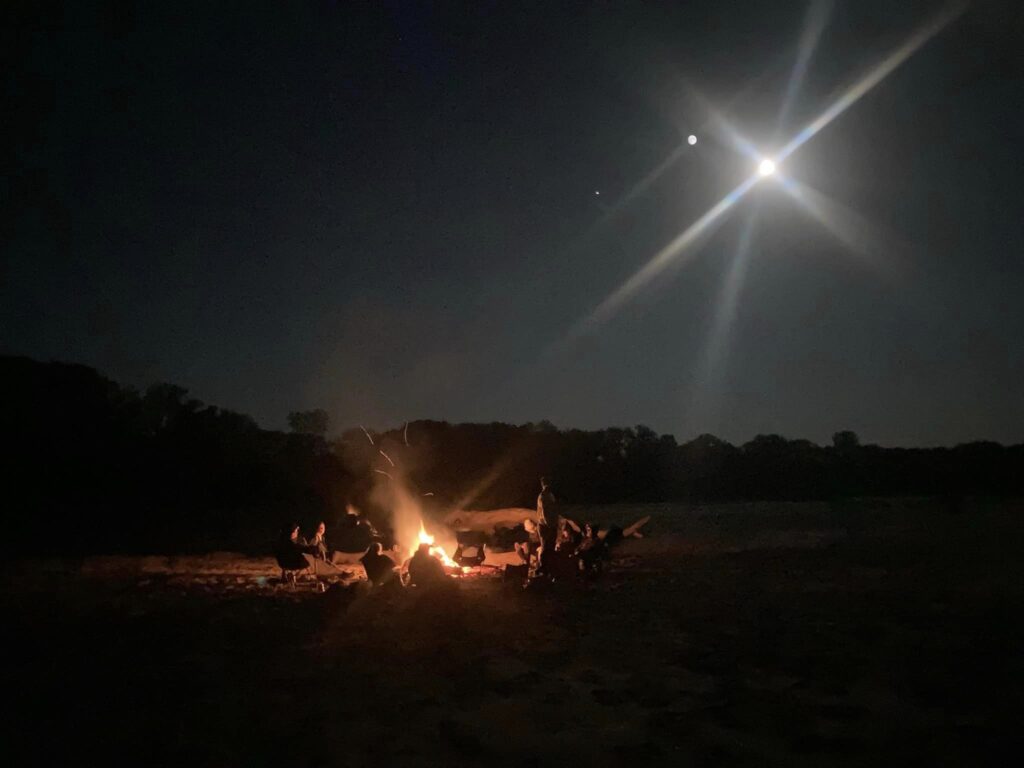 I wish you all a wonderful fall season. The best camping season on the Kaw is October – get out there and enjoy! Contact me if I can help you plan your adventure, we are happy to help.
I hope to see you all on the river!
For the river,
Dawn Buehler
Kansas Riverkeeper