Winter season is here….hopefully spring comes early!
Like all of you, I am spending some time getting ready for the incoming arctic blast that will sweep across not only Kansas, but the nation. It is going to get real cold folks….so you definitely will not find me out on the river this week. However, we do check the river throughout the winter as much as we can. I have a few rules for winter paddling, such as sunshine, rising temperatures and little to no wind. Winter paddling can be so beautiful, but you must have the right gear and ALWAYS have a second set of your entire outfit in the dry hatch along with a fire kit.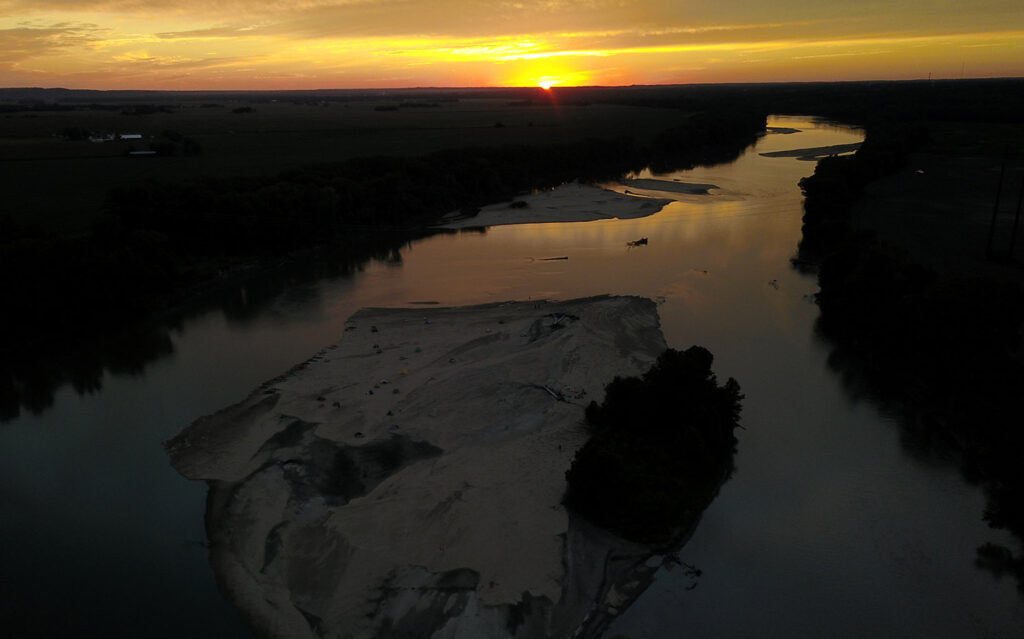 This fall has been very busy with advocacy work. I know that most people in Kansas see Friends of the Kaw as a paddling group, but we do so much more than that. I often remind people that the paddle program consumes about 20% of my time and advocacy consumes 80%. Advocacy takes many forms and does not just include work at the State Capitol to try to advance water issues. Much of the work that we do involves working with cities and counties on projects that can impact the Kansas River, education about the river, conservation practices that protect water quality and holding our communities accountable for the health of the river.
I have spent most of the last few months working on advancing water policy with the Kansas Water Authority (KWA). This role has been one of my most important roles. I am lucky to be surround by a wonderful group of passionate water advocates on the KWA. To learn more about recent work at our December meeting to sustain the Ogallala Aquifer, you can read these articles in the Kansas Reflector and High Plains Public Radio.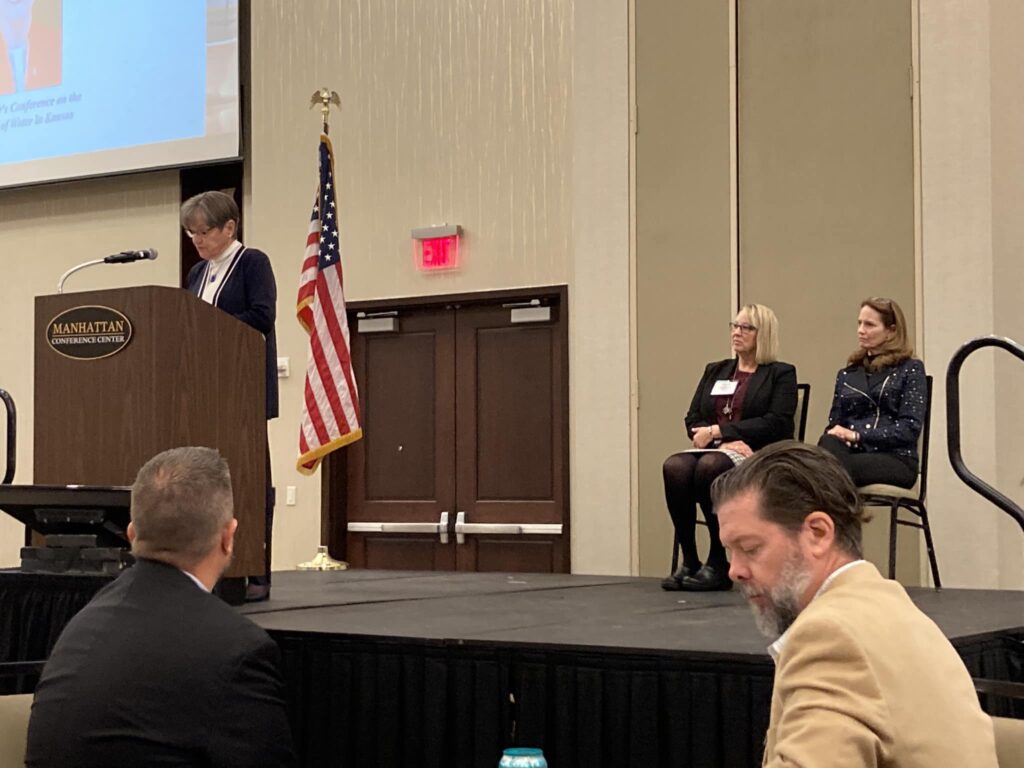 I also was honored to be on the stage with Governor Laura Kelly during the Governor's Water Conference in Manhattan, Kansas. Governor Kelly has stated that she will make water a priority in her second term. We look forward to her leadership and stand ready to help however we can. Watch her interview with KCUR.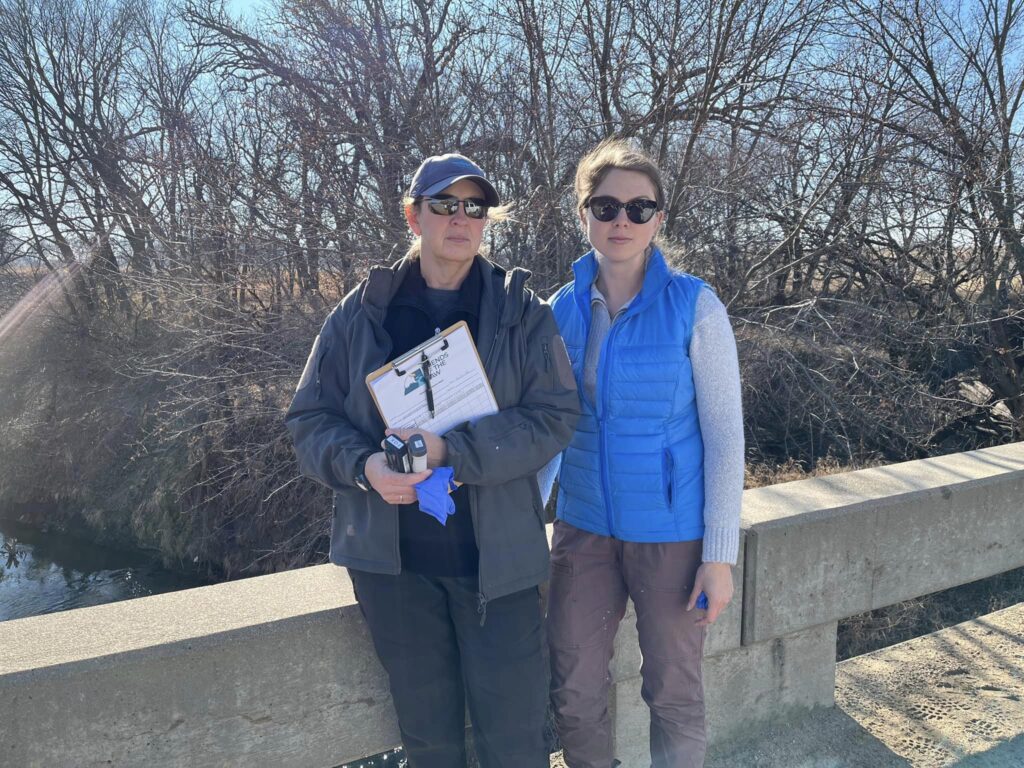 If you follow our social media, you already know that we have been busy staying up to speed on the Keystone Pipeline Oil Spill.  This pipeline break spilled into Mill Creek near Washington, Kansas.  As your Kansas Riverkeeper, it is my duty to be a non-government public advocate for the Kansas River and its watershed.  My duty includes investigating issues in the watershed and this is a big one.  I drove to the site about 5 days after the spill and took some water quality measurements and put eyes on the creek bvoth up and downstream of the oil spill.  I have full faith in the EPA Region 7 and the Kansas Department of Health & Environment to clean up the spill.  I am less enthusiastic about holding TC Energy accountable for the full cleanup costs.  We will continue to keep you informed via our social media and we will stay engaged to make sure the cleanup is complete and that it does not fall to Kansans.  You can read up on our visit to the site on our Facebook page here.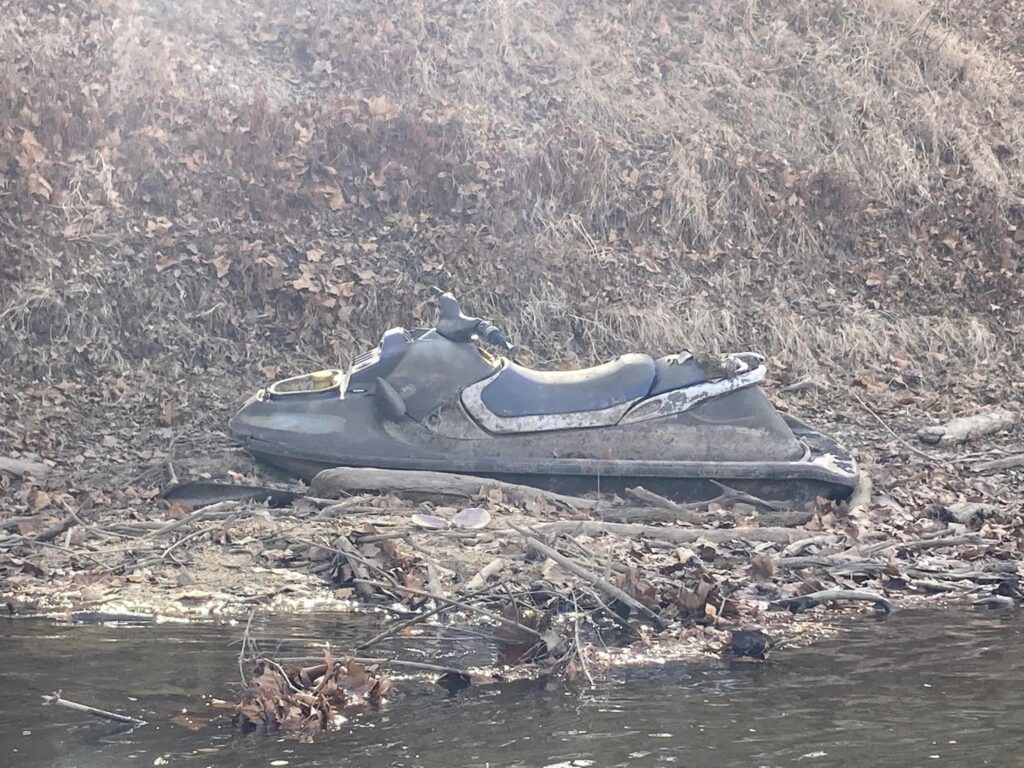 We did a river check on Sunday, December 4th from Seward to Lecompton. We were checking a recent outflow update by one of our river partners, as well as looking at the sandbar that we cleaned up this fall. We found a lot more tires, trash, and debris so look for another cleanup in this area soon. If you don't know, jet skis don't do well on the Kansas River as the sand gets into the water intake. We find a lot of abandoned jet skis. By the way, that is polluting also! Once the arctic blast lifts, we will do another river check if the weather conditions are right.
I want to take this opportunity to thank you for your support in 2022. It is because of you, that we can do our work to protect and preserve the Kansas River. Great things are in store for 2023 with more river cleanups, more advocacy with local/state leaders, more education, more restoration, and more paddles. I ask for your help to build a lasting future for the Kansas River. If you can, please consider a donation so that our work continues. You can also mail a donation to PO Box 1612, Lawrence, KS 66044.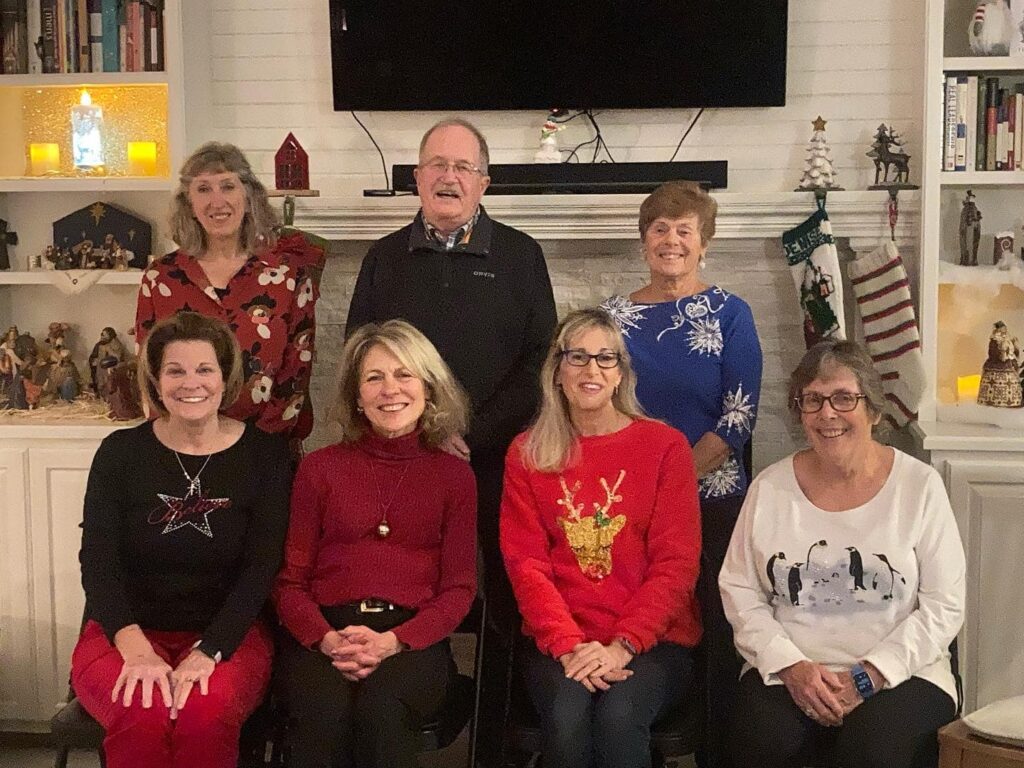 As I close out my 2022 blog, I feel very optimistic about the future. Yes, we have many challenges from climate change to education, but we have a dedicated team that is passionate about advancing our work. While I work to advocate, monitor pollution and cleanup our river; Kim will be leading our programming efforts, Denise will be educating the next generation, Macy will be maintaining the FOK ship, and Jane will help us secure the tools to get it done. I feel very grateful as the year comes to an end. What a beautiful resource that we protect….and what a beautiful community of volunteers, staff, Board Members, educational team members and Kaw River Guides we have on our team to get it done.
With Gratitude.
For the river,
Dawn Buehler
Kansas Riverkeeper® & Executive Director
Please donate today, for the health of the Kansas River.