BEERS OF THE KAW!
Tickets are only $20 and available here: http://tinyurl.com/y84s3jpo or you can stop by Sunflower Outdoor and Bike in Lawrence and purchase with cash or check.
Date:  Sunday, November 5, 2017 at Abe & Jake's Landing, Lawrence, KS
Time:  3PM to 6PM
Friends of the Kaw presents our second Annual Beer Tasting Event featuring Breweries along the Kansas Watershed & Kaw River to benefit Friends of the Kaw, a 501 c(3) organization.
Participating Breweries: 23rd Street Brewing Company, Blind Tiger Brewery & Restaurant, Blue Skye Brewery & Eats, Boulevard Brewing Company, Free State Brewing Company, Happy Basset Brewing Co. , Kansas Territory Brewing Co., KC Bier Co. , Lawrence Brewing Co., Lb. Brewing Co., Little Apple Brewing Company, Martin City Brewing Company, Norsemen Brewing Company, Tallgrass Brewing Company, & Yankee Tank Brewing Company
Food will be available for Purchase:
Drasko's Food Truck, Fine Thyme Food, Terrebone Po' Boys, & Lucia Beer Garden + Grill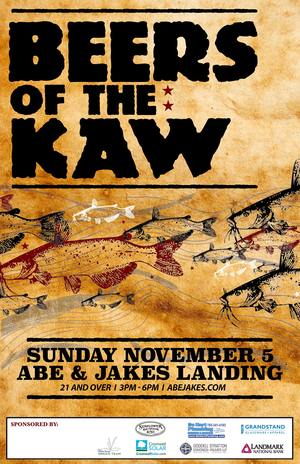 Sponsored By:
Landmark National Bank, Cromwell Environmental, DeHart Plumbing, Goodell, Stratton & Edmonds, LL Bean, Minuteman Press, Springhill Suites, Sunflower Outdoor & Bike, Lucia Beer Garden & Grill, Westar Energy Green Team, WaterOne, Kansas Alliance for Wetlands andStreams, The Bowersock Mills & Power Co., Up a Creek Paddle, Dirty Girls, Sierra Club and Steve Cringan.