Friends of the Kaw's Annual Dinner & Silent – RSVP Deadline TODAY!
Friends of the Kaw is holding its 18th Annual Dinner and Silent Auction on Wednesday, November 5, 2014 from 6 to 9pm at the Bass Pro Shop in Olathe (just SW of I-35 and 119th Street.)
Our guest speaker is Tracy Streeter, Director of the Kansas Water Office.  He will speak about the 50-year vision for the future of water in Kansas.
Enjoy a buffet dinner, cash bar, informative presentation and the opportunity to do some holiday shopping. The cost is $45/person and RSVPs with a check or credit card need to be made by today.  Call 785 312 7200.
MORE INFORMATION on the event and how to make a reservation.
We also need items for the Silent Auction so if you have a donation please let us know!
De Soto Ramp Cleanup Rescheduled – New Date is November 8th
Friends of the Kaw is working with the City of De Soto, Westar Green Team, and the Kansas Department of Health and Environment, Bureau of Waste Management to clean up an area on the Kaw just below the De Soto access ramp and we need some volunteer assistance.  The cleanup will start at 9:00am and end once the job is done or at 4pm, so you can come for the morning, the afternoon or both.  The Green Team will be using a line truck to lift objects over to the ramp where a skid loader will transport heavy items up the ramp to a dumpster. Because we are using heavy equipment, the activity on the ramp is not appropriate for kids under 18 years old.  Younger folks are welcome to come and will be able to help do some maintenance on the demonstration rain garden near the access ramp or pick up litter in Riverfest Park.
Many of Friends of the Kaw's group float trips start at the De Soto ramp so cleaning up this area will give float participants a better first impression of the river.  We are grateful for the efforts of the City of De Soto, Kansas Department of Health and Environment, and Westar Green Team and also a grant from REI to accomplish this effort.
Please wear long pants, gloves and sturdy shoes that can get wet.  We will do a hot dog roast for lunch at 12:30pm for volunteers.
It would help us get a count for the hot dog roast if folks would RSVP with the Kansas Riverkeeper – also contact us for more information!
Kids About Water (KAW) Project at Lexington Trails Middle School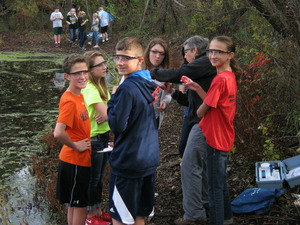 On October 22, 23, 24, 26 and 27 Friends of the Kaw held our first Kids About Water (KAW) classes with seventh grade students in Mr. Jim Brabac's science class.  The KAW class is a five-lesson water quality issues and actions curriculum that targets students in grades 6-12. The class informs  students about stormwater issues and problems and actions they can take to be part of the solution.  Pictured to the right are students doing water testing at a small pond adjacent to the school in De Soto.  This activity is funded by Johnson County Stormwater Education Grant.  We want to thank all the volunteers who helped the kids test water last Thursday and Friday.  Everyone enjoyed themselves and most likely learned something!