Water Testing and Training for Kids About Water classes for Argentine Middle School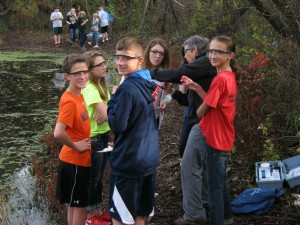 As part of Friends of the Kaw's EPA Environmental Justice Small Grant, we are holding a training for volunteers to help us with our Kids About Water (KAW) classes for Argentine Middle School the first week of March. The training will be held on Tuesday, March 1 from 4:30 to 6pm on the 2nd floor conference room at 21 N. 12th Street, Kansas City Kansas.
For more information or to make a reservation for the training or KAW class please call Laura at 913 963 3460 or send an email. You will learn how to assist trained instructors to help students do non-chemical and chemical tests, and also the procedure to seine and identify macro invertebrates (insects that live in the water). Friends of the Kaw education staff will assist our high school interns (also a project sponsored by our EJ grant) in training volunteers on March 1.
We will test water with Argentine Middle School 7th grade science classes on Thursday, March 3,  Friday, March 4, and Monday, March 7 from 9:55 to 11:15; 11:30 to 12:35, and 1:30 to 2:45.  We welcome both trained and new volunteers to help out with as many classes as possible. We plan to be testing water at a location on Turkey Creek, but using our first choice location depends on availablity. Water testing will be done at the school if the weather does not cooperate.  We will know the location of the water testing for Argentine Middle School on March 1 and can also email or call any participants who have volunteered.