Chasing the Channel – Blog No. 17
KAW 173 Weekend #4 – Lawrence to Kansas City (52 Miles)
Kansas can really take your planning for a wild ride. Have you ever tried to plan an outdoor event and hinged on every word of the meteorologist? How about events every weekend? Whew…last weekend was one for the books. The front end of the week they called for a wash out, but no thunderstorms. I don't like paddling and camping in the pouring down rain, but I can tough it out and do it. So, we marched forward with our plans for the final leg of our KAW 173 Journey for 2021.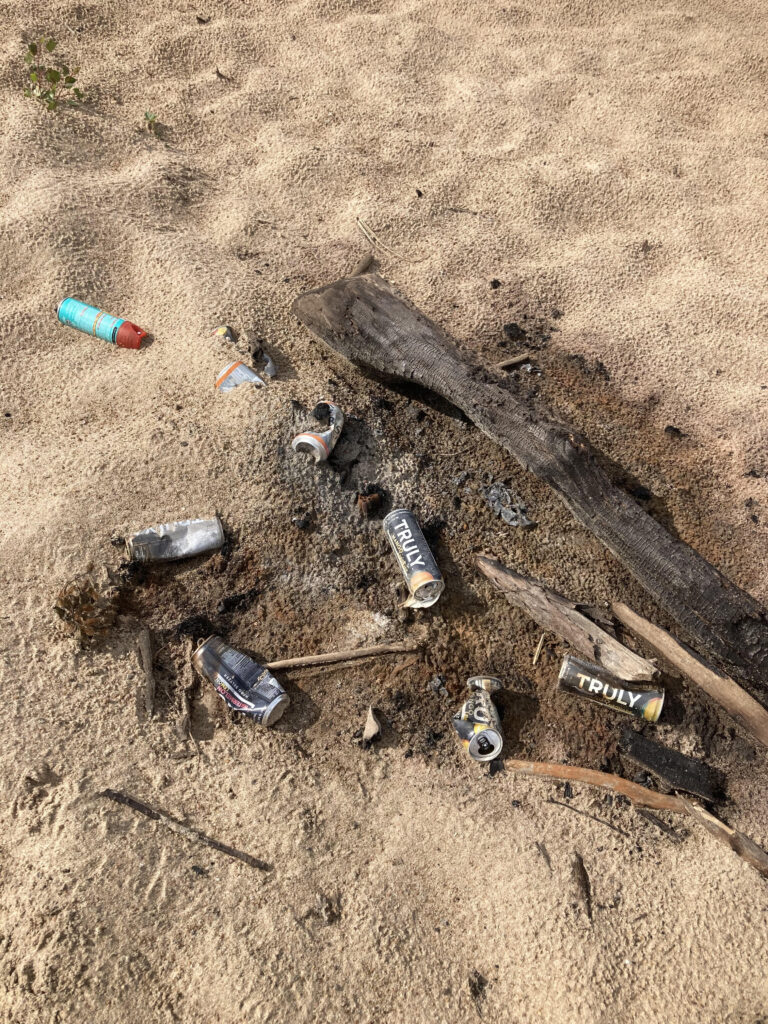 We decided to push off at Lawrence a little earlier due to the potential for thunderstorms. This had us shuttling our vehicles at 11:00 am and on the river by 1:00 pm. We paddled about 8 miles in total on Friday and along the way we enjoyed discovering the river around Mud Creek, just east of Lawrence. We stopped on a sandbar, sadly to find that someone had a bonfire and left burned beer cans. I'm all for everyone enjoying the river, but not for leaving your trash. This river belongs to everyone, so it is our duty to take care of it for our neighbors to enjoy it too. Please pack it all out!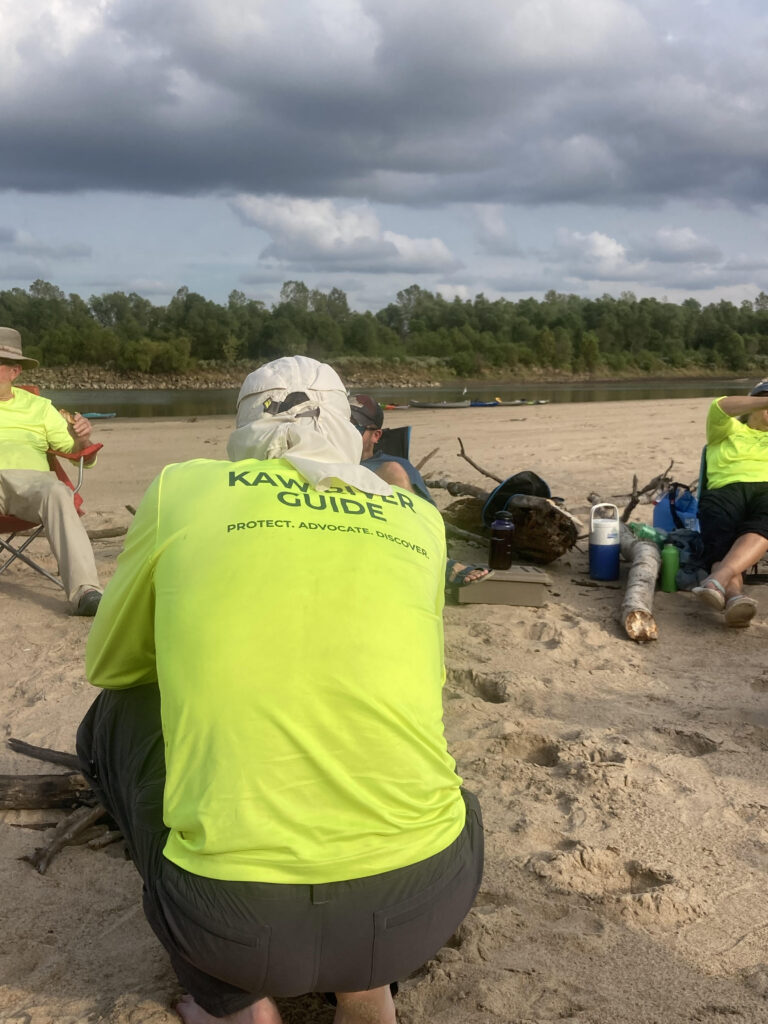 It is a beautiful thing to realize that Monarch's are not only still migrating south, but are doing so right through the river corridor. We were amazed how many we saw and it is even more amazing to realize how far they have yet to travel (and how far they've already come). Nature is pretty inspiring when you think about the mileage of a Monarch versus our little 52-mile paddle for the weekend.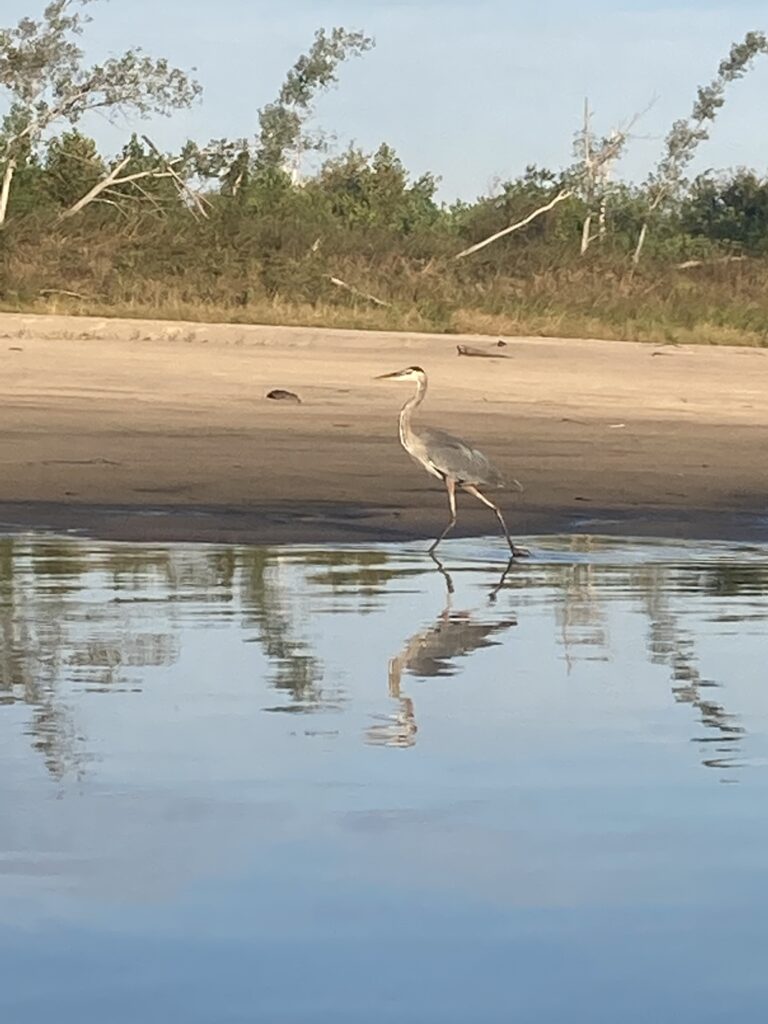 We had a really wonderful sandbar camp for Friday evening, just upstream from Eudora. On Saturday morning we again wanted to get an early start because of rain forecasts, so we got up and out at daylight. As we launched, a beautiful great blue heron patiently allowed me to quietly drift by and sit in amazement. I've never seen one quite that close and the detail of the wings, the feathers, even the feet was magnificent.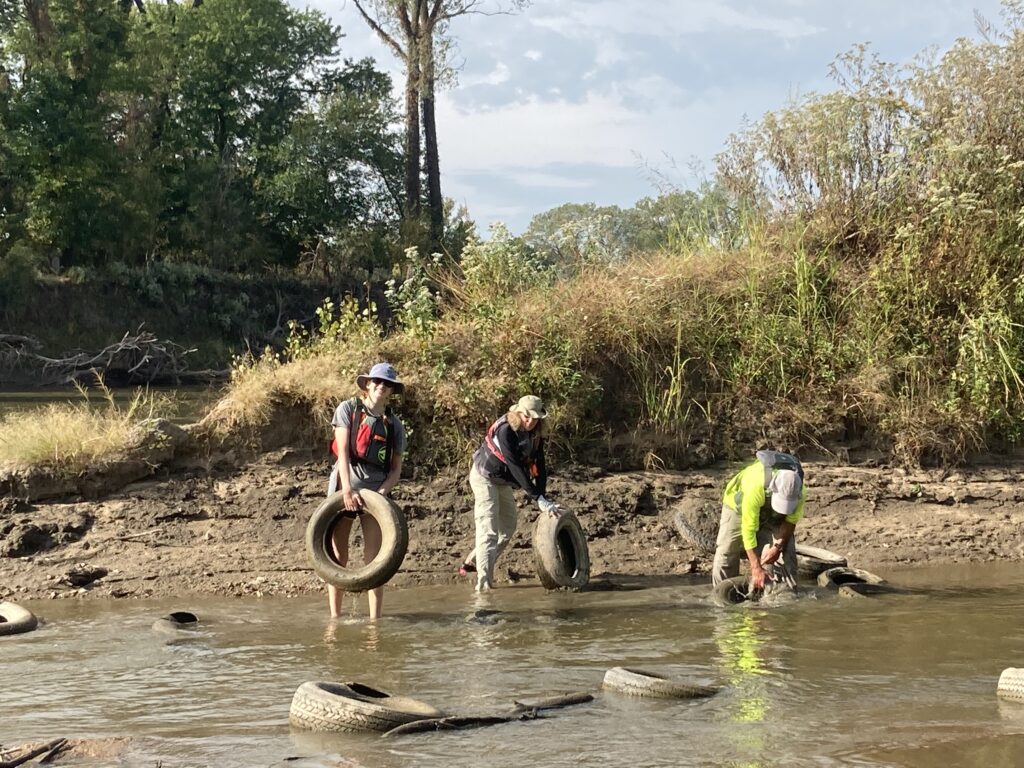 We enjoyed the river as we journeyed to DeSoto and saw many bald eagles, some beaver and kingfisher. There is never a shortage of wildlife along the Kaw. We also stopped at the area that we call "tire island". This is an area of tons of tires that were meant as bank stabilized and they are now scattered everywhere. We decided that since we were only a few miles from DeSoto boat ramp, that we could each grab a tire and haul it to the ramp. One tire off the river is one less tire in the river!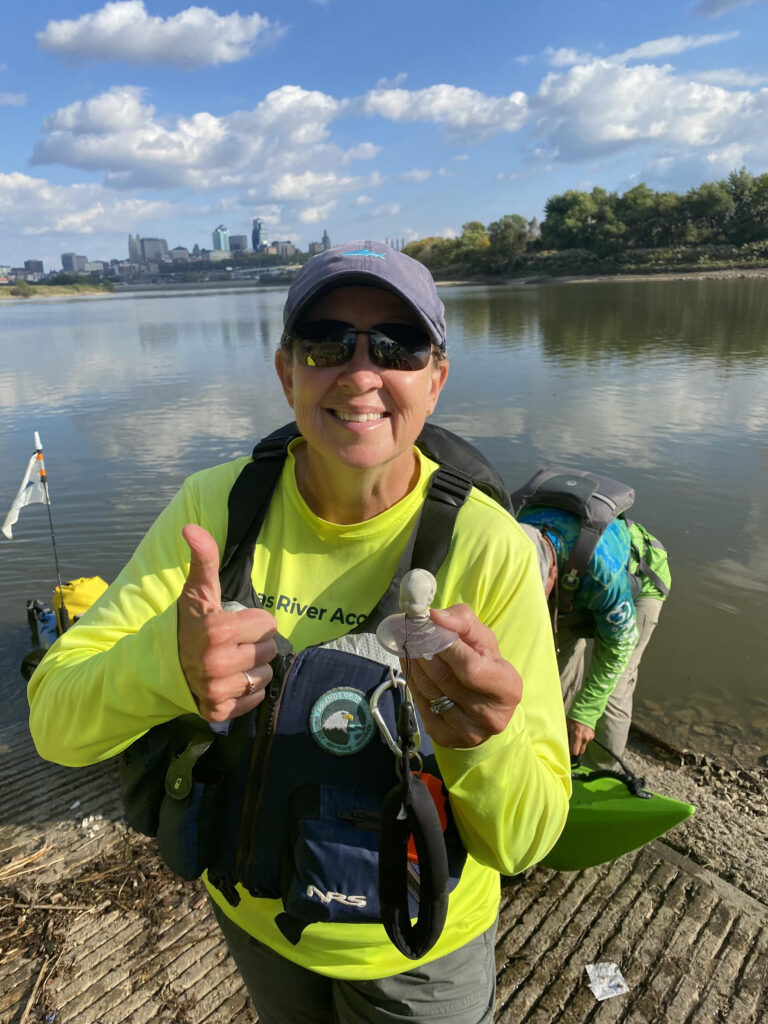 We quickly had a lunch break at DeSoto and dropped off a couple of paddlers that could only join the first night, then off we were to our next sandbar just upstream of Bonner Springs. We really did enjoy the paddle, but we were being chased by rain clouds and we could see them all around us. At one point we heard far away thunder, so we picked up the speed as were really close to our sandbar. It is quite amazing that by this point we had not been drenched. We got to the sandbar and managed to get all of our tents up and still no rain! We even had a made a plan for how we put up 12 tents in the rain….four people holding a tarp over the tent while being setup. I believe it was our excellent planning that kept the rain away (laughing), others seemed to think it was a certain superstitious kayak mount (probably so!). No matter the reason, we stayed dry and enjoyed a really wonderful campfire. The fire felt great as the cooler temperatures came in and we all cuddled up in our tents with warm sleeping bags. Around 11:00 pm, a very light and gentle rain came and it maybe rained for 45 minutes and then was gone and left us with a dry Sunday ahead.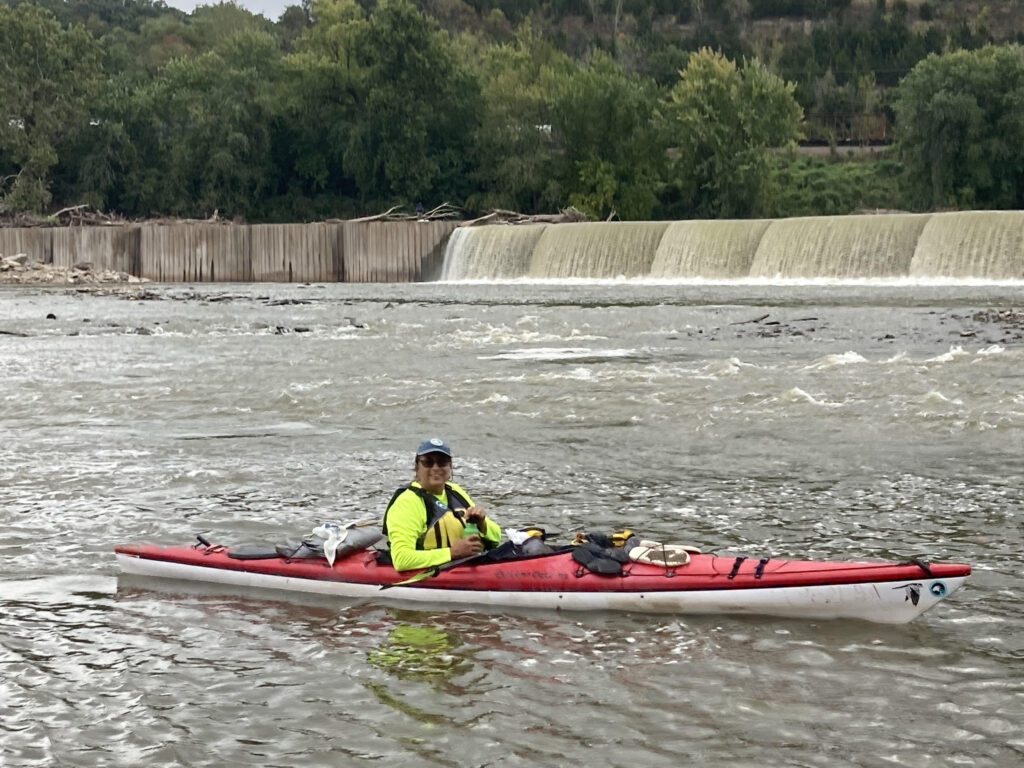 Sunday was the hard day; we had announced to our group. 20 miles is a long day, but we've done more than that in a day. We did 22 on Saturday (we've done 30 in a day before). But what made Sunday harder is that we had to 1) portage the WaterOne weir and 2) paddling the lower section of the Kaw that acts like a slug with no flow. This is often caused by the Missouri River backing up into the Kaw and slowing it down. There are no sandbars on the lower end of the river and almost no place to stop except under bridges. We knew this would take us longer that normal, so we were all prepared for the push at the end. It was a long afternoon with the sun peaking out, rising temperatures, sore bodies and slow moving water….but we did it! We made it 173 miles of the Kansas River Water Trail from Junction City to Kansas City!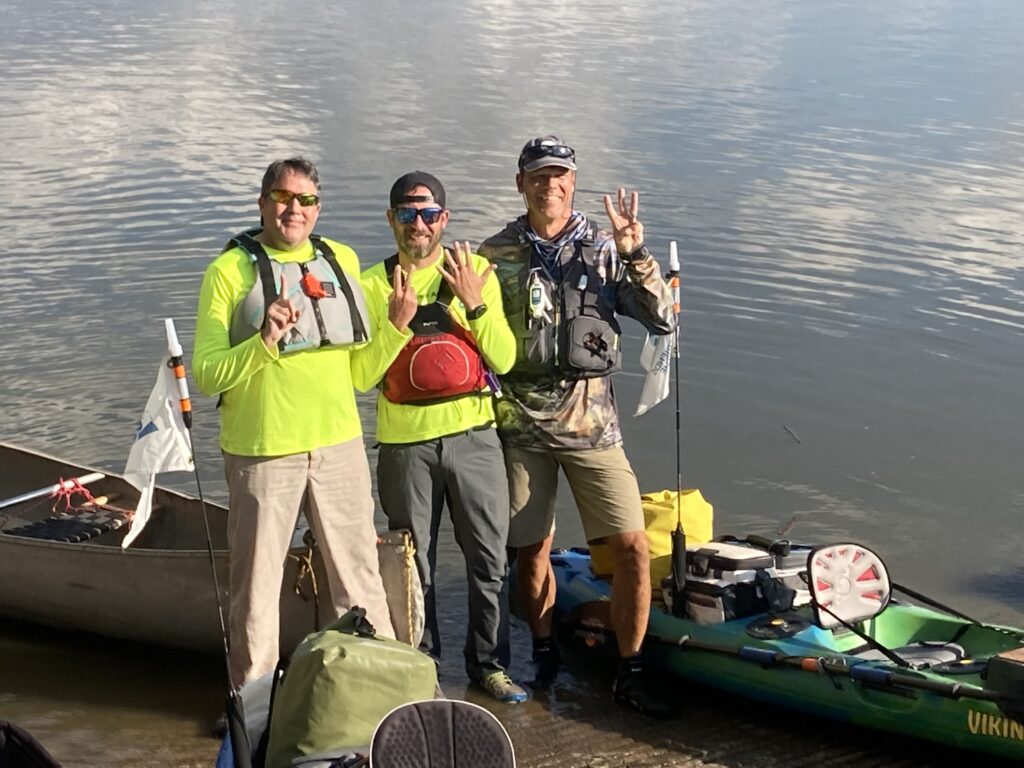 I am really proud of this crew. We had three people that did all 173 miles for the first time – Jason, Scott and Joe. These three are all Kaw River Guides and work hard for the Kansas River. They had tons of river experience, but really wanted to complete the 173! Congratulations to all of you, job well done! Five of our original seven from last year also completed the 173 again – no small feat! A few of our guides (myself included) paddled all the way out to the Missouri, touched a paddle before landing at the ramp at Kaw Point Park.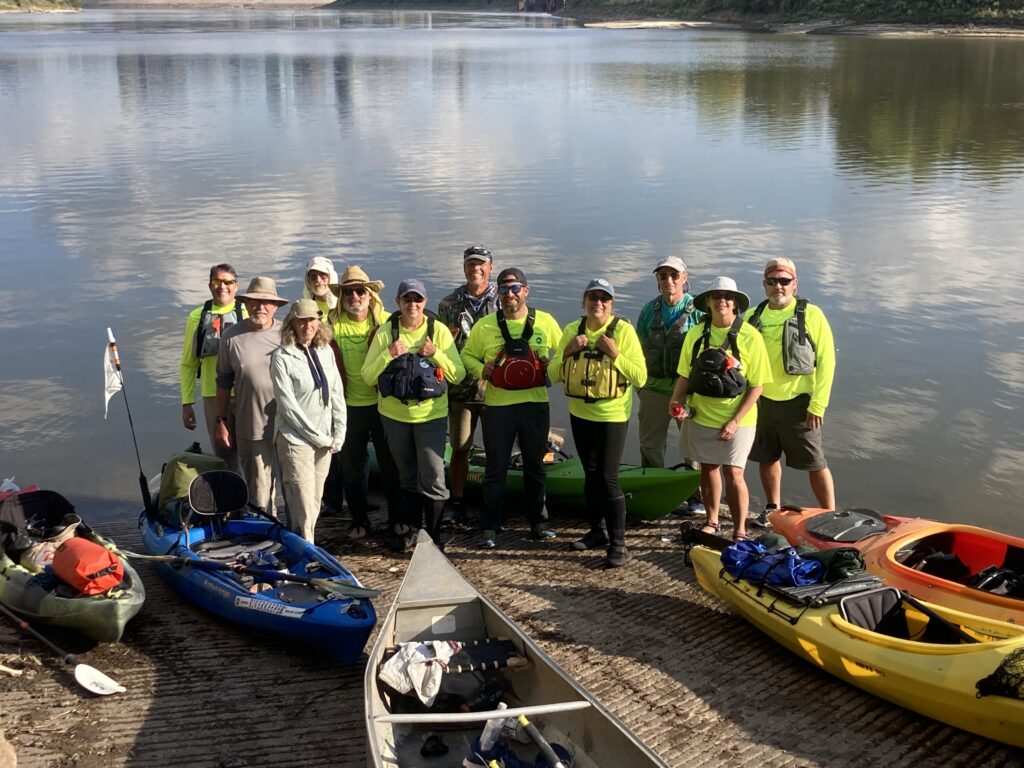 We had many people join us along the way and paddle sections of the river. We really enjoyed getting to know so many wonderful people – river lovers and outdoor enthusiast – we all learned a little from each other and it was a wonderful way to spend the season.
So, now we've showed you how to do it all at once or in four weekends. Now it's your turn! Next year, we are challenging YOU to take the KAW 173 Challenge! We will share more details early next year about how you can take the challenge – all at once or in four weekends or however it works for your schedule. Explore all 173 miles of the Kansas River and discover every nook, watch wildlife, enjoy the sandbar, and sleep soundly in nature.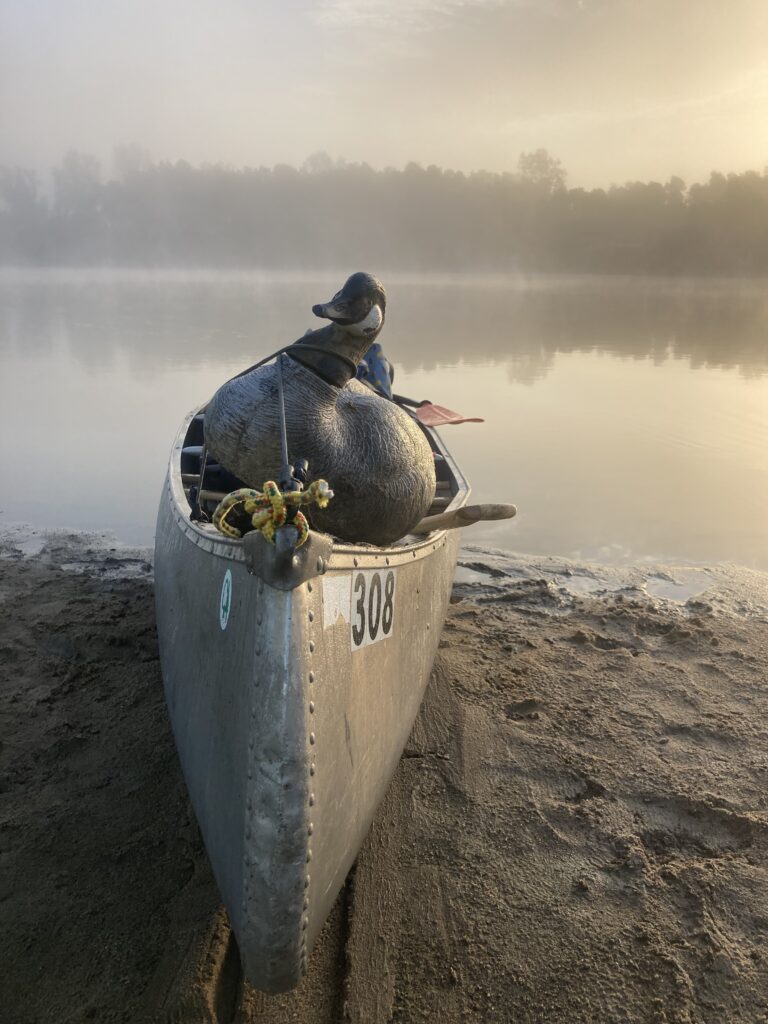 Reach out to me if I can help you discover the Kansas River. We are a phone call or email away to get information about anything to do with the Kansas River. Need help planning your trip? Give us a call, we are happy to help you discover the river!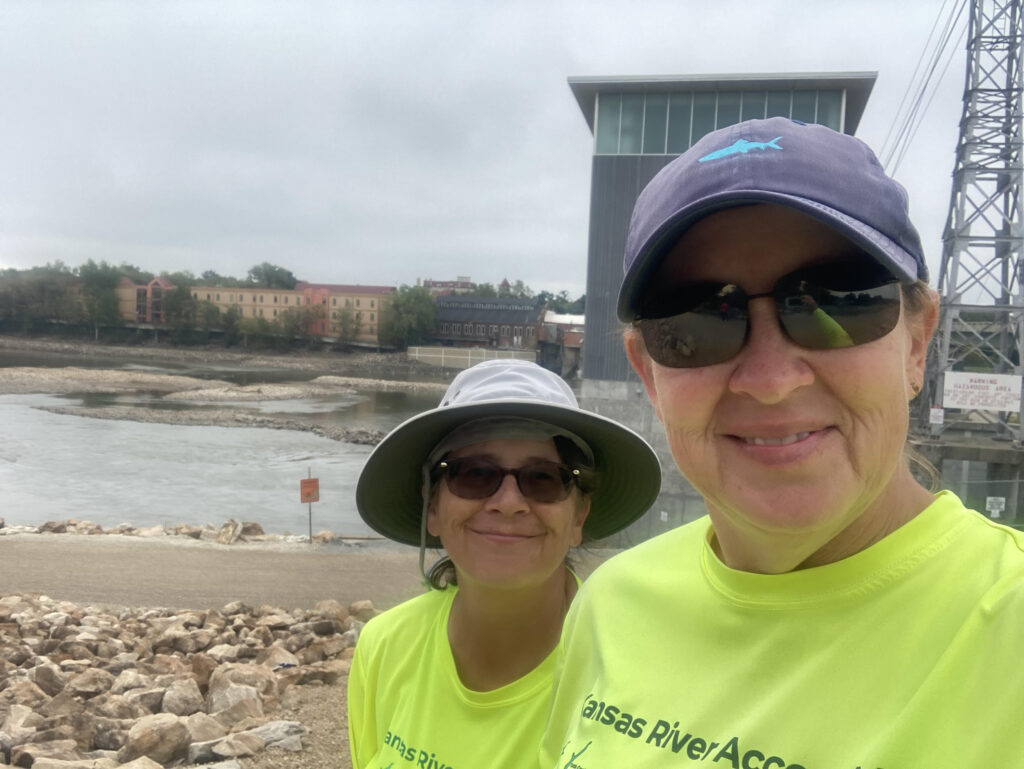 Now it is time for me and my trusty sidekick, Kim and our hard-working Kaw River Guides, to take a slower pace into winter. We will still be monitoring the Kansas River all winter – kayaking when the conditions are right or using our jon boat, but it's time for a slower pace so that we can all reconnect with our families and read a book or two. If you want to get involved next year, you know where to find us.
I truly hope you always have sand in your shoes.
For the river,
Dawn, Your Kansas Riverkeeper