Chasing the Channel – Blog No. 15
KAW 173 Weekend #2 – Wamego to Topeka (38 Miles)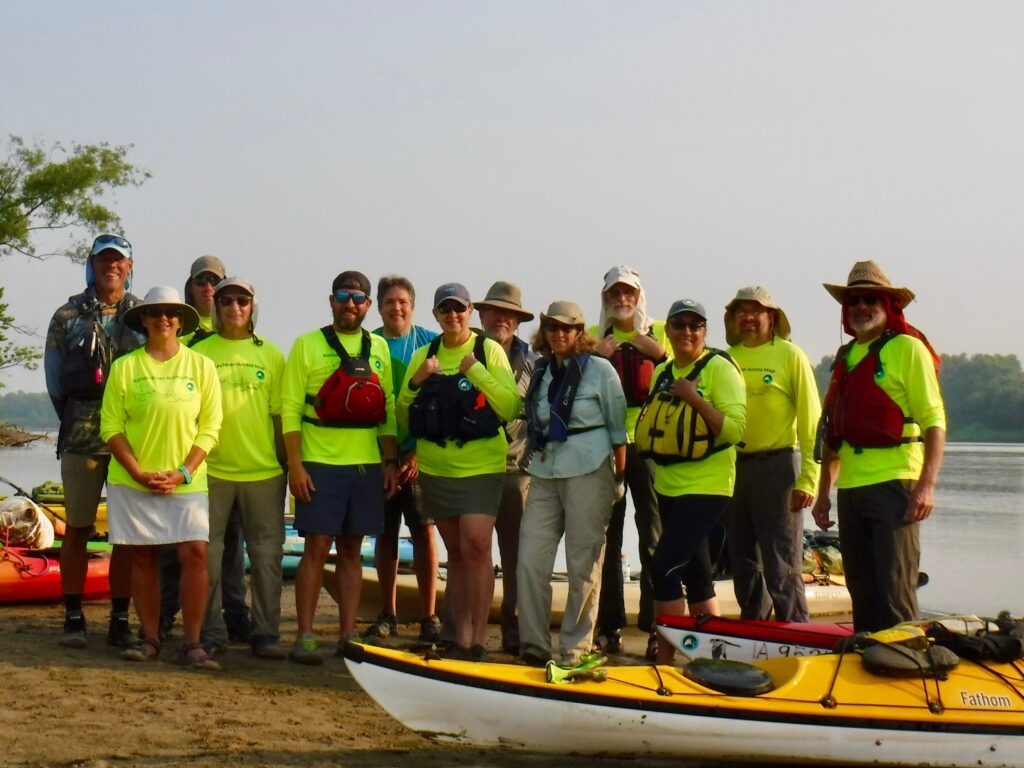 If you are a native Kansan, well…you know that planning anything outdoors is an hourly challenge. This trip proved to be right in line with a typical Kansas July with a heat warning to start the weekend, followed by a cold front, rain chances and cooler temps.
A few of us arrived at Kaw River State Park to pre-shuttle cars and boats.  I stepped out of the FOK truck and immediately felt the Kansas humidity.  I sure hope everyone heard our pleas to bring enough water, because if there is one thing you need on a Kansas River trip, it is enough water.  I'd rather lug 5 gallons down the river and only use 4 gallons that the other way around.
Our group convened at the Wamego Boat Ramp after shuttling cars.  Thanks to Board Member, Mike, we had all vehicles at Topeka for the end of the trip.  We launched about 3:30 PM under hot and sunny skies and planned to make it about 6 miles to one of our favorite sandbars at the bend before the Vermillion River.  Let's just say, it was a gorgeous evening and sandbar experience, but we all sweltered in our tents!  But that is the great part of an outdoor experience – the good, the bad, and the challenges of being immersed in the outdoors.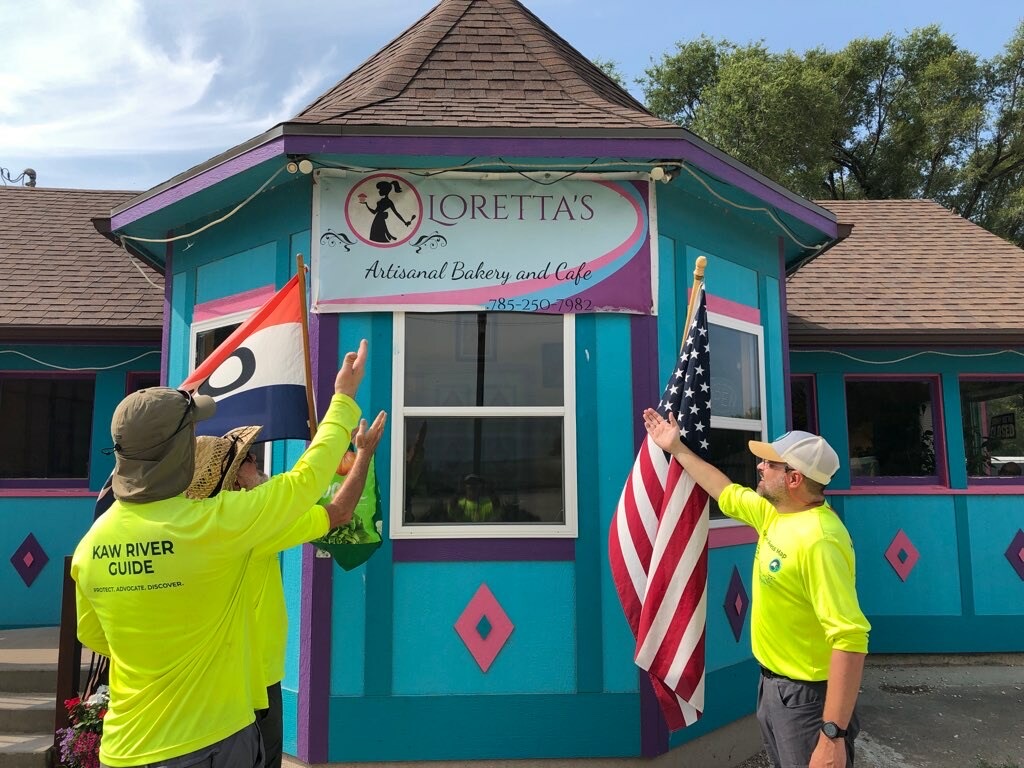 On Saturday, we shoved off our camp and made our way to Belvue.  We had decided the night before that a few from our group would walk into Belvue and get treats for the group from Loretta's Artisanal Bakery and Café.  David, Greg, Steve and Andy came back with a load of goodies!  We enjoyed cinnamon rolls, lemon bars, donut twists, and bread!  It was a perfect treat before making our way on the 30 mile stretch to Topeka.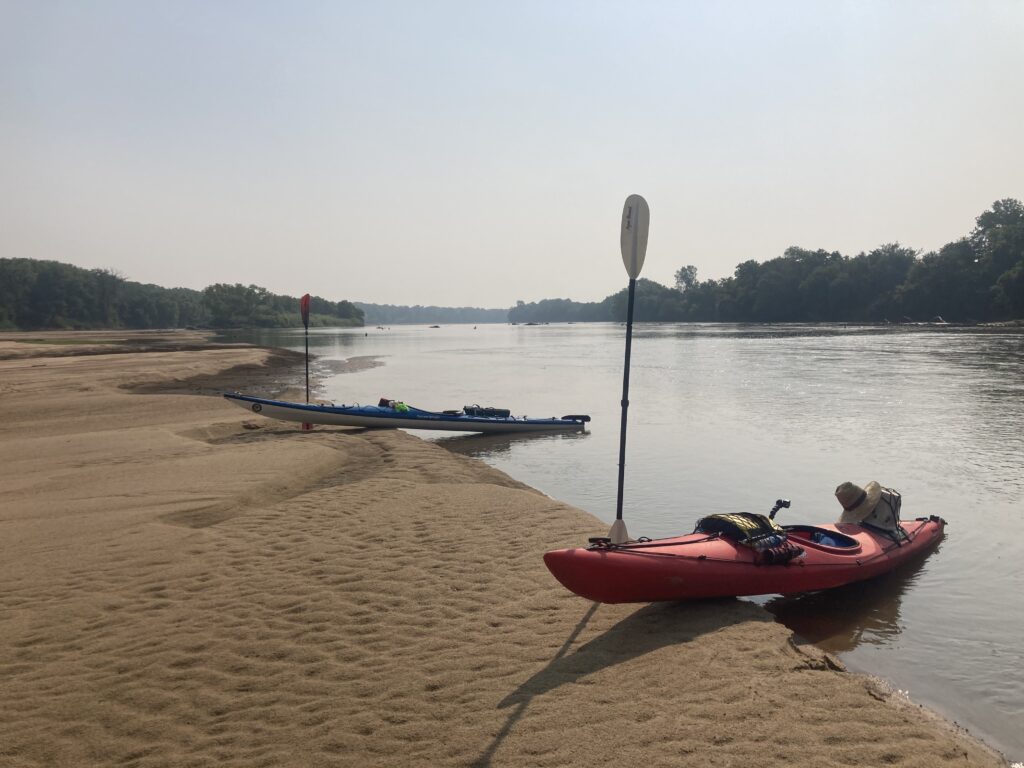 The section of the Kansas River between Belvue and Topeka is spectacular. Is there a better, brighter word to use? Perhaps, but let's just say that the word 'spectacular" is the most perfect word to describe this section of the Kansas River that is still a bit wild – and truly a prairie river – with beautiful braided sandbars that are the hallmark of the Kaw. If there is a peaceful slice of Kansas heaven, it is here around the halfway point that I think I've found it. The braided sandbars are everywhere – no escaping the adventure of trying to "chase the channel" – and navigating between watching the river and watching the scenery. Did I already say it is spectacular?
The afternoon showed a few light rain showers in the area, so we got off the river and found the backside of an island to protect us from any potential storms and hunkered down for about 20 minutes.  It was just rain and it passed, and then we were on our way.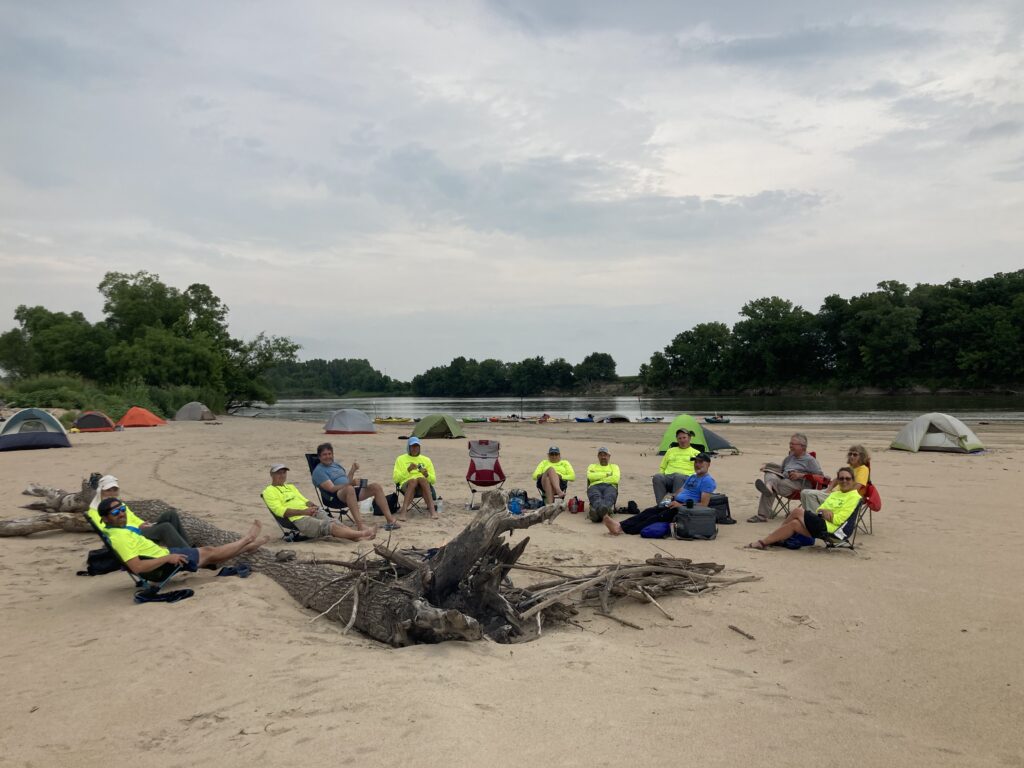 We found a perfect -yes, perfect – sandbar around the halfway point in the 30-mile stretch. We had a beautiful bend bar for camping, lots of driftwood for a fire, plenty of places to explore, and signs of wildlife. The temperatures dropped that evening into the upper 60's after the cold front and I think I can speak for everyone when I say that we slept well!
Sunday morning was a leisurely shove off at the campsite.  We enjoyed exploring the rest of the braided sandbars, chasing the channel, and picking up trash along the way.  I'm so proud of our group – always trying so hard to keep our river clean and helping others discover the Kansas River, sharing stories, gear do's and don'ts, and the beauty of this special place.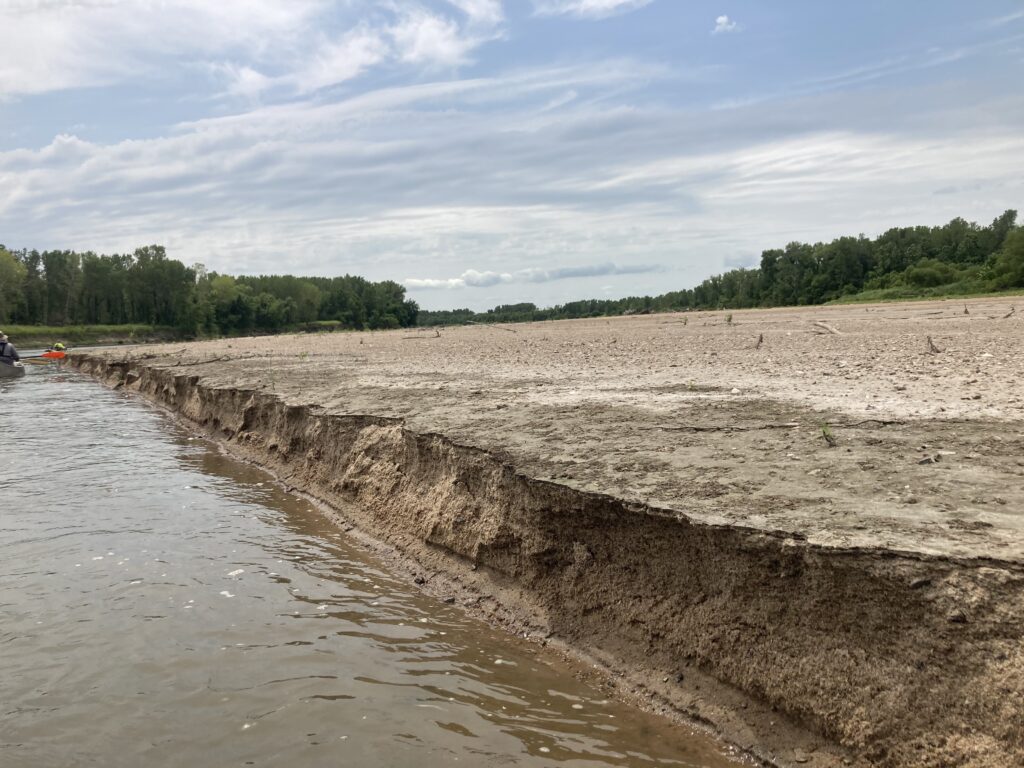 We arrived at Kaw River State Park boat ramp in Topeka in the late afternoon. A little tired from a long weekend of paddling, sun kissed, but otherwise fulfilled from a weekend immersed in nature.
We will all gather again the last week of August to explore the 3rd section of the KAW 173 from Topeka to Lawrence – we hope you will follow along. Thanks to everyone that watches our Facebook Live stories and follows our journey. It keeps us motivated to know that there are people out there following along.
If you've made it to the end of this blog post, do me a favor? Share the story of the Kansas River with a friend of family member? It takes all of us to protect our river, and we believe it starts with helping people discover it.
Protect. Advocate. Discover.
Until next time…
For the river,
Dawn
Your Kansas Riverkeeper