Join us for our Catfish  Fry
and  Annual Dinner!  
Thursday, September 24, 2015. Proceeds benefit
Friends of the Kaw!

Have you stood on the edge of your Kansas River and experienced its beauty?  Do you know that the Kansas River is 173 miles long and runs from
Junction City to Kaw Point in Kansas City, Kansas and provides recreation, fishing, wildlife viewing, and camping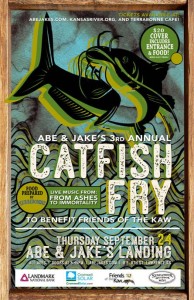 on its sandbars?  Do you also know that the Kansas River is a source of drinking water for over 800,000 Kansans?
These are just a few of the many reasons why it is important to keep our river clean and healthy.  Luckily for Kansans, Friends of the Kaw and the Kansas Riverkeeper act as full time advocates for the Kansas River, working hard to protect and preserve it for future generations.  In order to continue this advocacy, we need your help.  With issues such as dredging, stormwater runoff, industrial pollution, and everything else that happens in our watershed, there is a constant threat to a healthy river system and your support is critical.
You can support Friends of the Kaw and the Kansas Riverkeeper by attending our Catfish Fry and Annual Dinner on Thursday, September 24, 2015 at Abe & Jake's on the river in Lawrence.  Doors open at 5:45 pm. This year we are combining the Catfish Fry and the Annual Dinner and we will also be thanking Laura Calwell for her years of service as the Kansas Riverkeeper.
For only $20 you will enjoy a catfish dinner, a live band, and an auction!  To purchase tickets:
Buy online here (please note "catfish fry" in the comments area) or at abejakes.com
Visit Terrebonne Café
Mail a check to Friends of the Kaw, PO Box 1612, Lawrence, KS 66044
Call the Riverkeeper at  785.312.7200
Join us for a night of fun and conversation about the Kaw!  Support our work and have a great evening!  Thank you for your support!