Belvue Low-Head Dam at the Jeffrey Energy Center
Approximately 8 miles downriver from the Wamego access ramp.
Pottawatomie County
River Mile: 120
GPS: 39.20955, -96.18809
what3words: ///engineers.content.hounded
This is a rock low-head dam used to divert water into the water intake structure for the Jeffrey Energy Center.  Note that this is considered a partial low head-dam because it doesn't extend across the entire river. It extends from the right bank, across the point of the island, and over halfway across the left channel of the river.  Stay on river left to avoid this structure.
This area can be hazardous in low water and paddlers should proceed with caution. If you see rocks sticking up through the water, avoid them. Do not paddle close to them as the dam will be just below the surface of the water. It would be very dangerous to entangle your boat or yourself in this structure. Even if you do not see any rocks or obstructions, stay on river left to avoid potential problems.
Game Warden Covering Pottawatomie County: 785-256-3603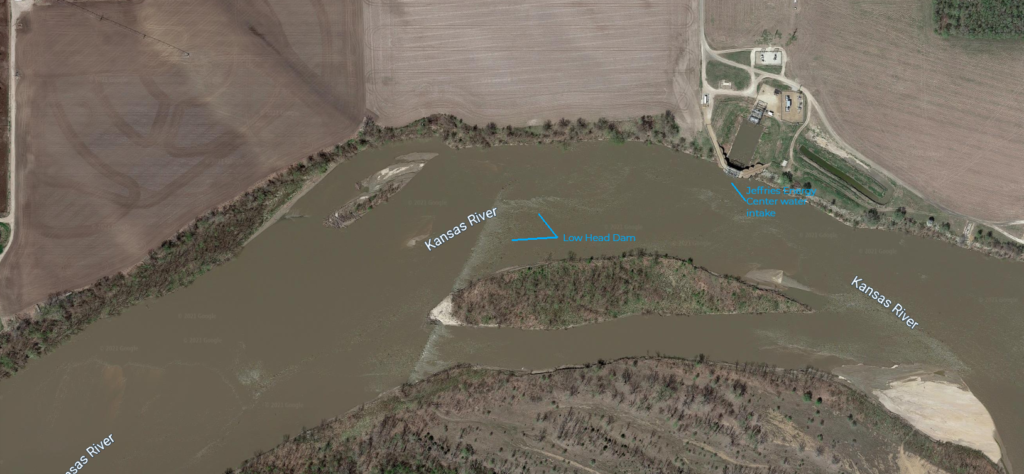 Click here to see a video of the Belvue Low-Head Dam and Jeffrey Energy Center water intake structure from the Kansas River.