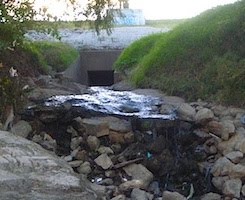 In this Challenge you will be asked to investigate what happens to the water that runs off of your livestock pen, vegetable garden, or yard, and learn how you can make sure that it does not pollute the Kansas River. You will be asked to document which of your activities might increase the amount of polluted stormwater running off your project and to develop a plan to reduce it. There are many possible solutions to reducing pollution from stormwater run-off and we want to encourage you to find creative new ways to tackle this old problem. Some of the observations we would like you to make at the very beginning are:
When water runs off your property, where does the run-off go? Does it flow directly into a stream? A pond? A stormwater drain on your street? Then where does it go?
Is there any erosion on your land caused by stormwater run-off?
Do you detect any color, odor or foam in the stormwater running off your project?
Is there anything that you are doing that might be polluting the stormwater?
Do you know what a watershed is, and which watershed you live in?* Can you find it on a map? Does your watershed drain into the Kansas River or the Missouri River?
*You can find your watershed (and a lot of other information) by going to the Johnson County web mapper and entering your address in the Quick Map box on the right hand side (it will give your watershed in the Stormwater/Flood information box about half way down the page). Click here for a map of the Kansas River watershed in Johnson County and click here for information about whether your community is in the Kansas River or Missouri River watersheds, and a lot of other information about the connections your community has with the river.
The Friends of the Kaw has partnered with the Johnson County 4-H and the Kansas Rural Center, with funding from the Johnson County Stormwater Program, to sponsor this challenge.