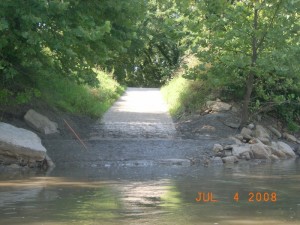 Jefferson County government website
Population (2006): 18,848
Area: 536 square miles
Population density: 35 per sq mi
County History
Detailed information is available from the River Inventory for Jefferson County

View Kansas River Inventory-Jefferson County in a larger map. Click for help with maps.

Perry – River Mile 65
Population size: 852
Square miles: 0.78
Population density: equivalent to 1,092 people per sq mi
Watershed: Lower Kansas River HUC number 10270104 & Delaware River HUC number 10270103
Boat access points: Perry-Lecompton Rising Sun at river mile 64.3
Bridges over Kaw: Lecompton Rd. at river mile 64.3
Dredge sites/off river pit mines: There are no in-river dredge permits or off river pit mines near the Kaw in Jefferson County.
Wastewater treatment: Perry WWTP (Pop. served: 864)
Water source: Perry reservoir and groundwater wells