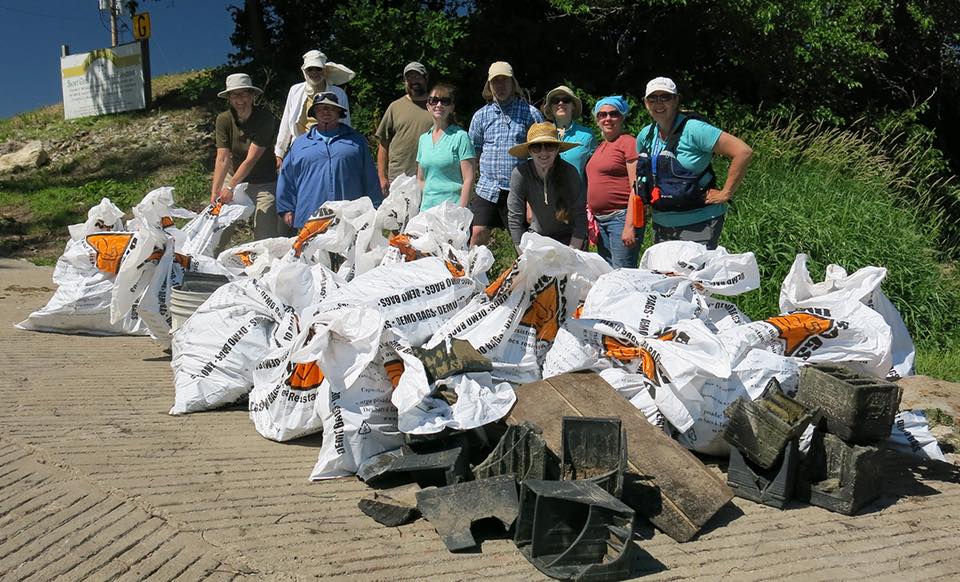 The Kansas River, known locally as the Kaw, is a prairie-based river that meanders between sandbars as it makes its way from Junction City to Kansas City, Kansas, on it's 173-mile long journey. The Kaw passes through ten counties and many cities and rural areas which contribute runoff from our communities and agricultural fields as the river drains 61,000 square miles of watershed.
Friends of the Kaw was formed in 1991 by a grassroots group of people dedicated to protecting the Kansas River, and it continues to be the only non-profit that works exclusively on behalf of the river. We are made up of a full-time Kansas Riverkeeper, part-time staff, and a bank of hundreds of volunteers that work tirelessly to clean up the Kaw, watch for pollution, and educate our citizens about how to protect it. The Kansas River is a drinking water source of over 800,000 Kansans, so we think our job is a pretty big deal and we take it seriously.
As a 501(c) non-profit, we work hard to find ways to fund our work. However, we take great pride in the fact that we are a non-government public advocate for the Kansas River. This means that our funding is entirely independent. We do occasionally receive grants for specific projects, however the bulk of our funding comes from our members, donors, and our fundraising events such as Beers of the Kaw and the Wild & Scenic Film Festival.
There are many ways that you can donate to our efforts. We are so grateful to whatever gift you can give, whether it is making a cash donation, or giving the gift of your time as a volunteer, or including us in your legacy planning. Each and every gift is valuable. Here are the ways in which you can give to Friends of the Kaw:
Shop at Dillons?

Get Friends of the Kaw as the Recipient Donor on your Dillon's Shopping Account: FOK belongs to the Dillon's Community Rewards Program! Simply register your Shopper Card online at https://www.dillons.com & choose FRIENDS OF THE KAW or our NPO Number QV810 to choose us to receive rebates. Helps us to protect the river!
Shop at The Community Mercantile in Lawrence?

Please support the "Merc" in their efforts to support Friends of the Kaw! FOK was chosen to be the "Communities for Change" change recipient for August, 2020. We were also a recipient in 2017. Shop at the Merc and "round up" for us this August.
Shop at AMAZON?
Set Friends of the Kaw as the Recipient Donor on your Amazon Shopping Account: go to www.amazon.com and choose Friends of the Kaw as your charity recipient!